William James College's New Name Underscores Commitment To Diversity
By Howard Newman
Feb 2, 2015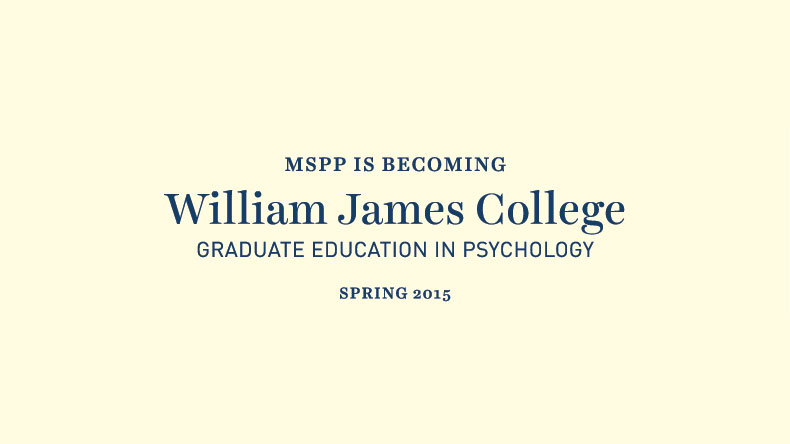 New England Psychologist
Click here for the New England Psychologist online version of the article.
As of May 7, MSPP will be officially known as William James College.
This change will not affect the school's course offerings, its philosophy, size or location. The Newton, Mass., school will continue to offer 11 graduate programs in psychology and embrace the concept of experiential education.
So why the change? The new name is a better way of communicating what the school offers, what it stands for and how it's different from many other graduate intuitions. According to William James College President Nicholas Covino, Psy.D., the term "school of" linked to a geographic area was hardly a differentiating label.
When the first name of your institution is the only thing that distinguishes you from 84 other schools of professional psychology, it's not a good identifier," noted Covino. "It's not a unique brand. We're really quite distinct in our mission, our programming and our work."
Identifying the school as a "college" and naming it after William James (1842- 1910), the founder of American psychology, is a major step in creating a new - and far more accurate -image.
Established in 1974, William James College was a small operation for the first three decades of its existence, offering just one degree program, a Psy.D. in Clinical Psychology. About 35-40 students graduated each year.
Today, there are 11 master's degree and doctoral programs, a student body of more than 700 and 120 faculty and staff. William James College offers specialty programs addressing the Latino community, veterans and families. The educational experience includes extensive work in the community.
Two examples of William James College's community connections are the Freedman Center for Child and Family Development, which helps connect children and families with mental health and wellness resources and the Pathways Program at West Roxbury High School, a counseling and support offering for at-risk and troubled students.
"We've established very vibrant partnerships with the community," said Covino. "We're not only providing a service but also teaching our students the importance of providing a service."
This type of community support is typical of William James College's emphasis on experiential education. "In most traditional doctoral programs, clinical practice field training does not start until well into the program," noted Robert Dingman, Ed.D., a professor at the school since 2002. "Here at William James College, students are engaged in on site clinical learning in the first couple of weeks."
In addition, all William James College professors are actively engaged in clinical practice. "We have faculty who are using clinical examples that are as fresh as 24 hours to help illustrate and guide their teaching," said Dingman.
The school's association with William James underscores its commitment to personal experience, diversity and community involvement.
"In his life and in his work, William James really stood for many of the things that are parcel of our mission here," Dingman said. "He was very active in standing up against social injustice. This is an institution that really values the creation of a diversity of both intellectual and interpersonal culture. That's what he stood for."
By changing its name to William James College, MSPP sends a distinct message to the psychological community. "He was the founder of psychology in the United States, the most influential social scientist and philosopher of two centuries," said Covino. "It offers the institution an opportunity to very quickly let its business become known to strangers and claim access to a legacy of tremendous importance in social science and healing arts."
Popular Topics/Tags
Follow William James College
Media Contact
Katie O'Hare
Senior Director of Marketing and Communications