PATHWAYS: Offering support, stability and the future students deserve
By Staff Report
May 1, 2016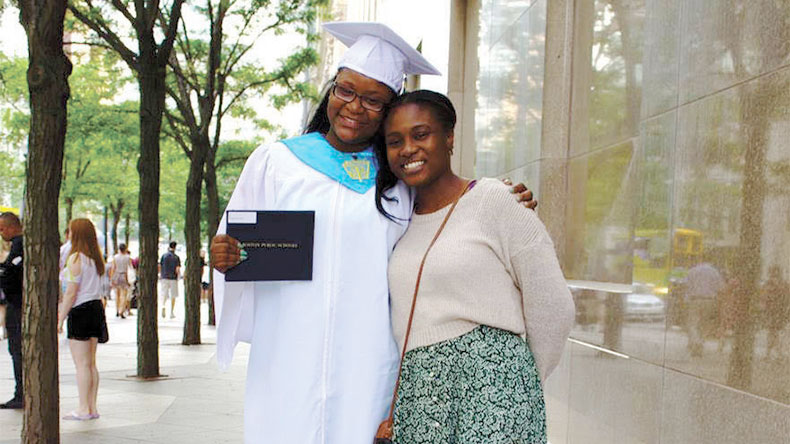 The importance of field education in the William James College student experience can't be overestimated-and neither can the impact of our students on the community.
Widlynn Louis is working on her Master of Arts in Counseling Psychology and Couples and Family Therapy at the College: an in-demand degree that will prepare her for dual licensure as a mental health counselor and marriage and family therapist (the LMHC and the LMFT).
"This program should definitely be in more Boston public schools. It really made a difference."
In her first year, Louis was assigned to PATHWAYS: a program designed by William James College, in partnership with Boston Public Schools and the Massachusetts Society for the Prevention of Cruelty to Children, to help students overcome their personal issues and challenges, and stay in school through to graduation. At PATHWAYS, she worked one-on-one with a West Roxbury Urban Science Academy high school senior, 18-year old Cassandra George.
When asked how her relationship with Louis has made a difference in her life, George's response is immediate and straightforward: "She gets me through the week."
Cassandra was just 11 when she was forced to make a difficult call for help-a call that would ultimately change her life. Her situation at home was unbearable, and she felt her only choice was to look out for her own safety. "The day I called the police was the day I finally took action for myself. I felt exhilarated," she recalls. "I don't want pity. I have resilience. I'm a person who's gone through a lot, but I always bounce back."
Following a series of foster family placements, group homes, and some time living with her grandmother, George was sent back to her original situation-and her deep sense of isolation returned, too. When George began meeting regularly with Louis, however, she felt immediately understood and encouraged. The chance to open up to someone she could trust made a tremendous difference in her life.
"I only wish I'd met her sooner," says George, "because it was really nice to have someone listen to me." She describes Louis as "a real person-someone I can genuinely talk to. It would have been so much harder without her. She helps me use my own good judgment, and makes me feel like I matter."
"I'm so thankful for PATHWAYS," she says. "This program should definitely be in more Boston public schools. It really made a difference-and there are a lot of students who need this program."

For her part, Louis found working with George to be a rewarding and affirming experience: "I feel like this is what I'm supposed to be doing."
Though she worked two jobs in addition to school, George maintained a 4.03 grade point average at Urban Science Academy. She applied to eight colleges and universities, and was admitted to seven-and on top of that, found herself accepted into a master's program already!
On May 8, 2015, George graduated, and Louis was there to celebrate her achievement. She had been looking forward to the transition to college with equal parts excitement and apprehension, but she knew she was ready-and that her mentor had been a big support throughout her journey. George is now majoring in biology with a minor in psychology at the University of Massachusetts at Amherst.
Asked if she had any advice for students facing similar challenges to her own, George urged them to reach out for help. "Don't stay isolated. Find someone to talk to. There's no need to suffer alone."
Topics/Tags
Follow William James College
Media Contact
Katie O'Hare
Senior Director of Marketing