Community Reading Activity Inspires Student, Alum to Write Article Now Published in National Publication for School Psychologists
By Staff Report
May 26, 2022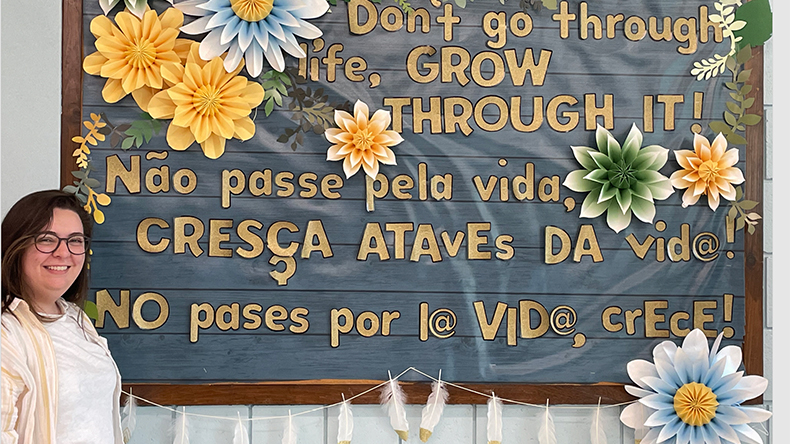 In countless ways, the pandemic exposed inequities present in our living, working, and learning environments. The spotlight on this unfortunate reality was especially glaring in our nation's schools, particularly in vulnerable communities. Seeking to open a dialogue about unconscious racial bias in education, the School Psychology Department organized a "community read" in the spring of 2021, which has now led to a published article in a national publication for school psychologists coauthored by a student and an alumna.
"Our students are committed to Social Justice and issues of inequity in schools. As students began to see the inequities in their field placements, especially due to the COVID-19 pandemic, they wanted to learn how they could combat the biased practices they were seeing," said Jason Kaplan, Associate Professor of School Psychology and Interim Department Chair. "In addition, because classes were virtual, the students wanted to do something that would also build community and comradery with classmates and faculty."
A four-part series, hosted by the School Psychology Department, invited participates to read and discuss the book Unconscious Bias in Schools by Tracey Benson and Sarah Fiarman. The series tackled unconscious bias; perspective taking; action steps in the classroom; and action steps as a whole school. Hollie Brown and Rose Perez were among the students (Perez is now an alumna) who helped to facilitate sessions.
"The book highlights that while conversation about race and bias can be difficult, they are so important to have and through reflective practices, school psychologists have the ability to create meaningful change," said Kaplan. "This is an important book because in addition to helping people see the bias that exists in American Schools, it provides an important framework for helping combat the biases."
Brown and Perez co-authored an article that, among other things, communicates the success of the William James College community reading event to the NASP community – lending an idea and a resource to others that can be used in their own communities to create better understanding. The article also intends to make readers aware of "their vulnerabilities and how their own individual experiences outside of school make them susceptible to bias," said Kaplan.
In researching the book, Brown found an additional connection to the material – one of the authors, Tracey Benson, was Brown's former middle and high school principal.
Brown and Perez's article, "Name the Elephant: A Discussion About Unconscious Bias in Schools," is available to NASP members in the March/April 2022 edition of Communique, a publication by the National Association of School Psychologists (NASP).
Topics/Tags
Follow William James College
Media Contact
Katie O'Hare
Senior Director of Marketing