Students, Faculty and Community Explore Diversity Through Art and Conversation
By Staff Report
Jan 31, 2018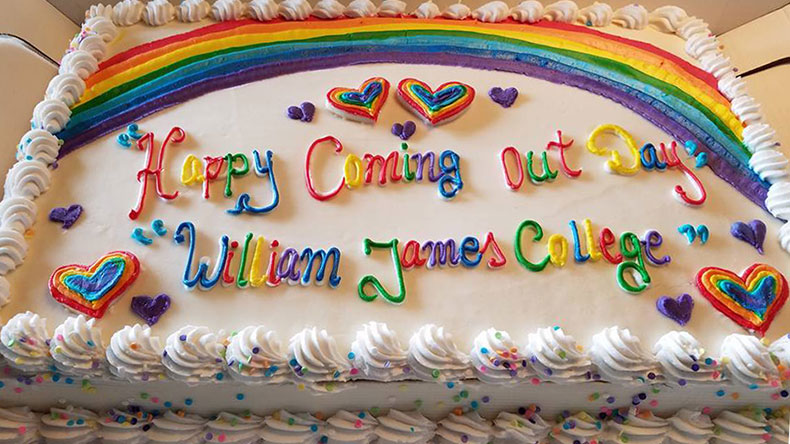 It's one thing to talk about diversity; quite another to put it into practice.
William James knows how to do both as demonstrated by several events the school held recently. The student-sponsored Dare to Speak event and a faculty-student discussion on LGBTQ issues celebrated the open, diverse culture at the college and its willingness to embrace open, inclusive conversations.
The Dare to Speak event was created by student Samuel Kwame Dance and his co-chair Adetutu Ajibose, hosted by the ALANAA Multicultural Student Group, the Social Justice Student Coalition and sponsored by the Dean of Students Office. It was an evening of song, dance, the spoken word and interactive art that celebrated diversity "in ways that connected our individual talents and the talents of our classmates," said Dance. "It grew from student voices and ideas from the people who collaborated with us."
The seed of the idea created by Dance and Ajibose blossomed into a full-fledged multi-arts event through enthusiastic collaboration with the two student groups, Black Mental Health Graduate Academy Scholars, student advisor Dr. Natalie Cort, Dean of Students Josh Cooper and Meridith Apfelbaum, Assistant Director for Student Affairs.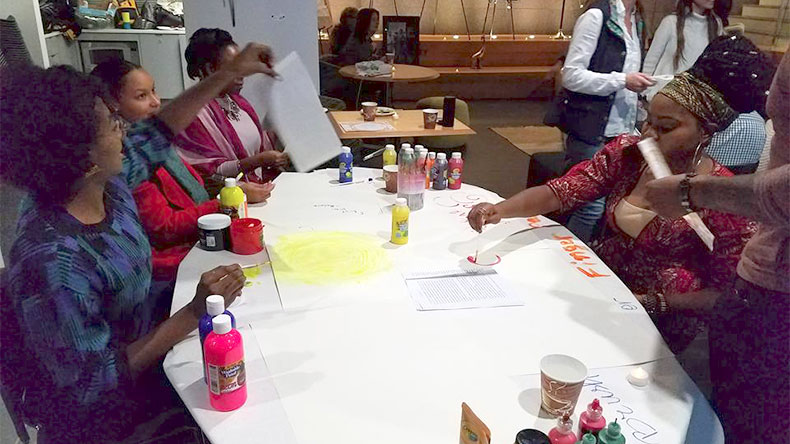 Dare to Speak opened by welcoming attendees to an innovative expressive arts program. They were invited to draw or write on canvasses posted around the room to express their emotions throughout the course of the evening. The program began with a poetry slam and the reading of two original poems. Then teen vocalists from The Hip Hop Transformation program of the Cambridge Community Center performed, two other singers performed original pieces, and two students shared deeply personal spoken reflections on the suicide of family members and slavery in Libya. The evening concluded with a drum circle led by Assistant Director Apfelbaum in which students and other attendees participated.
"I think that the emotions represented in each of the pieces were felt by the entire crowd," said Dance. "Anyone in the building could feel the energy of what was happening whether it was upbeat, powerful, emotional or sad. The people there illustrated their feelings on canvas and we could see the ups and downs, ebb and flow of emotions during the performances."
"Our big take away is that students feel very seen and heard through these events. They feel supported within their own identities and supported as aspiring clinicians."

- Meridith Apfelbaum, Assistant Director for Student Affairs
"It was a moving and empowering evening" said Apfelbaum. "Sometimes words can't ably express a person's feelings. However, people can turn to art, music and poetry to voice their emotions. This event helped people to understand one another authentically."
"This is a great example of a student led initiative that helps everyone grow competency in diversity," said Dean Cooper. "Our office is committed to supporting the school's academic focus on diversity and to building a community of students who are well-rounded. These types of events bring people together and give students knowledge from outside the classroom that will serve them well as professionals in the field."
The faculty at William James agrees with Dean Cooper. When student members of the college's Rainbow Alliance expressed a desire to hear from faculty clinicians who work with the LGBTQ population, the response was immediate and enthusiastic.
"We established a casual conversation format. I served as the moderator, faculty members were present to discuss their experiences and students asked questions," said Apfelbaum, staff advisor to the Alliance. "We served pizza and students asked candid questions of the faculty. Many of them are considering working with the LGBTQ population and they wanted to know how they can help those who are coming out."
Apfelbaum said the substantive conversation gave support and encouragement to the students. "Our big take away is that students feel very seen and heard through these events," she said. "They feel supported within their own identities and supported as aspiring clinicians. These students may end up working with the transgender community, immigrants, refuges and others who are underserved and marginalized. We take great care to be mindful of the work our students are going to do."
Rainbow Alliance members will be supporting and participating in, "LGBTQ Youth: Magnifying the Splendor of the Rainbow", a one day continuing education conference for mental health, counseling, psychology and community professionals on Saturday, April 28 at William James College. Click here for more details and for program registration.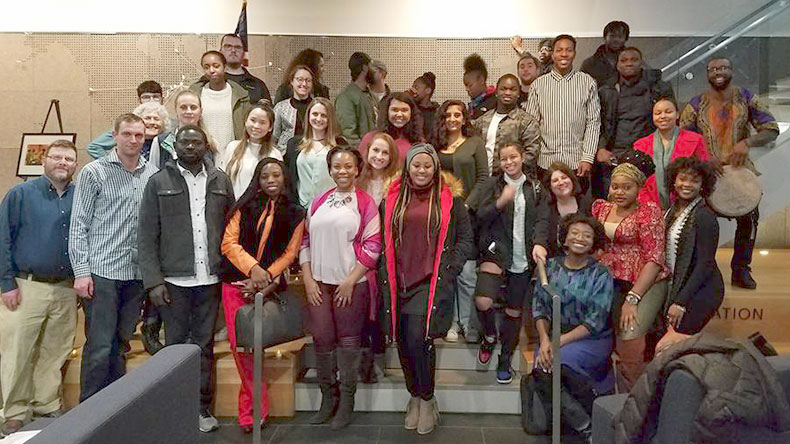 Leaders on the Dare to Speak Spoken Word Event Committee included: Adetutu Ajibose, Samuel Kwame Dance, Carmaudeley Galliote, Darryl Sweeper, Jr., Beverly Ibeh, Alexis Leca, Alexandra Adair, Fatuma Dzilala, Errol Hudson II, Ayana Perez, and Sade Callwood.
Faculty members who participated in the Rainbow Alliance Discussion, "Clinicians Speak About Working with LGBTQ Population" included Dr. Jill Bloom, Dr. Nilda Laboy, Dr. Susan Powell, Dr. Sara Orozco, Dr. Jessica Stahl, and Dr. Jacqueline Gagliardi. Student Co-Leaders of the Rainbow Alliance are Tara Barney, first year Clinical PsyD student and Karam Hanna, second year MA in Clinical Mental Health Counseling student.
Topics/Tags
Follow William James College
Media Contact
Katie O'Hare
Senior Director of Marketing