Triple Threat: Ta-Cha Addis, PsyD, is First to Graduate from Three William James College Organizational and Leadership Psychology Programs
By Sarah Johansson, Social Media and Digital Content Associate
May 19, 2022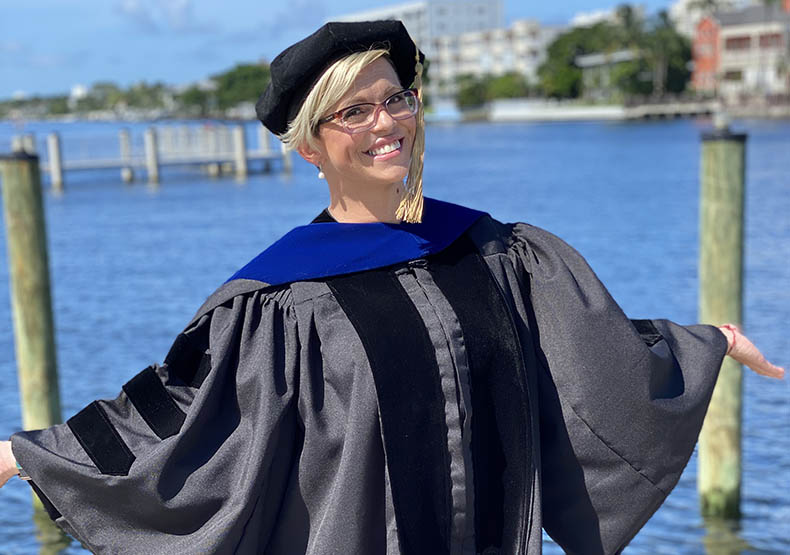 Not every career journey is a straight line. After serving in the Navy, Ta-Cha Addis, PsyD, earned her bachelor's degree in general studies with no idea where her education would take her. After falling in love with a psychology class during that program, Addis discovered her passion for the field.
"I finally felt at home for the first time in my life," said Addis.
Addis earned two graduate degrees from William James College, a Master of Arts in Organizational Psychology in 2016 and a PsyD in Leadership Psychology in 2020, and she just completed the Graduate Certificate in Executive Coaching (GCEC) program, making Addis the first student to graduate from three different programs in the Organizational and Leadership Psychology (OLP) department.
"I'm a lifelong learner I guess," joked Addis. "At the end of the day, my goal is to help veterans. I want to change how we transition veterans out of the military [and] I realized that in order to make an impact you need to need to be able to influence the leader individually before you can influence the whole organization."
Programs offered through OLP provide students with the training to be effective leaders and create change, though each program focuses on different skills and takes a different approach.
The Master of Arts in Organizational Psychology program provides students with theory and practice working with teams and systems to facilitate change; the Leadership Psychology PsyD program delves more deeply into these practices, as well as the leader and follower roles, in complex organizations; and the Graduate Certificate in Executive Coaching program focuses on working directly with executives to expand their effectiveness as leaders.
"Together, these programs empower a student like Ta-Cha to understand and lead organizations at all levels, systems, groups, and individual executives in ways that promote wellbeing and create value," said Suzanne Devlin, PhD, chair of the OLP department.
Even as she pursued her other degrees, Addis said she always knew she wanted to pursue executive coaching. To her, the GCEC program was "the missing puzzle piece." The knowledge and training in organizations and psychology were important for Addis, and the coaching side will provide her with added skills in one-on-one consulting.
"Both [the Master's and PsyD] programs are so packed full, they couldn't possibly fit any more in them," said Addis. "Every class we took was absolutely necessary for that degree, and at the end of the day, all the degrees are necessary for me."
Ultimately, Addis hopes to build an organization that partners with the Department of Veterans Affairs and aims to change mental health requirements, and perceptions about mental health, within the military. "At the organizational level, my goal is to shift how those requirements work and remove the stigma around seeking mental health care," said Addis. "It's not a bad thing to seek psychological treatment. It never is. If anything, it just improves the strength of the forces that you have."
Topics/Tags
Follow William James College
Media Contact
Katie O'Hare
Senior Director of Marketing