Tsarnaev trial helps heal a violent world
By Richard F. Mollica
Apr 16, 2015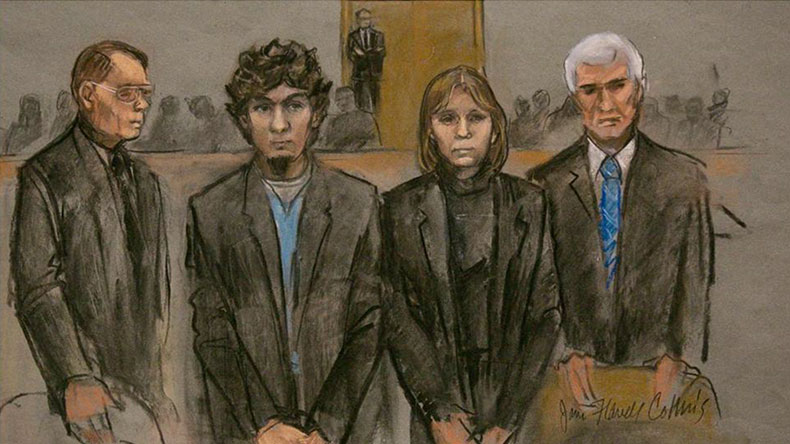 The Boston Globe | Opinion
THE SENTENCING PHASE of the Boston Marathon trial begins next week, with the jury deciding whether Dzhokhar Tsarnaev should get the death penalty or life without parole for his role in the 2013 bombings. As a doctor who has cared for survivors of mass violence and torture for more than 30 years, I believe it is important to enlarge the discussion from a legal and moral debate on the righteousness of the death penalty to a focus on social and personal healing. In truth commissions and other legal actions across the world, where perpetrators of horrible crimes are put on trial, this healing process is easily lost.
It is not always the case that conventional judicial procedures serve the healing process of the survivors and the community. When mass violence and terrorism occur, there is damage not only to individuals but to entire societies, indeed to the world. The victims of the Marathon bombings and their families and friends suffered terrible losses, but even those of us who watched the television footage suffered.
As a consequence, healing must occur not only within individuals but also within the community, with society as the healing agent. The victims need society's assistance in the healing process, and in turn they help society heal by sharing their stories, experiences, and wisdom. Social and personal healing are united in a reciprocal and mutually advantageous relationship.
In my experience of listening to the traumatic life narratives of survivors of extreme violence, justice is at the core of the healing process. While this may mean everything from punishment to compensation to apology by the perpetrators, it primarily means that the survivors have the opportunity to tell others about their trauma. At the core of personal healing is deep listening and full appreciation of a human being's life experience. Unfortunately, justice — in it's strict legalistic approach to ascertaining guilt and punishment — can sometimes bypass this opportunity for personal healing.
From a medical and psychological perspective, the Marathon trial has been an exemplar of a meaningful approach to the healing process at all levels. The trial has allowed many unknown facts to emerge. The immediate victims of the bombing were allowed to present their narratives in a safe, protected, and non-stigmatizing public environment. At least as presented by the media, neither revenge and retaliation nor any evidence of hatred toward Tsarnaev's religion emerged.
Most important, a critical conversation was initiated and fostered among the local community, the survivors, and the courts. If this conversation had been in any way shortened by legalistic means — for example, by the elimination of the trial phase — it would have been a blow against the healing process.
And now the conversation becomes very difficult: Should Tsarnaev be put to death? It seems unlikely that Tsarnaev will speak up in his own defense. In over three decades of caring for survivors of mass violence, whether in Cambodia or Srebrenica, I rarely heard executioners express their remorse. Regardless of whether Tsarnaev chooses to communicate, we as citizens and survivors are ready and prepared for this difficult and painful conversation. Let us deeply listen to those who have suffered greatly.
Let us learn from each other as well as teach other communities how to recover from a violent world.
Dr. Richard F. Mollica is a professor of psychiatry at Harvard Medical School, is a faculty member of the Counseling Psychology in Global Mental Health at William James College, and author of "Healing Invisible Wounds."
Topics/Tags
Follow William James College
Media Contact
Katie O'Hare
Senior Director of Marketing