Turning Passions into a Career: An Account from Student Julie Ugalde
By Staff Report
Oct 2, 2017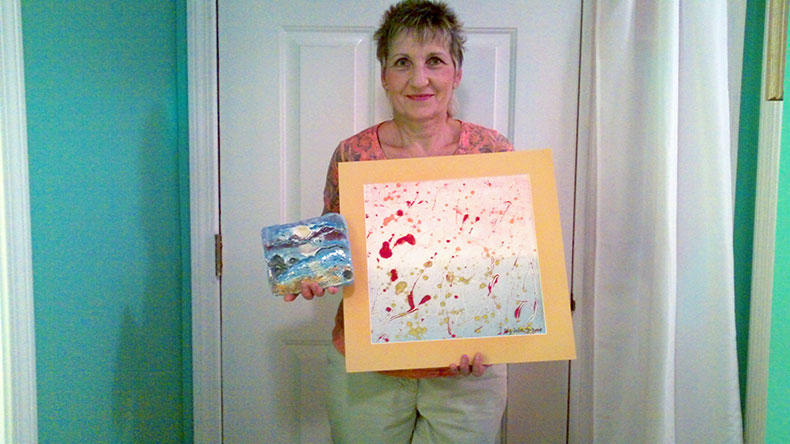 Julie Ugalde has always been aware of her love of the arts and helping others, but she was never sure whether she'd find a career that would help her pursue them.
She currently teaches in the Human Development and Human Services program full-time at Anna Maria College and also facilitates studio art workshops for children at the Worcester Art Museum.
Soon after her son joined the military, she wanted to act on her inner drive to help other military families experiencing the same intense feelings when a loved one is deployed. As she sought services to cope with the stress of her son being deployed, she became increasingly aware of her own mental health, and found out that using the arts (painting/drawing, sculpting, music and movement, and journaling) can provide many healing benefits.
"As a mother of a U.S. Army veteran, I see that there is a lack of mental health care not only for veterans, but for their families. There is not a lot of support for mothers, especially during high-stress times such as when their child is deployed," Julie explained.
With her love for the expressive arts, and her newfound perspective surrounding the mental health of military families, Julie noticed a shift in her career goals. She sought graduate programs that would enable her to combine her passions and employ expressive arts therapy in a clinical setting within a veteran-related organization. Julie transferred from another graduate academic program to William James College because of the extensive Military and Veterans Psychology program offering. This program is unique and provides many opportunities to work directly with veterans and their families.
"I knew I wanted to work with family members of veterans and learn how to help others heal through art. William James College offered me a pathway to do so by creating a personalized curriculum for me that combined Military and Veterans Psychology and Expressive Arts Therapy."
Julie is now a third-year part-time student at William James College in the MA in Clinical Mental Health Counseling program. While completing a concentration in Military and Veterans Psychology, Julie completed her practicum at Veterans Inc. in Worcester, Massachusetts, one of the largest providers of support services in New England for veterans and their families. With the guidance of the faculty, Julie used the training she received in the classroom to help connect with and provide healing to homeless veterans.
"The practicum experience helped broaden my perspective of veterans and their unique needs while being immersed in their culture. With the help of my professors, I was able to apply what I learned to make a positive impact on their lives, which made everything worth it."
Julie is looking forward to gaining more experience next year through an internship in expressive arts therapy, and continuing her unique career path after she graduates.
"The best part about William James College is that the faculty makes and effort to match each student's interests and validates their knowledge. They offer flexibility, adaptability and blended courses that have made my schedule work. I was nervous about fitting in, but I love being a part of the William James College community."
Topics/Tags
Follow William James College
Media Contact
Katie O'Hare
Senior Director of Marketing