William James College Begins to Operate the Norfolk and Suffolk Juvenile County Court
By Staff Report
Dec 18, 2017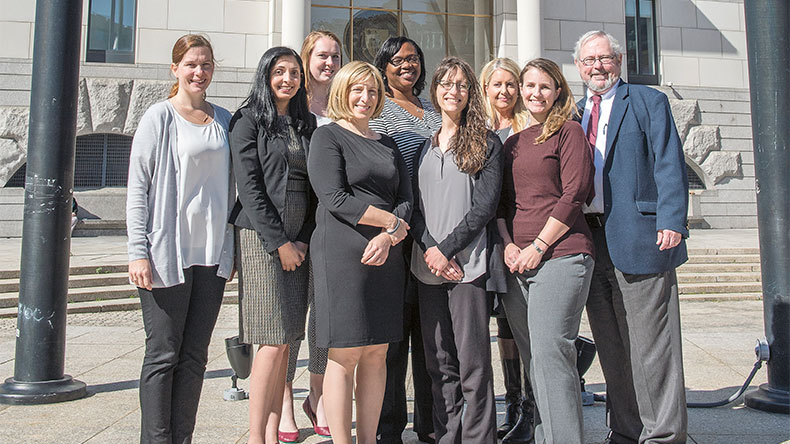 Shown from left to right: Celine Crespi-Hunt, Psychologist, Pooja Khialani, Program Director, Sarah Gottlieb, Juvenile Forensic Case Manager, Monica Roizner, Psychologist, Adrienne DeVaughn, Licensed Mental Health Counselor, Lauren Honigman, Licensed Clinical Social Worker, Leslie Penni, Licensed Clinical Social Worker, Stacey Larson, Psychologist, Robert Kinscherff, Associate Vice President for Community Engagement.
---
William James College continues to contribute its expertise in the education of behavioral health professionals and its commitment to serving vulnerable populations, as it begins to operate clinics within the Suffolk and Norfolk County Juvenile Court systems. The College assumed operation of these juvenile court clinics on July 1, 2017 under an agreement with the Massachusetts Department of Mental Health, which jointly operates the nation's only statewide system of juvenile court clinics in partnership with the Administrative Office of the Juvenile Court Department.
The juvenile court clinics offer court-ordered evaluations of cases that involve child abuse and neglect, delinquency and Youthful Offender offenses, and status offenses including, truancy, runaways, stubborn behavior, habitual school offenders, and sexually exploited minors. They also evaluate persons who may need involuntary services such as emergency commitments to psychiatric hospitals or substance abuse detox and treatment. When the court orders a referral, clinicians see referred individuals, access collateral information or conduct psychological testing as needed; provide information to support judicial decision-making, and offer recommendations for individual care and treatment.
The College secured the juvenile court clinic contract in a competitive bid with Massachusetts General Hospital (MGH), which had held the contract since 1996. Some MGH staff have joined the William James court clinic staff, and the College has recruited additional clinicians from multiple disciplines. The William James College service model maintains excellence in providing court-ordered evaluations and the training of graduate students in forensic psychology, and has added a mechanism to refer court-involved youth and families to 16 community-based behavioral services providers who have signed a Memoranda of Understanding (MOU) as community partners. Future plans include expanding the referral network to include providers of social, vocational, educational, recreational, and legal services.
New clinical staff, and graduate and post-doctoral trainees, will participate in a year-long training program that includes a didactic seminar on professional practice in juvenile forensic mental health, a seminar on relevant law and public policy, and supervised forensic practice with court-referred youth and families. New juvenile court clinicians will complete an additional process to become Certified Juvenile Court Clinicians. This certification process is provided through DMH and UMass Medical Center. Massachusetts is the only state, which mandates a specialized certification process for clinicians providing court-ordered evaluations in Juvenile Court.
"We'll be working with the courts to create care plans for the folks that have been referred for evaluation to make sure that the court gets crucial information, and that youth and families get a plan for behavioral health treatment or other services," says Nicholas Covino, President of William James. "This opportunity allows our students, court clinic staff, and faculty members to review cases in a thoughtful way that will offer a very meaningful consultation to the courts."
Robert Kinscherff, PhD, JD, Associate Vice President for Community Engagement at the College, oversees a number of centers within the College, including the Center of Excellence for Children, Families, and the Law, which provides court-ordered evaluation and intervention services for children and families before courts in high-conflict divorce proceedings. The juvenile court clinic operations are within the Department of Community Engagement, where Kinscherff will have oversight responsibility along with College alumna Dr. Pooja Khialani, who is the new Director of Juvenile Court Clinic Operations.
"I think the major transformation will be creating greater links with community-based behavioral health services so that the very comprehensive and thoughtful reports generated by clinics will have a positive impact in lives of children and families and diminish likelihood of future court involvement," says Kinscherff about the future of the court clinics under the College's operation.
"We will work with our community-based providers to improve the clinics' cultural competencies and gender-sensitive interventions. Active conversations with a range of community and faith-based organizations will heavily inform the work that we do within the court clinics moving forward," he adds. "Not every court-involved child or family may need a therapist, but all children need access to positive youth development resources and activities to support their well-being and that of the neighborhoods in which they live."
Popular Topics/Tags
Follow William James College
Media Contact
Katie O'Hare
Senior Director of Marketing and Communications