William James College Celebrates the Class of 2021, Holds 41st Commencement Events
By Josh Rizkalla
Sep 28, 2021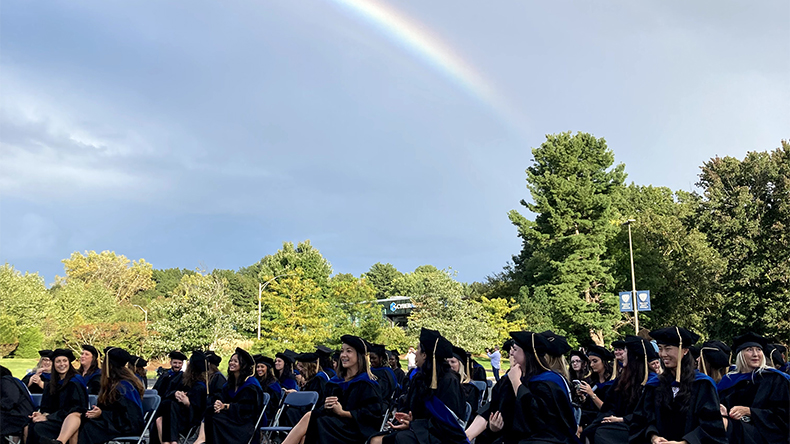 "People know that a Commencement Ceremony is not an end. It is a beginning," Dr. Nicholas Covino, president of William James College, told graduates in the closing remarks the College's 2021 Virtual Commencement ceremony. He shared a similar concept in the remarks he made during a small, outdoor hooding ceremony also held this past weekend. As the outdoor ceremony was concluding, in a moment that felt almost as if it could have been scripted for a movie, graduates looked up to find a rainbow shining overhead.
A rainbow is often seen as a symbol of hope and the arrival of this one, in this moment, was fitting for the William James College Class of 2021. The class, which included December 2020, June 2021, and August 2021 bachelor's, master's, and doctoral program graduates, closed this chapter and will begin the next one, and the next stage of their professional journey, at a time when their training and services are needed more than ever.
"This is a day to celebrate accomplishments, to note the outside work and the inside work that a student at William James College invests in, and to express our appreciation for the change that they are about to bring to a world in desperate need of healing and care," Covino told those gathered on Saturday.
In his Commencement speech, he further highlighted the significant and growing need. Prior to the pandemic, 1 in 5 people reported anxiety, depression, substance abuse and trauma. Today, a startling 40 to 50 percent of the country report experiencing significant distress.
About a quarter of the graduating class attended Saturday's in-person ceremony where they also heard speeches by Commencement Grand Marshals Margaret Hannah and Dr. Bruce Ecker, had their names read by Dr. Stacey Lambert, vice president for academic affairs, and had the opportunity to cross a small stage, erected in the parking lot for the occasion, to receive their master's or doctoral hood, or recognition of completion of their bachelor's degree.
Ecker and Hannah, long time faculty members, both of whom recently announced their retirement, served as the 2021 Commencement Grand Marshals and spoke during the hooding ceremony. Ecker offered what he called the wisdom he considered throughout his career, urging the graduates to "be compassionate, follow the science, and take action," on their path to 'helping thousands and teaching hundreds.'
Hannah expressed the importance of the small steps that lead to a lifelong journey, calling upon the graduates to both advocate for and to be a part of the change to which they are dedicating their lives. To highlight the impact of these seemingly small steps, she quoted Mother Theresa. "One might feel what you are doing is only a drop in the ocean. Yet the ocean would be so much less without that drop," she said.
The College's Virtual Commencement, which is a self-paced ceremony available via a dedicated website, was launched on Sunday. Nearly 250 members of the William James College Community tuned in for a watch party held Sunday morning to celebrate the graduates together.
Commencement speaker and honorary degree recipient, Dr. Joseph Betancourt, senior vice president of Equity and Community Health at Massachusetts General Hospital, spoke to the graduates of three pillars for success: focus, purpose, and resilience. "Aiming to make our mark over time and to make a difference in people's lives is the greatest gift we have, and we can give," he said.
Dr. Gemima St. Louis, associate vice president for workforce development initiatives and specialty training, introduced Betancourt. "He has devoted his career to addressing social determinants of health, elucidating the systemic root causes for racial and ethnic disparities in health care, and taking bold and strategic steps to make health care accessible to all," she shared.
Betancourt, a nationally and internationally recognized expert in health policy, health care disparities, diversity, and cross-cultural medicine, received an honorary degree from the College in recognition of his work.
Dr Adetutu Aijbose, a member of the graduating class, wrote and shared a poem entitled "The Mountain We Chose to Climb." Current Clinical PsyD students Nicole Poulter and Ashley Phillips each contributed a musical performance. Poulter and her partner Kevin Lee performed a cover of Natasha Bedingfield's "Unwritten," which was included in the Closing Ceremony. Phillips covered Louis Armstrong's "What a Wonderful World," which is available on the site's "Celebrations" page.
The Virtual Commencement site's core content – including speeches, musical performances, the reading of graduate names, and the conferral of degrees – is recorded, allowing graduates and other viewers to tune in and participate in the experience on their own timing. The 2021 Virtual Commencement site will be available for a full year. A recording of Saturday's hooding ceremony is available via Facebook Live.
Topics/Tags
Follow William James College
Media Contact
Katie O'Hare
Senior Director of Marketing