William James College to Partner with Teachers21
By Staff Report
May 4, 2018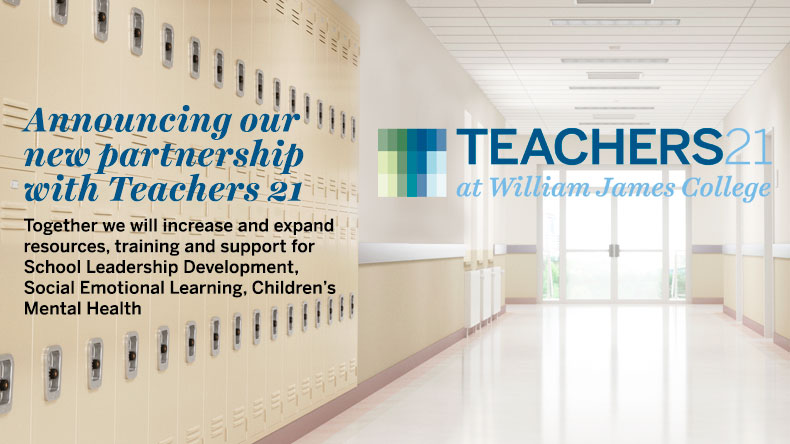 Teachers21 will expand professional development education and consulting for preK-12 educators, schools and districts
Newton, MA (May 2, 2018) – William James College, committed to educational excellence in behavioral health and leadership, has announced its partnership with Teachers21, an experienced provider of training, coaching and consulting to school teachers, administrators and stakeholders. Teachers21 delivers custom-made models of professional development, onsite and online through coursework, hands-on practice, continued mentorship and coaching in leadership; school culture; math, literacy and content-based training; team facilitation; sheltered English immersion (SEI); social emotional learning (SEL) and managing behavioral health in schools.
After several years of collaborating on programs in Leadership and Social Emotional Learning, becoming formally affiliated with the college will enable Teachers21 to expand its mission of developing school cultures where all educators embrace the adaptations required for continuous improvement, with an emphasis on equipping school personnel to provide safe and healthy learning environments where children can learn and grow. In turn, the partnership will offer William James College a network of professionals with years of applied experience providing customized consultation for school districts through organizational assessment; certificate, degree and licensure programs; teacher support; coaching; and organizational development.
"This partnership opens doors not only for faculty and students in our School and Leadership Psychology programs, but also for a wide variety of professionals within the field of education," said William James College President, Dr. Nicholas Covino. "Combining William James College's academic expertise with the applied knowledge of Teachers21 will greatly benefit both organizations, offer a number of advantages to children and families, and expand our ability to train leaders in the fields of education and mental health.
"Managing the behavioral health of students is a great challenge facing teachers, principals, and superintendents," said Jennifer Antonucci, Associate Director at Teachers21. "We are excited to work with William James College to expand professional development education and leadership coaching in this critical area."
---
About William James College
William James College is a leader in educating the next generation of mental health professionals to support the growing and diverse needs of the mental health workforce. Integrating field work with academics, the College prepares students for careers as organizational leaders and behavioral health professionals who are committed to helping the underserved, multicultural populations, children and families and veterans. William James College graduates can be found making an impact in a variety of settings, including schools, the courts, clinical care facilities, hospitals, the community and the workplace.
About Teachers21
Teachers21, founded in 1993, is dedicated to improving the professional practice of PreK -12 education and creating supportive school communities in Massachusetts and beyond. Through a variety of professional development and consulting services, programs, courses and one-on-one coaching, Teachers21 helps districts focus on culture, leadership, pedagogy, content and much more. For more information, please visit www.teachers21.org.
Topics/Tags
Follow William James College
Media Contact
Katie O'Hare
Senior Director of Marketing