WJC In Action: Practicing What We Teach
By Meghan O'Dell, AmeriCorps VISTA Project Coordinator
Jun 27, 2018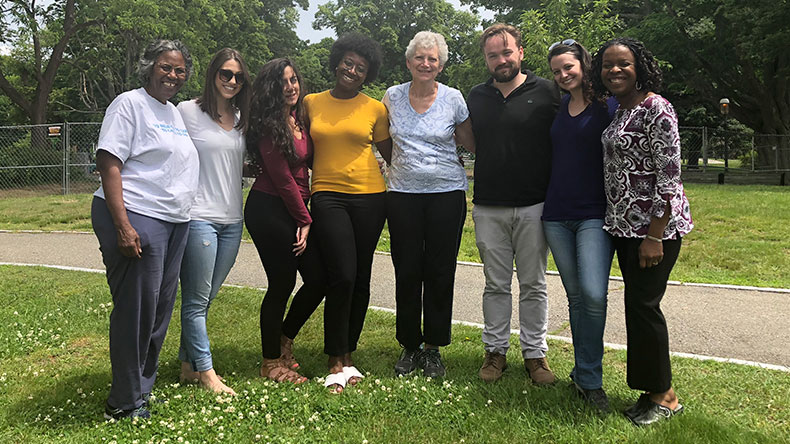 CAN-DO Community Event
On Saturday, June 9th, William James College (WJC) and the Citizens for Affordable Housing in Newton Development Organization (CAN-DO) hosted a family friendly community event. WJC students Arialda Fejzic and Beverly Ibeh led a mindfulness and self-care workshop for a group of mothers while Cassandra Guercia and Patrick Sviokla led arts and crafts activities for their children.
CAN-DO is a local non-profit developer of affordable housing for individuals and families with low and moderate incomes. Founded in 1994 by Josephine McNeil, CAN-DO has since developed 62 units of housing for various populations, including survivors of domestic violence and their children, formerly homeless families, veteran families, mixed-income condominiums, and a group home for adults with developmental disabilities. Access to affordable housing provides a foundation from which individuals and families can gain stable footing and navigate the path from poverty to economic self-sufficiency.
Due to building constraints in the city of Newton, each housing unit holds one or two families, leaving little opportunity for community building across the CAN-DO residential population. Kathy Laufer, the social worker at CAN-DO, and Ms. McNeil recognized the need for creating a forum to bring the residents together and forge greater connections between them. Ms. McNeil then contacted Dr. Nicholas Covino, President of William James College, for some support. In collaboration with the CAN-DO team, Dr. Gemima St. Louis (Associate Professor at WJC) and Ms. Meghan O'Dell (AmeriCorps VISTA Project Coordinator for the PATHWAYS Program) planned a community event and reached out to the WJC community. Within a few hours of posting a recruitment flyer, four WJC students generously volunteered their Saturday morning to offer a family-friendly workshop at Eliot Church in Newton Centre.
The event was a hit! Four families brought their children to the playground outside the church, where Cassandra and Patrick led them in a series of art activities. They painted mini pots, planted seeds that they could watch grow, and made their own play dough. As the kids shouted and ran around the playground, the mothers took a few quiet moments of peaceful contemplation in the mindfulness workshop. Focusing on the fresh smell of mint, the smooth feel and tangy taste of a blueberry, the echoing sounds of the singing bowl, and the colors in the park outside, Arialda and Beverly led a discussion with participants about how to ground themselves in the midst of life's chaotic moments. Afterwards, everyone came together for a pizza lunch and casual conversations. Participants and volunteers alike requested that WJC and CAN-DO continue to host more community events in the future.
An enormous THANK YOU goes out to all the students who volunteered—Arialda, Beverly, Cassandra and Patrick—and to Kathy Laufer, Josephine McNeil, and the Eliot Church of Newton. We are looking forward to continuing the partnership!
Topics/Tags
Follow William James College
Media Contact
Katie O'Hare
Senior Director of Marketing