Admissions: PsyD in Clinical Psychology
Take the Next Step: Apply to the PsyD in Clinical Psychology
We welcome your application to the William James College PsyD in Clinical Psychology program. We enroll a cohort of approximately 100 new students into the Clinical PsyD program in the fall of each year. A strong applicant is one who has demonstrated excellence in their academic preparation, dedication to their personal and professional development, and commitment to community service. Be sure to make a note of application deadlines and requirements. We encourage you to attend upcoming information sessions, connect with student ambassadors, and to sign up for a virtual meeting or phone conversation with our Clinical PsyD admissions counselor, Elizabeth Beaton, to learn more about the admission process.
---
Get to Know Us!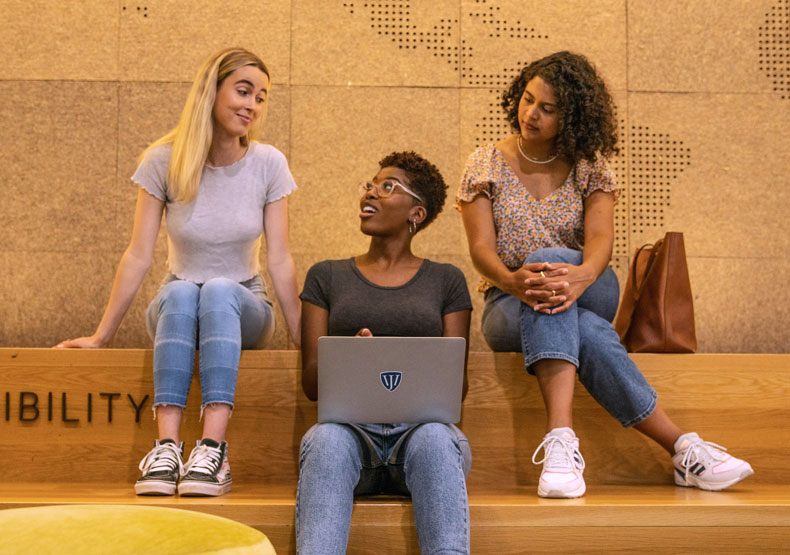 Want to Connect with Someone?
Sign Up for an Admissions Event
Talk with an Admissions Counselor
Connect with Our Students
---
Watch Our Program Information Session
Transfer of Credit: PsyD in Clinical Psychology
Credits earned in graduate-level courses completed at another accredited institution1 no more than five years prior to matriculation at William James College, for which a grade of "B" or better2 was awarded, are eligible for transfer to William James College. Said transfer credit may be applied to degree requirements subject to the following two provisions:
No more than 20 percent of the total credits comprising a student's degree program may be satisfied through transfer credit; however, various degree programs may establish policies that further limit the acceptability and application of transfer credit.
The determination of the actual acceptance and applicability of potentially eligible transfer credit is the responsibility of the appropriate program chair/director.
---
1 "Accredited institution" refers to any college/university that holds accreditation from an association/unit that is recognized by the Council for Higher Education Accreditation (CHEA).
2 The grade of "B-" is less than "B" and not eligible for transfer. Credit for coursework in which a traditional letter grade is not recorded will not be considered for transfer unless the student can present compelling evidence that recorded grades are at least equivalent to "B" quality.
Students admitted to the Doctoral Program may apply for Transfer of Credit.
A) Courses for which a student seeks transfer credit must:
have been taken at a regionally accredited institution
have been taken at the graduate level
have been taught by faculty instructors who have obtained Doctoral Degrees in a mental health related field
have been taken within 5 years of the student's date of matriculation at William James College
have received a grade of B or better
meet the Discipline-Specific Knowledge or Profession-Wide Competency required content mastery assigned to the course in our curriculum
Have been taken in-person or in a blended format, NOT fully online*
*NOTE: Although it remains the Clinical PsyD program's policy to not accept graduate-level courses taken online for transfer of credit, this policy may be waived for courses taken from the Spring 2020 to Fall 2021 semesters, during the COVID-19 pandemic.
B) Limitations
A maximum of 2 credits will be given for each course accepted for transfer (with the exception of those courses designated as equivalent to William James College 3 credit courses on transcript and syllabus review.)
Transfer credit is limited to a maximum of 12 credits. This Policy is automatically waived for those students who are admitted to William James College with Advanced Standing, or other special admission status.
Transfer credit is limited to a combination of elective and required courses.
The following William James College Clinical Doctoral Program requirements cannot be met via transfer of credit:
C) Transfer of Credit Procedure
Students must submit an original plus two (2) copies (for a total of 3 copies) of a Transfer of Credit Petition (available on MyCampus), course descriptions, and syllabi for each course to be considered for Transfer of Credit.
An Official Transcript from the institution at which the course was taken will be required if one is not on file in the student's Academic file.
Transfer of Credit requests must be submitted to the Registrar by April 30th of the year prior to matriculation. Requests will be evaluated by the Registrar in conjunction with appropriate Administrative and academic consultation.
D) Courses previously taken at William James College
For students who have successfully completed William James College courses on a non-matriculated basis:
If taken within 5 years of matriculation, these courses will automatically be applied toward the PsyD degree (unless the student requests otherwise).
A grade of "B" or higher must have been earned in the course.
Incomplete courses will not be transferred into the Clinical Doctoral Program and will not be considered if course completion occurs after program matriculation.
William James College courses (at a maximum of 4 courses) taken prior to matriculation are included in and subject to the 12 Credit maximum for transfer of credit.
E) Courses taken elsewhere while the student is enrolled at William James College
Courses taken at other accredited institutions while a student is enrolled at William James College will be eligible for transfer credit subject to the same rules as courses taken prior to matriculation at William James College.
Students must obtain prior approval of such courses for transfer of credit from their advisor and from the Registrar in accordance with the procedures outlined in section c) above.
An official transcript must be submitted after completion of the course.
Such courses will be included in the 12 credit maximum allowable for Transfer of Credit.
Based on prior academic experience (including, but not limited to recognition of knowledge/skill acquired in previously completed courses which may not be eligible for transfer credit), the department chair may waive one or more required courses, and will then designate a suitable curriculum replacement(s). However, in no case will said waivers constitute a reduction in the number of overall credits required for a degree program. The decision to grant waivers and apply substitute course credits is a matter for the department chair and is not subject to appeal.
Advanced Standing is a formal status granted to newly matriculated students in a William James College PsyD program who enter with a previously completed master's degree in psychology or counseling that meets eligibility requirements. Students with Advanced Standing status enter the doctoral program at the level of second-year students, with a concomitant reduction in the overall minimum number of credits required for the degree. Advanced standing students' time to degree is six months to one year sooner than non-advanced standing students.
Students admitted with Advanced Standing have the first year practicum waived (see institutional policy on Course Waivers, above) and are eligible for up to 26 transfer-of-credit hours for external Advanced Standing and up to 30 transfer-of-credit hours for internal Advanced Standing from our Clinical Mental Health Counseling Master of Arts Program. The department chair and/or her designates will determine precisely how previously completed coursework will apply toward the PsyD curriculum requirements. Such courses will be entered on our transcript as transfer of credit. Students will then be responsible for satisfying all remaining components of our doctoral degree curriculum.
Eligibility and Maintenance of Advanced Standing Status
To be eligible for Advanced Standing, the applicant's master's degree must have been granted by a regionally accredited institution, must have 60 or more credit hours documented on the transcript, and must have required supervised field experience effectively equivalent to our first year practicum requirement (640 hours or more). Only courses taught by faculty with doctoral-level degrees are eligible for transfer of credit toward our PsyD degree. Also, please note that some master's degrees are not eligible for Advanced Standing status. These include (a) master's degrees in social work (MSW), (b) master's degrees completed online or in blended (online + classroom) format, and, (c) master's degrees conferred more than five years prior to your matriculation date at William James College.
Eligibility will be determined by individual review of a student's records, an admissions interview, and direct contact, as needed, with prior advisors and supervisors at the academic program and field sites identified in a student's application. Only students with demonstrated excellence in their prior program(s) will be granted Advanced Standing.
Maintaining Advanced Standing status will be contingent upon establishing a record of academic achievement and good academic standing throughout the first year of our Clinical Doctoral Program. Students admitted with Advanced Standing must matriculate as full-time students and complete at least three years in the Doctoral Program at William James College. Program completion may extend beyond the three years of matriculation and must be completed within 7 years (to include the one year Advanced Standing equivalence). Students admitted with Advanced Standing Status are not eligible to receive the en route Master's Degree in Professional Psychology offered in the Clinical Doctoral Program.
Application for Advanced Standing
Request for Advanced Standing status is made at the time of application by completing the Advanced Standing section of the application. If an interview is granted, applicants for Advanced Standing are asked to submit digital and/or printed copies of all MA-program course syllabi and an official MA-program transcript (if not already received) either in advance of the interview date or delivered on the day of the interview. If the applicant is offered admission, the department chair and/or her faculty and staff designates will communicate to the applicant whether Advanced Standing status is granted and a list credits that can be accepted for transfer. All syllabi and transcript materials must be received by March 15th for the student to receive a report of Advanced Standing status prior to the uniform Acceptance Day (April 15th).