2014 Conference on Haitian Mental Health
By Staff Report
May 3, 2014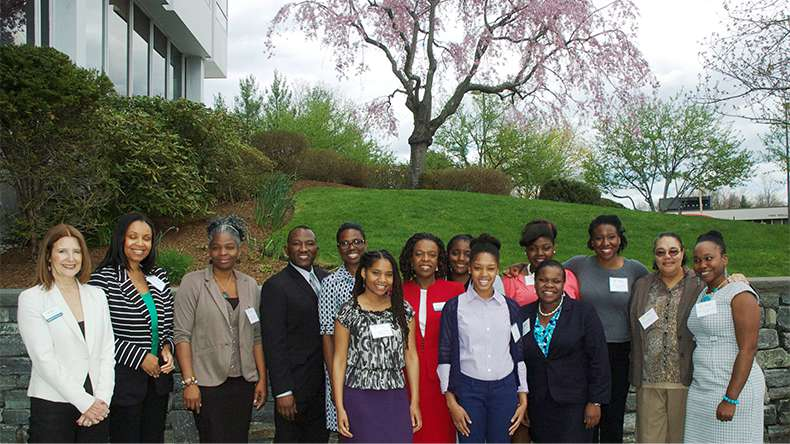 Art Exhibition
William James College hosted the 3rd Haitian Art Exhibition, Vibrant Streets of Haiti, which featured more than 35 artworks from artists in Jacmel, Haiti and New England Haitian artists. This art exhibition was the result of a collaboration, which started a year after the 2010 earthquake in Haiti, between the Haitian Mental Health Network, William James College, and the Haitian Artists Assembly of Massachusetts (HAAM) and its cultural partner Brockton Arts. In addition to sales proceeds that have gone directly to the artists over the past three years, other unexpected outcomes have been reported. For instance, older artists are becoming cultural mentors to younger children in Jacmel, and art supplies are being sent to the children and to the Réseau des Artistes de Jacmel (Jacmel Artists Network). More recently, HAAM has started to ship art supplies to students on the Southern island of Ile-à-Vache in Haiti. Thus far, more than 70 children have attended art workshops under the supervision of six teachers.
William James College has supported this effort by hosting and promoting the art exhibitions to staff and members of the community. For more information about the art exhibit, please contact the Haitian Artists Assembly of Massachusetts at 617- 306-6400, 617-669-0038 or via email atcharlotlucien@yahoo.com.
---
Haiti Service Learning and Summer Immersion Program
This summer (July 2014), William James College faculty and students will participate in a Haiti Service Learning Program. The course is designed to provide students with an enriched immersion experience and exposure to Haitian culture. It focuses on increasing student sensitivity to diversity and difference, promoting learning and sharing of cross-cultural experiences, enhancing competence in building effective therapeutic relationships with immigrant populations, understanding the bridge between psychological theory and its application to culturally diverse groups, increasing awareness of ethics and standards appropriate to professional practice with ethnically diverse populations, and expanding the global perspectives of students in the field of mental health.
Faculty and students will take part in didactic activities to learn about the rich history of Haiti. Additionally, they will travel for a week-long service learning and summer immersion experience in Haiti where they will gain a deeper appreciation of the language, customs, and cultural practices of Haitian society. They will also participate in cultural excursions, and visit historical sites and other points of interest in the host community. Moreover, they will have numerous opportunities to engage in service learning activities and multidisciplinary collaborations with schools, grassroots organizations, and health care and social services agencies in Haiti.
Topics/Tags
Follow William James College
Media Contact
Katie O'Hare
Senior Director of Marketing