2016 Commencement Speech from Joan Wallace-Benjamin
By President and CEO of The Home for Little Wanderers
Jun 5, 2016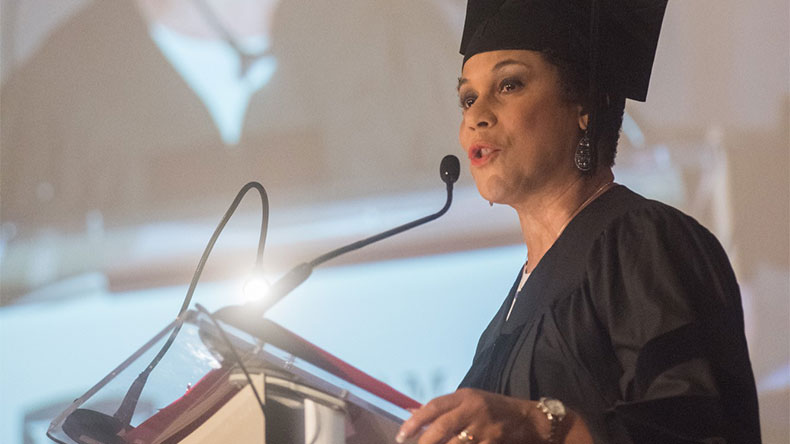 president and ceo of the home for little wanderers
GRADUATES, STUDENTS, PRESIDENT COVINO, TRUSTEES, FACULTY AND STAFF, FAMILIES, LADIES AND GENTLEMEN, GOOD MORNING, AND CONGRATULATIONS. IT IS A PRIVILEGE TO HAVE BEEN ASKED TO GIVE YOUR COMMENCEMENT ADDRESS, AND I AM HONORED TO ALSO RECEIVE AN HONORARY DOCTORATE IN HUMANE LETTERS FROM WILLIAM JAMES COLLEGE. I KNOW HOW EXCITING THIS DAY IS FOR YOU, THE GRADUATES AND FOR THE FAMILY MEMBERS AND FRIENDS THAT ARE HERE THIS MORNING TO SUPPORT YOU.
YOU ARE GRADUATING TODAY WITH A GRADUATE DEGREE IN CLINICAL PSYCHOLOGY, SCHOOL PSYCHOLOGY, COUNSELING PSYCHOLOGY OR COMMUNITY MENTAL HEALTH; AND PERHAPS EVEN WITH A CONCENTRATION IN LATINO MENTAL HEALTH OR IN WORKING WITH OUR VETERANS POST THEIR MILITARY SERVICE.
THE COLLEGE HAS RESPONDED TO THE CHANGING DEMOGRAPHICS IN MASSACHUSETTS AND ACROSS THE COUNTRY BY FOR EXAMPLE, BUILDING A CLINICAL COMPETENCY IN WORKING WITH INDIVIDUALS FROM LATIN CULTURES. BY THE YEAR 2050, 25% OF THE US POPULATION WILL BE OF HISPANIC DECENT.
AND AS I UNDERSTAND IT, THE COLLEGE HAS EXPANDED ITS WORK TO ALSO INCLUDE THE BLACK MENTAL HEALTH INITIATIVE, DESIGNED AS A MULTIDIMENSIONAL EFFORT TO IMPROVE THE QUALITY OF CARE PROVIDED TO RACIAL AND ETHNIC MINORITIES, BLACK PEOPLE, IN PARTICULAR.
WILLIAM JAMES IS SO WELL POSITIONED TO PROVIDE PROFESSIONALS TO THE FIELD THAT WILL BE NEEDED IN OUR CHANGING WORLD OF THE FUTURE.
WHEN I ARRIVED AT THE HOME AS ITS NEW PRESIDENT IN 2003, I WAS THE FIRST PERSON OF COLOR TO RUN THE ORGANIZATION, AND THE FIRST WOMAN IN ITS 217 YEAR HISTORY. THERE WAS ME, THE NEW LEADER, AND THEN ONE HAD TO MOVE DOWN INTO THE ORGANIZATION AT LEAST TWO MORE LEVELS TO FIND ANOTHER ME. OUR CLINICAL RANKS WERE ESSENTIALLY ALL WHITE AS WAS SENIOR PROGRAM LEADERSHIP.
THE MEN AND WOMEN OF COLOR WORKING FOR THE ORGANIZATION WERE ALL DIRECT CARE STAFF-WONDERFUL MEN AND WOMEN WORKING "ON THE GROUND" WITH OUR KIDS AND THEIR FAMILIES. I KNEW FROM MY EXPERIENCE, THAT THIS LACK OF DIVERSITY WAS NOT GOOD FOR THE FUTURE EFFECTIVENESS OF OUR SERVICE DELIVERY TO FAMILIES-WHO IN SO MANY WAYS WERE DIFFERENT FROM THE PEOPLE WORKING AT THE HOME. I HAVE WORKED VERY HARD OVER MY 13 YEARS THERE TO CHANGE THE MIX OF PROFESSIONALS WORKING FOR US. HOWEVER, IT HAS NOT BEEN EASY. TRADITIONAL SCHOOLS OF SOCIAL WORK AT LEAST IN MASSACHUSETTS HAVE THEMSELVES STRUGGLED TO DIVERSIFY THEIR STUDENT BODIES WITH MIXED SUCCESS. SO TO HAVE A WILLIAM JAMES COLLEGE, WITH A FOCUSED APPROACH TO THINKING ABOUT THE TRAINING AND PREPARATION OF CLINICIANS OF COLOR AND PROVIDING THAT COMPETENCY IN ITS COURSES, IS EXCEPTIONAL, AND SO IMPORTANT.
AS YOU KNOW FROM MY BIO, I HAVE SPENT THE MAJORITY OF MY PROFESSIONAL LIFE WORKING IN NOT FOR PROFIT ORGANIZATIONS. I SPENT OVER A DECADE AT THE URBAN LEAGUE OF EASTERN MASSACHUSETTS, A CIVIL RIGHTS SERVICE AND ADVOCACY ORGANIZATION, THEN DID A SHORT STINT AT A GLOBAL EXECUTIVE RECRUITING FIRM. IN 2003, I STARTED AT THE HOME, WAS THERE FOR FOUR YEARS, AND THEN RETURNED TO THE HOME, AFTER SIX MONTHS AS GOV PATRICK'S FIRST CHIEF OF STAFF IN THE FIRST TERM. I HAVE BEEN THERE EVER SINCE.
WITH THE EXCEPTION OF THE FORAY INTO THE FOR PROFIT SECTOR AS AN EXECUTIVE RECRUITER; AND INTO GOVERNMENT AS GOVERNOR PATRICK'S FIRST CHIEF OF STAFF, I HAVE SPENT YEARS WORKING WITH CHILDREN, FAMILIES AND COMMUNITIES THAT ARE MOST IN NEED.
I KNOW NOW FOR SURE, THAT I AM A MISSION GIRL-THAT I DO MY BEST WORK IN ORGANIZATIONS THAT ARE MISSION DRIVEN. MAKING MONEY IS NOT A BAD THING NOW, FOR SURE-BUT FOR ME, THE PURPOSE, REASON AND RELEVANCE OF THE WORK TO THE IMPROVEMENT IN PEOPLE'S LIVES IS THE DRIVER.
THE HOME FOR LITTLE WANDERERS IS AMERICA'S OLDEST AND ONE OF NEW ENGLAND'S LARGEST CHILD WELFARE/BEHAVIORAL HEALTH ORGANIZATIONS. OUR FOUNDING DATE GOES BACK TO 1799 AND ABIGAIL ADAMS WAS ONE OF OUR FOUNDING DONORS. UNLIKE 100 YEARS AGO, WHEN WE WERE AFFECTIONATELY KNOWN AS "THE ORPHANAGE IN JAMAICA PLAIN", TODAY WE ARE A COMPLEX CONTINUUM OF SERVICES SERVING SOME OF MASSACHUSETTS' MOST VULNERABLE CHILDREN AND FAMILIES.
TODAY THE CHILDREN SERVED BY THE HOME ARE VICTIMS OF SERIOUS ABUSE AND NEGLECT-FROM FAMILIES THAT ARE VERY TROUBLED AND IN NEED OF SIGNIFICANT SUPPORT. IN 2014, THERE WERE 31,863 SUBSTANTIATED CASES OF ABUSE AND NEGLECT IN THE COMMONWEALTH. I HAVE HEARD, ANECDOTALLY, THAT AS OF TODAY, THE NUMBER HOVERS AROUND 42,000-ENOUGH CHILDREN TO FILL FENWAY PARK. NOW IF THAT IS NOT A VISUAL, I DON'T KNOW WHAT IS!
OUR WORK IS DIFFICULT, EMOTIONALLY CHALLENGING AND DRAINING, AND HAS THE POTENTIAL FOR "BURN OUT". BUT IT IS WORK THAT IS ABSOLUTELY CRITICAL TO THE WELL BEING OF OUR COMMUNITIES ACROSS THE COMMONWEALTH AND IN COMMUNITIES ACROSS THE COUNTRY.
AS YOU GRADUATE TODAY, TAKE A DEEP BREATH AND STRAP ON YOUR SEATBELTS, BECAUSE WE ARE ALL GOING TO BE BUSY CHANGING THE WORLD ONE CHILD, ONE ADULT, AND ONE FAMILY AT A TIME FOR MANY MORE YEARS TO COME.
WHEN I JOINED THE HOME AS ITS PRESIDENT IN 2003, I WAS SO STRUCK BY HOW IN ALL OF OUR LITERATURE OR REFERENCES TO THE ORGANIZATION, MENTAL AND EMOTIONAL HEALTH WAS NEVER MENTIONED. WE TALKED ABOUT CHILDREN AND FAMILIES IN NEED, THAT THERE WERE KIDS AND FAMILIES WITHOUT THE RESOURCES NEEDED TO INCREASE THE ODDS OF SUCCESS. YET AT THAT TIME, AFTER MERGING WITH 3 OTHER CHILD AND FAMILY SERVICE ORGANIZATIONS. WE WERE A STAFF OF 800 PEOPLE, MORE THAN HALF OF WHICH WERE CLINICIANS, PSYCHIATRISTS, NURSES AND DIRECT CARE COUNSELORS WORKING DIRECTLY WITH THE CHILDREN REFERRED TO THE ORGANIZATION. HOWEVER, WE NEVER MENTIONED THAT THE MAJORITY OF OUR EMPLOYEES WERE PROVIDING TREATMENT THAT WAS MEANT TO MITIGATE AGAINST THE IMPACT OF TRAUMA AND SEVERE ABUSE AND NEGLECT ON CHILDREN'S' MENTAL AND EMOTIONAL HEALTH. WE FAILED TO ACKNOWLEDGE THE FOCUS OF OUR SERVICES AND THE WORK FOR WHICH WE WERE MOST WELL KNOWN.
AS THE ORGANIZATION'S NEW LEADER, I THOUGHT THAT THIS OMISSION WAS MOST UNUSUAL, A BIT CONFUSING, WAS THIS AN OVERSIGHT? THE MESSAGING AT THE TIME DID NOT CAPITALIZE ON SOME OF THE HOME'S BEST WORK WITH KIDS AND FAMILIES. IT SEEMED TO IGNORE THE STRONG REPUTATION WE HAD IN THIS AREA.
WHEN I QUESTIONED WHY, I WAS TOLD THAT DONORS WOULD NOT BE RESPONSIVE TO ISSUES OF MENTAL, BEHAVIORAL AND EMOTIONAL HEALTH. THAT THE STIGMA OF MENTAL ILLNESS AND THE BEHAVIORAL CONSEQUENCES OF PERVASIVE TRAUMA WOULD AFFECT THE DONATIONS THE HOME WOULD RECEIVE. THIS IS BACK IN 2003-2004; AND YES I DID UNDERSTAND THEIR CONCERN. BUT I FELT THAT OWNING WHAT WE WERE GOOD AT; ACKNOWLEDGING THAT THE TRAUMA OF ABUSE AND NEGLECT DID MANIFEST INTO CHALLENGES TO ONE'S MENTAL AND EMOTIONAL HEALTH WAS AN IMPORTANT REALITY TO NOTE. THAT IN FACT, THERE WAS A GROWING LITERATURE ON THE AFFECTS OF PERSISTENT TRAUMA ON HEALTHY BRAIN DEVELOPMENT IN YOUNG CHILDREN. THE LITERATURE CONTINUED TO POINT OUT THAT WITH CONSISTENT AND POSITIVE ADULT INTERACTION, TRAUMA INFORMED CARE AND TREATMENT; AND STAFF WELL TRAINED TO HELP, CHILDREN DO GET BETTER, THEIR BEHAVIOR DOES IMPROVE. SOME OF THOSE BRAIN CIRCUITS GNARLED BY THE HARMFUL HORMONES COURSING THROUGH THE BODY AND BRAIN IN REACTION TO TRAUMA COULD BE CORRECTED OVER TIME. AND IF WE WORKED WITH THE FAMILY AT THE SAME TIME, WE COULD SEE TREMENDOUS IMPROVEMENT IN FAMILY FUNCTIONING.
SO AS THE HOME'S NEW PRESIDENT AND CEO, I STARTED SPEAKING OPENLY ABOUT THE FOCUS OF OUR WORK-ABOUT THE IMPROVEMENTS IN MENTAL HEALTH FUNCTIONING THAT COULD BE SEEN WITH THE RIGHT INTERVENTIONS. AND YOU KNOW WHAT? MY WORDS INSTEAD RESONATED WITH OUR DONORS, THE PUBLIC, AND POLICY MAKERS.
FOR THOSE OF US WHO ARE PARENTS, WE KNOW THAT EVERY PARENT-RICH OR POOR, BLACK, BROWN OR WHITE, URBAN, SUBURBAN OR RURAL, WANT NOTHING MORE THAN FOR OUR CHILDREN TO GROW AND DEVELOP WITH A HEALTHY HEAD AND A HEALTHY HEART. IRRESPECTIVE OF ONE'S DEMOGRAPHIC OR INCOME, WHEN THAT DEVELOPMENT IS NOT PROGRESSING WELL, PARENTS ARE BESIDE THEMSELVES WITH WORRY AND CONCERN. IN 2006 THE ROSIE D V ROMNEY CASE, A CLASS ACTION LAW SUIT BROUGHT BY MASSACHUSETTS PARENTS OF MENTALLY ILL CHILDREN CONCERNED THAT THEIR CHILDREN WERE BEING DENIED THE MENTAL HEALTH SERVICES THEY NEEDED AND DESERVED, WAS SETTLED. AND THE PLAINTIFF'S WON! THE MASSACHUSETTS COMMUNITY BASED BEHAVIORAL HEALTH INITIATIVE WAS BORN. AND CHILD WELFARE ORGANIZATIONS WERE NOW RECOGNIZED AS PROVIDERS OF MENTAL AND BEHAVIORAL HEALTH SERVICES TO CHILDREN IN A WAY NOT RECOGNIZED BEFORE. PUBLIC POLICY AND LAW HAD CAUGHT UP WITH PRACTICE.
I LIKE TO BELIEVE THAT THE MEDIA, OUR GOVERNMENT, CHURCHES AND COMMUNITIES ACROSS THE COUNTRY ARE NOW CATCHING UP TO US AT THE HOME; CATCHING UP TO YOU AT WILLIAM JAMES COLLEGE. SANDY HOOK, FERGUSON, NEW YORK, SOUTH CAROLINA……..AND THE GUN VIOLENCE WE HAVE WITNESSED ACROSS THE COUNTRY IN THESE PLACES, HAS FINALLY FORCED POLICY MAKERS, EDUCATORS, AND THE SOCIAL INSTITUTIONS OF OUR COMMUNITIES TO ADMIT TO THE ROLE OF MENTAL AND EMOTIONAL HEALTH IN THOSE TRAGEDIES. THE STIGMA HAS NOT COMPLETELY DISAPPEARED WHICH IS WHY SOME OF THESE TRAGEDIES HAVE HAPPENED-PEOPLE TURNED THEIR BACKS ON THE SIGNS THAT SOMETHING WAS NOT RIGHT. BUT AT LEAST PEOPLE HAVE COME TO UNDERSTAND THAT THE STRATEGIES TO ADDRESS THIS VIOLENCE IN COMMUNITIES MUST BE COMPREHENSIVE AND TAKE A HOLISTIC VIEW OF PEOPLE AND WHAT THEY NEED TO BE THEIR BEST AND HEALTHIEST SELVES.
I'M HERE TO TELL YOU TODAY, THAT YOUR DECISION TO ATTEND WILLIAM JAMES COLLEGE WAS A GREAT ONE. YOU ARE GRADUATING AT A TIME IN WHICH YOUR DEGREE IS SEEN AS PROVIDING A SET OF COMPETENCIES THAT ARE NEEDED IN SCHOOLS, NONPROFIT SERVICE ORGANIZATIONS, GOVERNMENT AGENCIES PROVIDING HEALTH AND HUMAN SERVICES, AND IN PRIVATE PRACTICE. THE COMBINATION OF THE CONTINUED ACUITY AMONG CHILDREN AND FAMILIES IN OUR COMMUNITIES, AND A GROWING UNDERSTANDING ABOUT THE IMPORTANCE OF STRONG MENTAL AND EMOTIONAL HEALTH, MEANS THAT THE PROFESSIONAL WORLD AWAITS YOU ALL WITH OPEN ARMS AND LOTS OF JOBS. IN THIS TIME OF NEARLY FULL EMPLOYMENT IN MASSACHUSETTS, THE HOME CANNOT FIND CLINICIANS AND DIRECT CARE STAFF. MY HUMAN RESOURCES VICE PRESIDENT TOLD ME TO COME TODAY AND ALONG WITH RECEIVING YOUR DIPLOMA, I SHOULD HAND OUT EMPLOYMENT APPLICATIONS TO EVERYONE GRADUATING TODAY. NON-PROFIT PROVIDERS, GOVERNMENT, HOSPITALS, ARE ALL COMPETING FOR THE SAME PEOPLE WITH THE COMPETENCIES YOU ALL HAVE. ADD TO THAT THE REALITY OF AN AGING EXECUTIVE CORPS WITH THE MAJORITY OF CEO'S OF THE LEADING NON-PROFIT SERVICE ORGANIZATIONS WITHIN 5 YEARS OF RETIREMENT, AND THE OPPORTUNITIES EXPAND EXPONENTIALLY. THE DECISION BY WILLIAM JAMES COLLEGE TO MAKE A CONCERTED EFFORT TO EDUCATE A DIVERSE POPULATION OF STUDENTS WHO SHARE SOME OF THE RACIAL ETHNIC AND LINGUISTIC CHARACTERISTICS OF THE FAMILIES IN MOST NEED; AND THOSE OF YOU NOT OF COLOR, WHO HAVE BEEN GIVEN, THROUGH EDUCATION AND TRAINING, AN ORIENTATION TO THE IMPORTANCE OF BEING CULTURALLY COMPETENT, IS SOMETHING THAT DEMONSTRATES PHENOMENAL FORETHOUGHT AND THE READING OF THOSE DEMOGRAPHIC TEA LEAVES OF THE FUTURE. AS I LOOK OUT ONTO THIS GRADUATING CLASS, LET ME QUOTE OUR SECRETARY OF STATE, JOHN KERRY AS HE ADDRESSED A SIMILARLY DIVERSE GRADUATING CLASS AT NORTHEASTERN UNIVERSITY, "YOU GUYS ARE DONALD TRUMP'S WORSE NIGHTMARE".
SOME OF YOU CAME TO WILLIAM JAMES COLLEGE AFTER HAVING WORKED IN THE FIELD, OTHERS OF YOU PERHAPS FROM UNDERGRADUATE SCHOOL. SO AS YOU SIT HERE TODAY WITH YOUR FRIENDS, COLLEAGUES, MENTORS, AND TEACHERS, YOU MUST BE CONTEMPLATING WHAT YOUR LIFE HAS BEEN TO THIS POINT, AND WHAT PLANS YOU HAVE FOR YOURSELF POST GRADUATION.
FROM MY EARLY LIFE EXPERIENCES, FROM MY FAMILY, FROM MY COMMUNITY LIFE, I KNOW THAT I CAME INTO MY LIFE AS A PROFESSIONAL WITH A COMMITMENT TO COMMUNITY, A SENSE OF RESPONSIBILITY AS A PROUD BENEFICIARY OF AFFIRMATIVE ACTION, AN OPENNESS TO TAKING A RISK, THE ACCEPTABILITY OF MARCHING TO A DIFFERENT DRUMMER, THE INCLINATION TO LEAD RATHER THAN FOLLOW, THE VALUE OF HARD WORK AND HIGHER EDUCATION, THE POWER OF GOOD AND SOLID PUBLIC POLICY TO THE POSITIVE CHANGES IN PEOPLE'S LIVES.
SUCH EVENTS AND EXPERIENCES DO INFLUENCE THE KIND OF PEOPLE WE BECOME. YOU KNOW, ALL REALITY IS SOCIALLY CONSTRUCTED WHICH MEANS THAT WHAT IS REAL FOR YOU GROWS FROM THE MULTITUDE OF EXPERIENCES, INTERACTIONS WITH FAMILY, FRIENDS, AND STRANGERS; THE VALUES AND BELIEFS YOU HAVE BEEN TAUGHT, OBSERVATIONS YOU HAVE MADE ABOUT THE WORLD AROUND YOU. ALL OF THAT CREATES YOUR REALITY. BUT IT ALSO MEANS THAT MY REALITY, AND YOUR REALITY, AND THE REALITY OF EVERYONE ELSE WE KNOW, IS SO VERY DIFFERENT. THIS CURRENT POLITICAL PRIMARY SEASON IS A DRAMATIC DEMONSTRATION OF THE DIFFERENCES IN REALITIES HELD BY AMERICANS ACROSS OUR COUNTRY: AND HOW WITH JUST THE RIGHT QUANTITY OF CRAZY TALK, THE DIFFERENCES JUMP OUT IN SUCH STARK RELIEF. IT MAKES ONE WONDER IF WE ARE ALL ACTUALLY IN THE SAME COUNTRY; ON THE SAME PLANET.
MANY OF THESE DIFFERENCES HAVE ALWAYS BEEN THERE, BUT THIS IS THE FIRST TIME IN A LONG TIME THAT I AM SCARED TO DEATH OF THE REPRICUSSIONS OF THIS UNCHECKED RAGE, DISRESPECT OF OTHERS, AND FEAR MONGERING THAT IS SO PERVASIVE.
SO HERE IS A PIECE OF ADVICE FOR WHAT IT IS WORTH IN THESE CRAZY TIMES: IT IS IMPORTANT TO MAKE MEANING OF THE EVENTS THAT HAPPEN TO YOU, THE EXPERIENCES YOU HAVE; HOW THEY INFORM AND FIT INTO THE DECISIONS YOU MAKE AND THE WAY YOU CHOOSE TO SHOW UP AND PARTICIPATE AS A CITIZEN OF THE WORLD. IT IS REALLY IMPORTANT TO ENGAGE IN A SERIOUS LEVEL OF INTROSPECTION ABOUT THIS MEANING. YOU WILL ALL BRING YOUR PERSONAL CONSTRUCTION OF REALITY INTO YOUR WORK IN THE FIELD IN WHATEVER VENUE YOU CHOOSE TO WORK. MY OBSERVATION IS THAT IT IS ALMOST IMPOSSIBLE, ALTHOUGH YOU MAY ENDEAVOR TO TRY; AND CLINICAL PRACTICE ENCOURAGES YOU TO DO SO, TO LEAVE YOUR REALITY AT HOME. HOW YOU INTERPRET WHAT YOU HEAR FROM A FAMILY IN CRISIS; HOW YOU COUNSEL A CHILD ABOUT THE ABUSE HE HAS EXPERIENCED; IS LACED WITH WHO YOU ARE, HOW YOU GREW UP; THE CULTURE YOU GREW UP WITHIN; THE VALUES YOU HOLD.
WHAT IS KEY, IN MY OPINION, IS THAT YOU REMAIN CONSCIOUS IN YOUR WORK, OF THE FACT THAT YOUR REALITY IS WITH YOU. IT'S NOT RIGHT, IT'S NOT WRONG, BUT IT IS YOURS.
I OFTEN CHARACTERIZE ALL THAT "STUFF" FROM GROWING UP, ON THE BAD DAYS AS THE BAGGAGE; AND ON THE GOOD DAYS AS THE LUGGAGE I CARRY WITH ME ON MY LIFE JOURNEY. IT'S A METAPHOR FOR THINKING ABOUT THE THINGS WITHIN AND ABOUT US THAT MAKE UP WHO WE ARE.
ALTHOUGH WILLIAM SHAKESPEARE SAYS THAT ALL THAT'S PAST IS PROLOGUE. REV VICTORIA STAFFORD TELLS THIS STORY BY JANE ZEPKA FROM THE BOOK, A SMALL HEAVEN.
THE SCENE IS A SUBWAY PLATFORM DURING THE MORNING RUSH AT GRAND CENTRAL STATION. A TRAIN PULLS IN. A WELL-DRESSED WOMAN GETS OFF. BEFORE THE DOORS CLOSE, THE WOMAN REALIZES THAT SHE IS HOLDING ONLY ONE OF HER GLOVES. SHE LOOKS BACK INTO THE CAR AND SEES THE MATCHING ONE ON THE SEAT, BUT IT'S TOO LATE TO RUSH BACK AND RETRIEVE IT. SUDDENLY, AS THE DOORS BEGIN TO CLOSE, SHE FLINGS OUT HER ARM AND TOSSES THE REMAINING GLOVE ONTO THE SEAT ALONGSIDE ITS MATE. THE DOORS SHUT AND THE TRAIN PULLS AWAY.
REV. STAFFORD GOES ONTO SAY THAT THE WOMAN'S ACT LOOKS LIKE A FRIVILOUS GESTURE-GRATUITOUS, SPONTANEOUS, SPUR OF THE MOMENT. BUT YOU KNOW SHE MUST HAVE LIVED A LONG LIFE OF WILD AND CREATIVE GENEROSITY OF SPIRIT TO BE ABLE TO THINK SO QUICKLY, TO ACT SO URGENTLY AND HEALTHILY, TO KNOW PRECISELY IN THAT MOMENT WHAT WOULD BLESS THE WORLD RIGHT THEN AND THERE…SOMETHING IN HER PAST, OR EVERYTHING IN HER PAST, PREPARED THAT WOMAN FOR HER GESTURE…HABITS OF LIVING AND GIVING PRACTICED AND REFINED HER WHOLE LIFE LONG. ALL OUR PAST IS PROLOGUE AND PREPARES US FOR THESE OPPORTUNITIES.
LET ME TELL YOU A PERSONAL STORY AND THEN END WITH A COMMENT OR TWO ABOUT THE LESSONS LIFE HAS TAUGHT ME- WHEN I TOOK THE TIME TO LISTEN.
IN 1975 I ENTERED THE PH.D. PROGRAM AT THE HELLER SCHOOL AT BRANDEIS UNIVERSITY. AT THE TIME, I WAS 22 YEARS OLD. I HAD JUST GRADUATED THAT JUNE FROM WELLESLEY COLLEGE AND IF YOU COULD BELIEVE IT, I WAS THE YOUNGEST STUDENT IN THE ENTIRE HELLER SCHOOL. MOST OTHER STUDENTS HAD BEEN OUT OF SCHOOL FOR AWHILE, HAD WORKED, HAD FAMILIES, WERE REAL GROWN UPS AND THEY HAD COME BACK TO GRADUATE SCHOOL. ME, I WAS A KID, AND HAD ONLY BEEN A STUDENT FOR MY ENTIRE LIFE EXCEPT FOR SUMMER JOBS. I WAS AT HELLER FOR FIVE YEARS-ULTIMATELY WROTE AND DEFENDED MY DISSERTATION AND WAS SLATED TO GRADUATE IN MAY 1980.
GRADUATION WAS A BIG EVENT FOR ME-NOT ONLY WAS I TO RECEIVE MY DOCTORAL DEGREE AT THE AGE OF 26, BUT I HAD BEEN SELECTED BY THE FACULTY TO BE THE GRADUATE CLASS MARSHAL- A BIG TO DO HONOR IN RECOGNITION OF BOTH LEADERSHIP AND ACADEMIC ACCOMPLISHMENT. IT MEANT THAT I MARCHED IN THE COMMENCEMENT AT THE HEAD OF THE LINE WITH THE DEAN OF THE SCHOOL AND HELD THE SCHOOL STAFF-A BATON-LIKE POLE WITH THE SCHOOL SEAL ON THE END.
OF COURSE MY FAMILY HAD COME FROM NEW YORK –MY PARENTS, GRANDPARENTS, AUNT AND UNCLE, MY BROTHER AND OF COURSE MY HUSBAND WAS THERE. I WAS ALL DRESSED UP UNDER MY ROBE IN A PRETTY SILK ORANGE DRESS, AND WAS WEARING A PAIR OF SMALL BUT BEAUTIFUL DIAMOND STUDS THAT MY HUSBAND-ALSO A LAW STUDENT-HAD SAVED FOR MONTHS TO BUY ME. THEY WERE THE FIRST PIECE OF REAL JEWELRY I HAD EVER OWNED. IT WAS A SPECIAL DAY AND I WAS MORE THAN EXCITED. AFTER THE GRADUATION, THE STUDENTS AND FAMILIES RETURNED TO THE SCHOOL BUILDING LOUNGE FOR THE RECEPTION. ALL OF THE GRADUATES DISROBED AND THERE WERE HUGS, KISSES AND CONGRATULATIONS ALL AROUND.
AS WE STOOD BY THE RECEPTION TABLE EATING AND DRINKING, ONE OF MY FELLOW GRADUATE CLASSMATES APPROACHED ME WITH HER FATHER. SHE SAID, "JOAN YOU DID A WONDERFUL JOB LEADING US THIS MORNING" REFERRING TO MY WALK AT THE HEAD OF THE PROCESSION. SHE WAS SMILING, AND SO WAS I. I THANKED HER AND WE LOOKED AT EACH OTHER BOTH TOO PROUD OF OURSELVES TO STAND IT.
HER FATHER THEN LOOKED AT ME AND ALSO WITH A SMILING FACE-SO HE MEANT NO MALICE, SAID TO ME ALMOST IN AMAZEMENT: "WOW, DID YOU COOK ALL OF THIS-- AS HIS EYES GLANCED DOWN ACROSS THE TABLE LOOKING AT THE FOOD. I WAS STUNNED. I SAID, "I BEG YOUR PARDON?" AND HE SAID-"THE FOOD, WHAT A GOOD JOB YOU DID, ITS DELICIOUS". MY CLASSMATE TURNED BEET RED, SHE GASPED AND SAID" NO DADDY, JOAN IS NOT THE COOK; SHE WAS OUR CLASS MARSHAL IN THE GRADUATION PROCESSION. HE STILL DIDN'T REALLY GET IT, HE JUST SHRUGGED HIS SHOULDERS, SHE AND I LOOKED AT ONE ANOTHER-HER EMBARRASSMENT ALL OVER HER FACE AND THEY WALKED AWAY.
I DID NOT TELL ANYONE IN MY FAMILY WHAT HAD HAPPENED UNTIL WE WERE HOME. I COULD NOT LET THE INDIGNITY SPOIL THEIR AFTERNOON AS IT HAD SPOILED MINE.
I THINK OF THIS STORY OFTEN. NOW I JUST SHAKE MY HEAD AND HAVE WRITTEN HER DAD'S COMMENTS OFF TO IGNORANCE. BUT THAT DAY-OH THAT DAY I COULD NOT SHAKE IT OFF. I HAD SPENT THE LAST FIVE YEARS OF MY LIFE WORKING MY WAY-WITH HIGH HONORS- THROUGH THIS GRADUATE PROGRAM. YET AT THE END OF THE DAY, ALL THAT MAN COULD HAVE IMAGINED I WAS ABLE TO ACCOMPLISH (IN AN ORANGE SILK DRESS AND DIAMOND EARRINGS) AS A YOUNG AFRICAN AMERICAN WOMAN WAS TO HAVE COOKED ALL THE FOOD. AND I COME FROM A FAMILY OF COOKS- MY GRANDFATHER A CHEF AT HORN AND HARDART AUTOMAT IN NEW YORK CITY AND BOTH MY GRANDMOTHERS, DOMESTIC WORKERS FOR WEALTHY FAMILIES ON PARK AVENUE -SO COOKING THE FOOD, IF THAT IS WHAT I HAD BEEN THERE TO DO, WAS AN HONORABLE AND NOBLE THING.
BUT I WAS NOT THE COOK THAT DAY.
I TELL YOU THIS STORY, AND AS YOU CAN SEE IT STILL STICKS WITH ME SO MANY YEARS LATER- BECAUSE IT REMINDS ME AND SHOULD REMIND YOU OF HOW MUCH HAS CHANGED, BUT ALSO HOW MUCH STILL STAYS THE SAME. I USE THIS STORY TO REMIND MYSELF OF WHO I AM, WHERE I COME FROM, WHAT I CARE ABOUT. AND MOST IMPORTANTLY THE RESPONSIBILITY I HAVE TO SEE BOTH THE PEOPLE I SERVE AT THE HOME, AND THE STAFF THAT WORK THERE, AS INDIVIDUALS WITH TREMENDOUS GIFTS-EVEN IF AT THE TIME THOSE ARE NOT THE CHARACTERISTICS MOST ON THE SURFACE. THOSE OF US IN THE FIELD OF PSYCHOLOGY AND OR MENTAL HEALTH CARRY A SPECIAL BURDEN AS WE WALK INTO OUR WORK EVERY DAY. WE KNOW BETTER. WE HAVE BEEN TAUGHT WHAT BEHAVIORS MEAN, HOW PEOPLE OFTEN MANIFEST THEIR HURT, THEIR TRAUMA, THEIR CONFUSION, AND THEIR JOY.
I REMEMBER THAT WHILE OUR NATION HAS CHANGED A LOT SINCE I WAS A YOUNG GRADUATE STUDENT, I AM STILL AWARE OF THE FACT THAT THERE ARE PEOPLE IN OUR NATION THAT SEE SOMETHING DIFFERENT WHEN THEY LOOK AT ME; WHEN THEY LOOK AT SOME OF YOU; WHEN THEY LOOK AT THE PEOPLE I SERVE AND THAT YOU WILL SERVE AS YOU ENTER THE WORLD OF WORK. THEY CHOOSE TO JUDGE THE BOOKS BY THEIR COVERS, AND ATTRIBUTE QUALITIES AND CAPABILITIES TO THEM THAT ARE NOT ACCURATE, OR TRUE, OR FAIR.
THERE ARE STILL POCKETS OF OUR SOCIETY THAT ARE SLOWER TO CHANGE, AND IN DIFFICULT ECONOMIC TIMES LIKE THOSE WE HAVE EXPERIENCED TODAY, EVEN FEEL LIKE THEY ARE IN BACKWARD MOTION. WE ARE NOT AS FORGIVING AS WE SHOULD BE OF THOSE MOST VULNERABLE AMONG US. CHILDREN AND FAMILIES WHO ARE POOR, LIVE IN SUBSTANDARD HOUSING, ARE HUNGRY, WHOSE SCHOOLS ARE NOT OF HIGH QUALITY, ARE SOMEHOW, IN THE TOUGH TIMES WE'RE IN, BLAMED FOR THEIR CIRCUMSTANCES.
SO I LEAVE YOU WITH AN IMPORTANT CHARGE-AND A QUOTE BY THE REVEREND DR MARTIN LUTHER KING. THE CHARGE IS TO NOT JUST ASK YOURSELF WHAT YOU WANT TO BE NOW THAT YOU ARE ALL GROWN UP, BUT INSTEAD, WHAT PROBLEMS DO YOU WANT TO SOLVE. NEVER LET ANYONE OR ANYTHING DERAIL YOUR PATH TO SUCCESS AND LIFE OF FULFILLMENT. DR KING SAID AND I QUOTE:
"OCCASIONALLY IN LIFE, THERE ARE THOSE MOMENTS

OF UNUTTERABLE FULFILLMENT, WHICH CANNOT BE

COMPLETELY EXPLAINED BY THOSE SYMBOLS CALLED WORDS.

THEIR MEANINGS CAN ONLY BE ARTICULATED BY

THE INAUDIBLE LANGUAGE OF THE HEART."
THANK YOU AND CONGRATULATIONS AGAIN.
Topics/Tags
Follow William James College
Media Contact
Katie O'Hare
Senior Director of Marketing