Conference Explores "Innovations and New Horizons" in Veterans Psychological Care
By Staff Report
May 9, 2019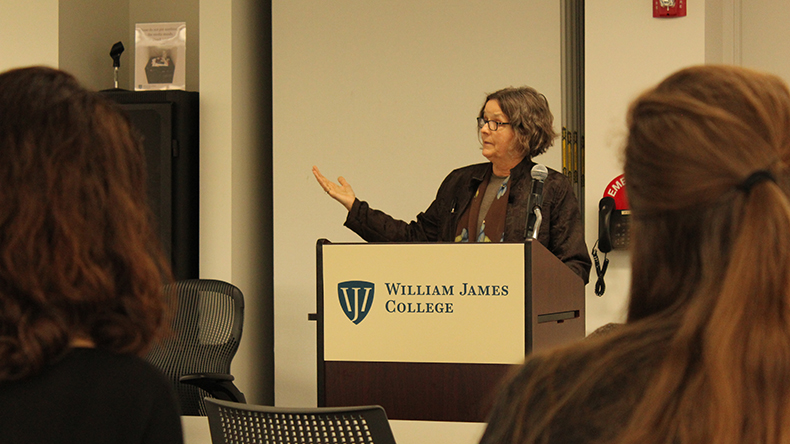 Across the country and around the world, graduates of the William James College Military and Veterans Psychology (MVP) concentration have provided "tens of thousands of hours of direct clinical services to veterans and military families," said Bob Dingman, EdD, director of the MVP program and Train Vets to Treat Vets (TVTV), and a member of the Clinical Psychology PsyD faculty, in his opening remarks the College's annual Veterans' Mental Health Conference held on campus in late April.
This year's conference, which explored Innovations and New Horizons in the Psychological Care of Veterans, convened attendees for presentations on mindfulness treatment approaches, digital applications to healthcare, trauma-informed treatment for women veterans, and a reappraisal of the therapeutic alliance in the treatment of veterans.
Featured speakers included Andy Santantello, PsyD, a military behavioral health psychologist at the Center for Deployment Psychology in Bethesda, MD, who discussed the introduction of mindfulness to veterans and service members; Chris Molaro, CEO and founder of NeuroFlow, a mental health technology company and digital health platform which seeks to promote behavioral health access and engagement in all care settings to improve outcomes, overall wellness, and cost of care; and Sharon Baker, PhD, a licensed psychologist with over 25 years of clinical experience who launched the Women's Integrated Treatment & Recovery Program (WITRP) at the VA Boston Healthcare System in 2007 and continues to serve as Program Manager and Clinical Director. Attendees also participated in afternoon breakout sessions to explore topics in greater depth.
The MVP program trains culturally-competent mental health professionals – veterans and civilians alike – to provide services to military service members, veterans, and their families. TVTV, which is one of very few programs of its kind in the country, provides training to student-veterans enrolled at the College to become clinicians effective in working with veteran populations. There are more than 45 military and 20 civilian students enrolled in the MVP and TVTV programs.
Topics/Tags
Follow William James College
Media Contact
Katie O'Hare
Senior Director of Marketing