Executive Coaching Students Work for Social Change
By Staff Report
Jun 22, 2020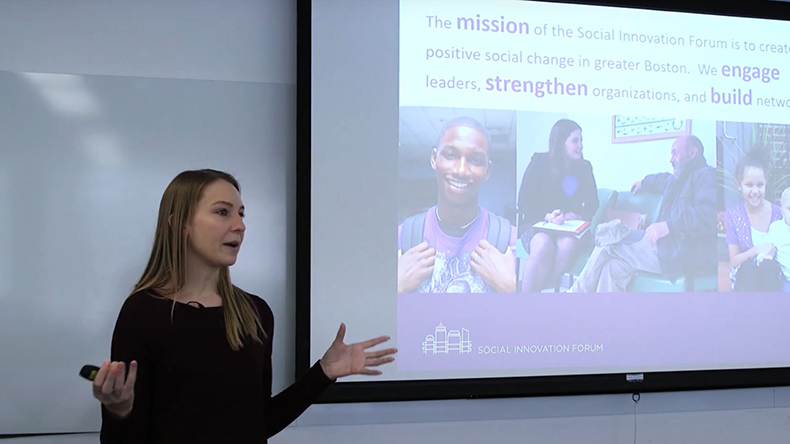 The William James College Graduate Certificate in Executive Coaching (GCEC) program provides students with training and theory of coaching practices, and allows students to use these skills for positive social change to benefit organizations in the Greater Boston area.
Through a partnership with the Social Innovation Forum, the GCEC program includes a three-month practicum with local organizations addressing social justice issues and serving the needs of underserved communities. Under the supervision of a Master Coach, students provide coaching sessions and feedback to non-profit leaders.
This year, participating organizations included: Strong Women Strong Girls, More than Words, Silver Lining Mentoring, Groundwork USA, The Family Van, The Theater Offensive, Arts Connect International and the Cambodian Mutual Assistance Association. These organizations provide educational, cultural, economic and other social initiatives to serve vulnerable and disadvantaged youth and communities. Programs include mentoring, positive environmental change, health services and education, job training and creative opportunities.
The students in the 2019-2020 cohort embraced a non-traditional practicum experience, as the COVID-19 pandemic changed the traditional delivery format, but handled the transition with grace and resolve. Faculty in the GCEC program wrote:
The 2019-2020 GCEC Cohort, like previous other cohorts, was tightly bonded with each other exemplified by their going above and beyond to support each other through personal problems and losses throughout the school year. Then COVID-19 and restrictions on in-person meetings not only prevented them from holding their highly-anticipated "closing-out of the cohort" sessions, it meant that they could not meet with their Practicum clients, social action leaders in Greater Boston. The clients needed their support and guidance more than ever, so the William James GCEC students rallied meeting with their clients on Zoom, FaceTime, and phone. Many of the GCEC students worked beyond the terms of their Practicum to ensure that their client leaders were well-positioned to lead effectively through the Pandemic. The cohort stays in touch with each other and looks forward to a "live" graduation ceremony.
Congratulations to all GCEC students who graduated from the program on May 9, 2020.
The GCEC program is part of the Organizational and Leadership Psychology Department at William James College. It combines psychology, business, organizational development and coaching theory to support leaders in achieving powerful outcome. Learn more about the GCEC program and practicum experience here.
Topics/Tags
Follow William James College
Media Contact
Katie O'Hare
Senior Director of Marketing