Retaining Diverse Student Leaders Scholarship Recipient Announced
By Staff Report
Oct 31, 2019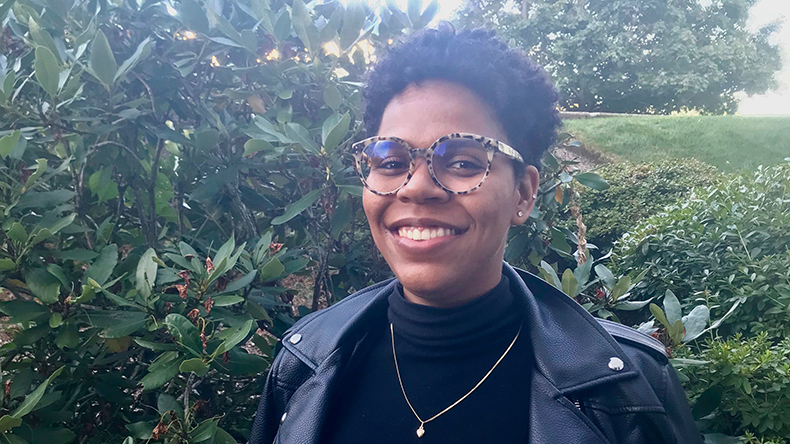 According to the American Psychological Association (APA) during the 2014-2015 academic year only 30 percent of those studying psychology in the United States were from racial/ethnic minority backgrounds. While this percentage has risen in recent years, there's still work to do to ensure a mental health workforce that represents the diverse and ever-changing United States population. Developing a diverse workforce is a core commitment for William James College.
In 2018, the Clinical Psychology Department debuted a scholarship called the Retaining Diverse Student Leaders Scholarship, which is aimed at recognizing the achievements and promise of students who are first-generation college students or members of a group that is traditionally underrepresented in graduate education. Student recipients must also be student leaders at William James College with a demonstrated dedication to social justice.
Second-year clinical psychology student, Tia Rivera, has been named as the recipient of the 2019 scholarship. Rivera said she decided to pursue a career in psychology in part because of the need for racial/ethnic representation in the field as well as more clinicians of color and from other underrepresented backgrounds.
"For me, advocating for groups who are historically underserved is important in order to help those who feel misunderstood and let down by the systems that were not made for them," Rivera said. "Advocating for them helps to provide voices for those underserved groups who feel unseen and unheard."
Rivera is part of both the African and Caribbean Mental Health and the Children and Families of Adversity and Resilience concentrations and an Academy Scholar for the Black Mental Health Graduate Academy. In addition to academics, Rivera works at the William James College INTERFACE Referral Service as an Outreach Specialist, volunteered as a research assistant for the PATHWAYS program and will serve on the Child and Adolescent Mental Health Initiative (CAMHI) Curriculum Development Committee. She will also present a poster at the 2019 New England Psychological Association (NEPA) Conference with several of her peers.
The scholarship was developed by Dr. Natalie Cort, assistant professor of clinical psychology, associate director for Diversity in the College's Center for Faculty Development, and program administrator in the Center for Multicultural and Global Mental Health, in collaboration with Dr. Stacey Lambert, vice president for Academic Affairs and chair of the clinical psychology department.
"The intention is to communicate to the William James College community and beyond that we recognize that achieving excellence requires diversity," explained Cort. "In order to do that, we need to be very deliberate in our actions. We wanted to make sure that we're lifting up and championing students who have dedicated their time to supporting social justice at WJC and who also represents a group that's been historically excluded from the field of clinical psychology."
Dr. Gemima St. Louis, associate professor in the clinical psychology department, director of the PATHWAYS program, co-director of the Center for Multicultural and Global Mental Health, and director of the African & Caribbean Mental Health concentration, served as Rivera's primary clinical supervisor during her first-year practicum placement with the PATHWAYS Program.
St. Louis described Rivera as "an emerging leader at William James College and in the field of psychology." Discussing Rivera's practicum work, St. Louis said, "She went above and beyond the call of duty to advocate for her urban students and connect them to much-needed services and resources in their communities. Tia is committed to serving underserved individuals, families and communities."
William James College advocates for diversity in the field of psychology. The Center for Multicultural and Global Mental Health (CMGMH) aims to promote social justice and address mental health disparities among disenfranchised populations in the U.S. and abroad. Through this Center of Excellence, the College offers concentrations in African and Caribbean Mental Health, Latino Mental Health and Global Mental Health. Students also regularly participate in service learning and cultural immersion trips to Ecuador, Guyana, Haiti, Trinidad and Kenya to increase knowledge and understanding of global populations.
In addition to the Retaining Diverse Student Leaders Scholarship, William James College offers a number of other scholarships for students dedicated to serving the mental and behavioral health needs of underrepresented populations.
The Serving the Mental Health Needs of the Underserved Scholarships, which are provided through CMGMH, are awarded annually to students who have a proven commitment to and advocacy for promoting social justice and addressing mental health disparities among underserved groups.
About the Serving the Underserved scholarship, St. Louis explained, "It is a highly-competitive and prestigious award that represents William James College's commitment to diversifying the behavioral health workforce. Over the past three years, we have awarded 16 scholarships to students in our master's and doctoral degree programs. In addition to academic training, each awardee engages in volunteer and community service activities, participates in social-cultural and professional development programs, and receives professional mentoring that prepares them to serve as agents of social justice and social change."
Four students were recently named as the 2019-2020 CMGMH Scholars: clinical mental health counseling student Jennifer Cotard, leadership psychology student Frances Mathieu, and clinical psychology students Paulina Prieto and Melanie Robinson Findlay.
"This school has not only superficially embraced diversity, it has made concrete changes," said Cort. "The number of people here from racial and ethnic minority backgrounds, for example, is the highest it's ever been. We've built really attractive programs, which communicates that William James College recognizes that our world is big and broad and diverse and that our field should reflect our world."
Popular Topics/Tags
Follow William James College
Media Contact
Katie O'Hare
Senior Director of Marketing and Communications