William James College Awarded $100,000 Cummings Foundation Grant
By Staff Report
May 25, 2021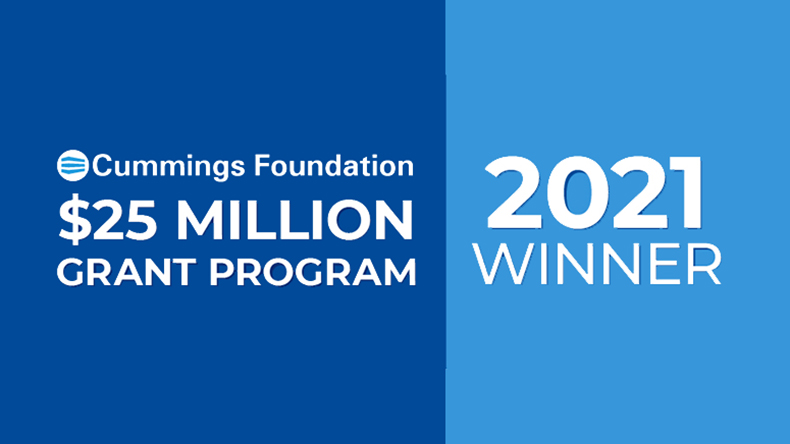 Three-Year Grant Will Expand Access to Mental Health Services for Students in Lynn Public Schools through the College's PATHWAYS Program
FOR IMMEDIATE RELEASE
NEWTON, Mass., May 25, 2021 — William James College is one of 140 local nonprofits to receive a grant from the Cummings Foundation's $25 Million Grant Program. Newton-based William James College, a leader in mental health education, was chosen from among 590 applicants during a competitive review process. The College's PATHWAYS Program will receive $100,000 over three years to expand mental health services for students in Lynn Public Schools.
PATHWAYS, founded in 2013, is a unique campus-community collaboration which began between William James College and the Boston Public Schools. As a school-based counseling program, PATHWAYS is designed to address the unmet social-emotional needs of students, focusing on students who have experienced traumatic life events, who are coping with significant psychological and emotional distress, and who have engaged in disruptive behaviors, like school truancy or chronic absenteeism, that may interfere with their academic performance and social-emotional well-being. The program provides an array of trauma-informed, culturally sensitive, and systems-oriented mental health services.
"Only 20 percent of children and adolescents who have a mental illness receive the care they need. Across the state, access to mental health services is further limited by long wait-lists and the lack of available providers who are culturally competent," said Dr. Gemima St. Louis, associate vice president for Workforce Initiatives & Specialty Training at William James College and associate professor of Clinical Psychology. "Programs at the College, like PATHWAYS, attract and prepare behavioral health providers with a commitment to working with culturally diverse populations in historically marginalized and underserved communities."
The Cummings Foundation grant will support the screening, evaluation, family outreach and engagement, and clinical service delivery necessary to ensure the academic success and social-emotional well-being of 90-100 urban students in Lynn. PATHWAYS will also offer consultation and classroom-based support to teachers and other school personnel. This award comes at a time when these services are needed more than ever.
"The COVID-19 pandemic has exacerbated the rates of anxiety, depression, and other mental illnesses among youth," St. Louis said. "The long-term impact on the educational and psychological functioning of children and adolescents is anticipated to be significant."
According to the Centers for Disease Control and Prevention, between March and October of 2020, emergency room visits related to mental health increased to 24 percent for children and adolescents between the ages of 5 and 11, and to 31 percent among youth ages 12 to 17. Further, the pandemic has disproportionately affected ethnic, racial, and sexual minority communities, which are communities that already face significant challenges in housing instability, loss of employment, and food insecurity.
"Through this funded partnership, we will work collaboratively with the Lynn Public Schools to recruit and train William James College graduate students who will complete their field education experiences in Lynn Schools," said St. Louis. "This grant will increase access to high-quality, culturally-responsive, and evidence-based mental health services for some of the most vulnerable youth in the communities that we serve."
The Cummings $25 Million Grant Program supports Massachusetts nonprofits that are based in and primarily serve Middlesex, Essex, and Suffolk counties.
Through this place-based initiative, Cummings Foundation aims to give back in the area where it owns commercial buildings, all of which are managed, at no cost to the Foundation, by its affiliate, Cummings Properties. This Woburn-based commercial real estate firm leases and manages 10 million square feet of debt-free space, the majority of which exclusively benefits the Foundation.
"We aim to help meet the needs of people in all segments of our local community," said Cummings Foundation executive director Joel Swets. "It is the incredible organizations we fund, however, that do the actual daily work to empower our neighbors, educate our children, fight for equity, and so much more."
With the help of about 80 volunteers, the Foundation first identified 140 organizations to receive grants of at least $100,000 each. Among the winners were first-time recipients as well as nonprofits that had previously received Cummings Foundation grants. Forty of this latter group of repeat recipients were then selected to have their grants elevated to 10-year awards ranging from $200,000 to $500,000 each.
"We have adopted a democratic approach to philanthropy, which empowers an impressive roster of dedicated volunteers to decide more than half of all our grant winners each year," said Swets. "We benefit from their diverse backgrounds and perspectives; they benefit from a meaningful and fulfilling experience; and the nonprofits often benefit from increased exposure and new advocates."
This year's grant recipients represent a wide variety of causes, including social justice, homelessness prevention, affordable housing, education, violence prevention, and food insecurity. The nonprofits are spread across 43 different cities and towns.
"We are extremely grateful to the Cummings Foundation for bestowing this prestigious award on our College," said St. Louis.
PATHWAYS Director Dr. Shani Turner, assistant professor of Clinical Psychology at William James, said, "I'm thankful to the Cummings Foundation for believing in our vision for the work with Lynn Public Schools. I am excited to work on this new venture and thankful to Dr. St. Louis and William James College for such great leadership."
The complete list of 140 grant winners, plus more than 800 previous recipients, is available at www.CummingsFoundation.org.
Cummings Foundation has now awarded more than $300 million to greater Boston nonprofits.
About William James College
Founded in 1974, William James College is an independent, non-profit institution and a leader in educating the next generation of mental health professionals to support the growing and diverse needs of the mental health workforce. Integrating field work with academics, the College prepares students for careers as organizational leaders and behavioral health professionals who are committed to helping the underserved, multicultural populations, children and families, and veterans. William James College alumni can be found making an impact in a variety of settings, including schools, the courts, clinical care facilities, hospitals, the community, and the workplace. To learn more about the College, please visit williamjames.edu.
About Cummings Foundation
Woburn-based Cummings Foundation, Inc. was established in 1986 by Joyce and Bill Cummings and has grown to be one of the three largest private foundations in New England. The Foundation directly operates its own charitable subsidiaries, including New Horizons retirement communities in Marlborough and Woburn, and Veterinary School at Tufts, LLC in North Grafton. Additional information is available at CummingsFoundation.org.
Contacts:
Anne Wilson, William James College, 617-549-1969, anne_wilson@williamjames.edu
Alison Harding, Cummings Foundation, 781-932-7093, aeh@cummings.com
Topics/Tags
Follow William James College
Media Contact
Katie O'Hare
Senior Director of Marketing