William James College Celebrates Hispanic Heritage Month
By Staff Report
Oct 16, 2019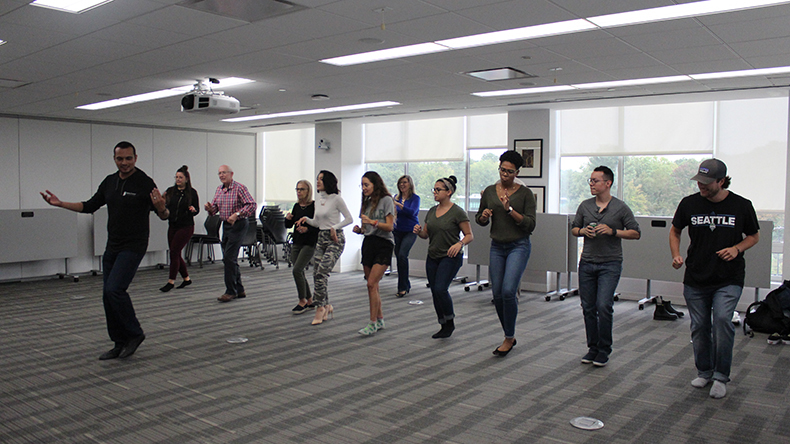 National Hispanic Heritage Month is celebrated annually from September 15 to October 15. It begins on the anniversary of independence for Costa Rica, El Salvador, Guatemala, Honduras and Nicaragua, and also celebrates Mexico's Independence Day on September 16.
Dr. Mari Carmen Bennasar, faculty member in the clinical psychology department and director of the Lucero Latino Mental Health Program, explained in a recent email to the William James College community that the month is "an opportunity to review the way we understand 'American' identity." Adding, "It gives us an opportunity to help build a narrative that accurately reflects the positive role that Latinx have played in U.S. history."
William James College held a variety of events in celebration of Hispanic Heritage Month this year, including a discussion on September 24 about the importance of culturally-sensitive work in the field of psychology, which was accompanied by traditional Dominican cake and Latin music, and a free salsa class on October 2. The salsa class was organized by clinical PsyD student Tania Jimenez. Students, faculty and staff gathered for a lesson from Salsa y Control Dance Studio.
Jimenez, who was part of a group of students in the Latino Mental Health Program who were involved in planning this year's Hispanic Heritage Month celebrations, explained, "As a previous Latin dance student from New Jersey, I thought it would be a great idea to expose the WJC community to Latin culture with our dance and music. Latin music and dance are a significant aspect of our culture because for me, my family always came together to celebrate special occasions with dance, music, and food."
In the community email, Bennasar also provided a number of resources to provide background about Hispanic Heritage Month and information about the U.S. Hispanic population, including the origins and differences between Hispanic, Latino and Latinx; the diversity with this population; and 'Does Hispanic Heritage Month Need a Rebrand?'.
William James College is home to the Lucero Latino Mental Health Program (LMHP), a college-wide concentration, which is named after the late Dr. Cynthia Lucero, a William James College graduate whose career, in part, was devoted to addressing the needs of Spanish-speaking people. This concentration trains students with the language skills, cultural sensitivity, and clinical competence that will enable them to deliver high-quality care to Latinx populations. Students also participate in a five-week Ecuador Summer Immersion Program every year that includes living with a host family, a clinical rotation and a variety of social and cultural activities.
Topics/Tags
Follow William James College
Media Contact
Katie O'Hare
Senior Director of Marketing