William James College Launches College-Wide LGBTQIA+ Studies Concentration
By Anne Wilson, Director of Communications, & Sarah Johansson, Social Media & Digital Content Associate
Jun 23, 2021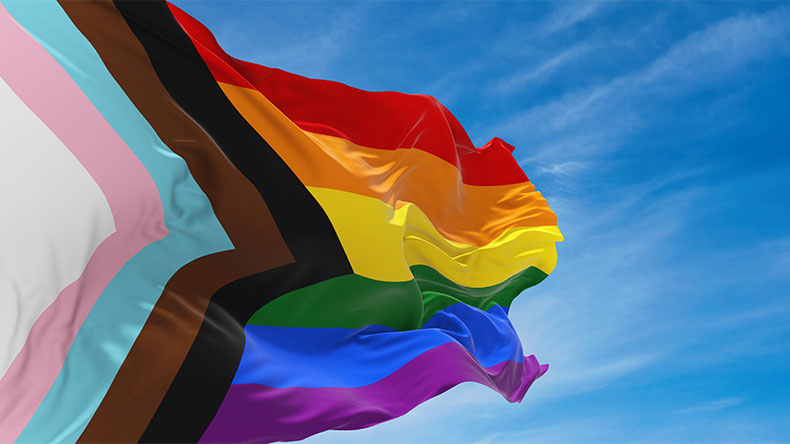 Students can elect to enroll in the 9-credit hour concentration to gain focused understanding of the needs of the LGBTQIA+ community
LGBTQIA+ individuals are between two and four times more likely than heterosexual and cisgender individuals to experience mental health problems or to seriously consider or attempt suicide. Providers who recognize how a person's experience of sexual orientation and gender identity relate to their mental health can significantly, and positively influence treatment.
"Receiving services from providers who are knowledgeable about and competent in working with the LGBTQIA+ community is essential for these individuals and families to mitigate the mental health risk factors they experience,"

—Dr. Jessica Stahl, associate professor in the Counseling & Behavioral Health Department, director of the general track for the Clinical Mental Health Counseling Program, and director of the new College-wide LGBTQIA+ studies concentration.
According to the National Alliance for Mental Illness (NAMI), when a mental health professional understands the role that cultural differences play in the diagnosis of a condition, and incorporates cultural needs and differences into a person's care outcomes drastically improve.
"As an institution that grounds itself in social responsibility, experiential education, and personal growth WJC is particularly well-suited to train future clinicians to be experts in serving the needs of the LGBQIA+ community"

—Stahl
Students enrolled in degree programs at William James College can elect to study in a concentration or area of emphasis to gain additional, focused training on a particular topic that complements their educational path. Concentrations designated as College-wide, like the LGBTQIA+ studies concentration, are available to most students. William James also offers College-wide concentrations in African and Caribbean Mental Health, Asian Mental Health, Global Mental Health, Latino Mental Health, and Military and Veterans Psychology.
The LGBTQIA+ concentration, which will enroll its first class of students in January, is designed to provide mental health professionals with the language, cultural sensitivity, and clinical competence that will enable them to deliver high-quality care to LGBTQIA+ populations. The concentration, which aims to aid in eliminating societal disparities that exist in relation to access and quality of mental health care, focuses on teaching cultural competence to allow students to learn about cultural and sociopolitical factors that influence the lives of LGBTQIA+ people.
"We developed this concentration in response to both the needs of the community and in response to requests from students to have coursework with greater focus on the LGBTQIA+ community," said Stahl. "This concentration will be a natural extension of the other concentrations we offer our students that focus on training future mental health leaders to be experts in providing culturally competent care to specific underserved populations."
The launch of the LGBTQIA+ concentration is taking place at a time when the already significant need for culturally responsive providers in this space is higher than ever.
The pandemic brought with it a wave of negative mental health impacts impacting all Americans, but LGBTQ+ communities were especially harmed. LGBT people experienced certain mental health conditions at higher rates than non-LGBT people before the pandemic began, but a recent Kaiser Family Foundation (KFF) report found that LGBT people "experienced the COVID-19 pandemic differently than non-LGBT people," with higher rates of job loss, increased strain from social isolation, and higher reported mental health impacts. Seventy-four percent of LGBT people said worry and stress from the pandemic had a negative impact on their mental health, compared to 49 percent of non-LGBT people.
Increases in reported impacts among LGBTQ youth were also substantial. A 2021 Trevor Project survey found 70 percent of LGBTQ+ youth reported "poor" mental health "all or most of the time" during COVID-19, only 1 in 3 reported a supportive home environment, and 48 percent who sought counseling in the past year were unable to receive it. Youth without supportive structures face higher rates of depression, anxiety, substance use, and PTSD, as well as heightened risk for suicide attempts, suicidal thoughts, and self-injury.
Kevin Narine, a student in the Clinical Psychology PsyD program, underscored the need for mental health professionals, and for the public, as well, to learn, discuss, and address mental health challenges within the LGBTQ+ community.
"Research consistently indicates that unique and chronic external experiences, including anti-LGBTQ+ discrimination, bias, and interpersonal violence, and internal experiences, such as believing and applying anti-LGBTQ+ messages to oneself, increase the risk for mental health disorders in LGBTQ+ individuals," he said.
While it is important for mental health professionals to receive culturally responsive training, and critical that more culturally responsive providers enter the workforce, there are also strategies allies and non-professionals can take to provide support and reduce bias, discrimination, and harassment, and help LGBTQIA+ people who are struggling with their mental health. Narine listed the following:
Listen carefully to the person, validate their experiences, and keep their experiences confidential.
Take a non-judgmental stance on the person's thoughts, feelings, or behaviors but reassure them that there is affirming LGBTQ+ mental health support.
Ask the person for specific, actionable ways that you can support them such as helping them find a therapist or checking in on them during challenging times.
If you are unfamiliar with the LGBTQ+ community, please Google resources to learn about it, especially common practices to avoid, like misgendering or, Stahl added, using gendered terms to ask someone about their significant other.
Misgendering, which is accidentally or intentionally using incorrect pronouns to address a person, can invalidate and hurt someone. In contrast, gender-affirming language, such as appropriate names and pronouns, is associated with better mental health outcomes.
"Language is a powerful tool in communicating acceptance or rejection to LGBTQ+ individuals. Gender pronouns can be highly influential in conveying acceptance, respect, and support for gender-diverse individuals, buffering the effects of harmful messages in society,"

—Narine
Prospective students interested in the William James College LGBTQIA+ studies concentration, or other focused training offered by the College, should first apply to a William James College degree program. The College is home to a doctoral program in clinical psychology, master's programs in counseling and psychology, master's and doctoral programs in organizational and leadership psychology, a master's program and certificate of advanced graduate studies in school psychology, and a bachelor's degree completion program in psychology and human services.
The William James College Resource Hub lists resources for the LGBTQ+ community and provides links to organizations supporting LGBTQ+ rights.
Topics/Tags
Follow William James College
Media Contact
Katie O'Hare
Senior Director of Marketing