With Military Scholarships, Students Choose Career as Officer and Psychologist
By Staff Report
Feb 22, 2021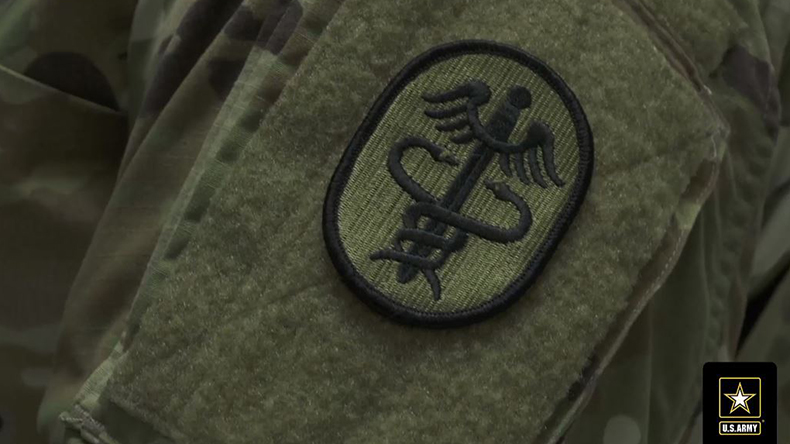 William James College Students Receive Army, Air Force Health Professions Scholarship Program (HPSP) Scholarships
Amy Overpeck comes from a military family. Her brother is in the Air Force. An uncle was in the Navy. Both grandfathers and her stepfather are veterans, too. When she graduates from William James in 2023, she'll be the latest in her family to enlist, becoming an officer and a psychologist in the Air Force.
Overpeck is one of five current doctoral students in Clinical Psychology to be awarded a scholarship for future military health professionals. Mia Porter, Jennifer Sobel and Shannen Gordon will serve the Army post graduation. Like Overpeck, Tyler Marshall will join the Air Force.
Overpeck, Porter, Sobel, Gordon and Marshall are all recipients of Health Professions Scholarship Program (HPSP) scholarships. The Army, Navy, and Air Force HPSP cover up to four years of graduate school tuition and provide a monthly stipend for living expenses as well as money for books. In return, recipients pursing graduate education at William James commit to a length of active-duty service as psychologists. Once each student earns their PsyD, the Army and Air Force will promote the graduates to the rank of captain.
Porter, a member of the Army National Guard since 2015, said she previously dismissed active-duty service because she didn't want to give up the freedom to live where she pleased. But after interning at an Army medical center in Fort Hood, Texas, she fell in love with the practice of psychology in the military.
"My passion was bigger than any type of desire to pick my geographical locations. I kind of look at it as an adventure now," said Porter.
Marshall "always sort of" had a plan to enlist in the Air Force, just as his father and two friends had, he said. The 28-year-old North Attleboro native, who has lived his entire life in the region, said he is ready now to go abroad and serve alongside a diverse group of individuals.
"The military is a great way to do that," said Marshall. "You're serving with people from all over the country, not just Boston or your home state."
Sobel, who has been in the Army National Guard for 17 years, including three deployments, saw uniting her love for the military with her pursuit of psychology as a way to give back to the military community by making it easier for veterans to seek and receive high-quality mental healthcare.
"Sitting around the barracks, people say, 'I don't feel comfortable talking to non-military people,'" she said, adding, "it can be hard to get [service members] to go to counseling."
Despite improved efforts by the Department of Defense and Veterans Affairs to remove roadblocks to care, the stigma of seeking treatment persists in the military. According to a 2016 report by RAND, service members reported concerns about feeling shame, negative impact on their career, belief that unit leaders and members would treat them differently, a lack of confidentiality, and a fear of being perceived as weak.
Dr. Jenny D'Olympia, interim director of the William James College Military and Veterans Psychology (MVP) concentration, and an Air Force veteran, said the ability to find care, especially care from providers who understand military culture, makes a difference.
At William James, doctoral students enrolled in the MVP concentration are trained to become culturally aware clinicians through courses on military culture, substance use, trauma theory, and the deployment cycle's impact on military families. Experiential learning groups are offered to anyone in the program, and students can take on casework focused on veterans and their families.
In their training, students learn to dispel the myths about military culture and the archetype of the warrior portrayed in mainstream culture that may contribute to stigma associated with seeking care, and they are taught the importance of readjustment when they return home from deployment.
William James College is also home to the Train Vets to Treat Vets (TVTV) program, which teaches former military members how to treat their peers, while helping those same veterans to transition out of the service and find a mission in the civilian world. There 49 veterans currently enrolled at the College.
"TVTV is open to all veterans at the school regardless of their desire to treat military and veteran populations," D'Olympia said. "It helps them grow leadership, program development, outreach and research skills so they will be poised to better transfer their valuable leadership skills learned in military service."
For veterans looking to reintegrate, D'Olympia said that Clinical Psychology offers a meaningful career where the stakes are high and the contribution to society is significant.
"The importance of finding a mission after coming back home is significant, because the mission they had while in the service was so great," she said.
HSPS scholarships, which are awarded by various branches of the military, are available to students who commit to military service. Students enrolled at William James who are receiving military health profession scholarships are not required to be in the TVTV program or the MVP concentration (though, to date, all recipients have chosen the concentration).
While TVTV is a veterans-only program, the MVP concentration is also open to veterans and to civilians who want to better understand military culture or who want to serve members of the military, veterans, and military families.
Sobel said that one of the things that she likes about the MVP concentration is that civilians are also trained to engage with and be excited to serve this highly specific population.
"Seeing people in my cohort who don't have military experience, seeing how they can integrate into it, I have more confidence to go back to friends and say, 'Even though you don't feel comfortable talking to civilians, you can go to this person."
Topics/Tags
Follow William James College
Media Contact
Katie O'Hare
Senior Director of Marketing