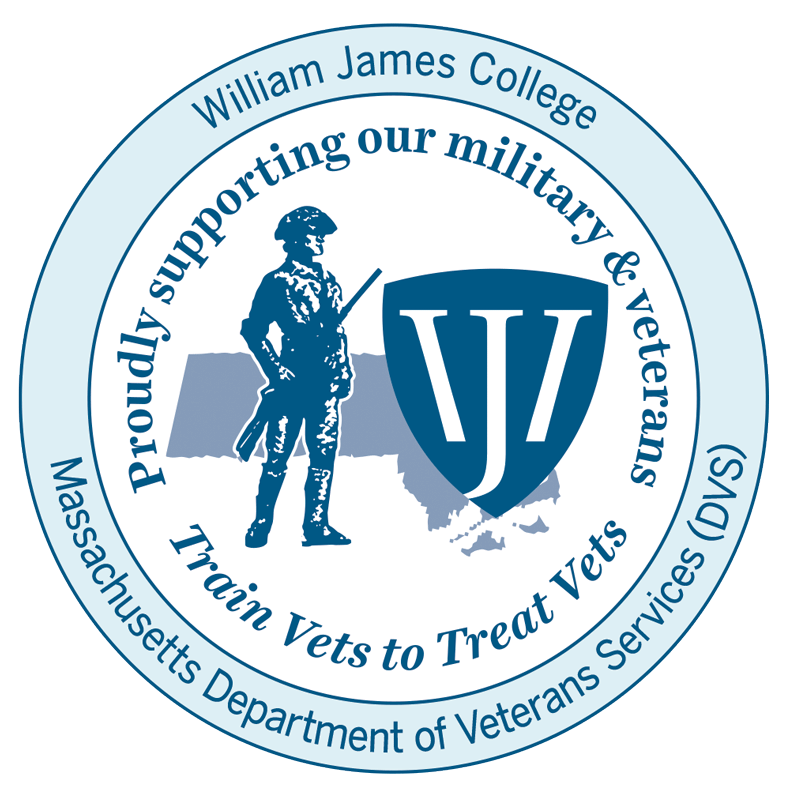 In 2008, The Special Commission to Study and Investigate the Hidden Wounds of War on Massachusetts Service Members reported a high incidence of anxiety, depression, family disruption and brain injury suffered by veterans of recent conflicts and identified best practices for delivering mental health services to this population and their families. The report mirrored national studies on mental health access for veterans that concluded that, despite best efforts, veterans experience significant barriers in accessing high-quality mental health care.
In response to this critically growing need, in 2009 William James College applied for and was approved as an Institution of Higher Learning under the Yellow Ribbon Program of the US Department of Veterans Affairs. Through this program, we have begun to attract former service personnel and reservists who are interested in careers in mental health care; there are currently 20 Clinical Doctoral student-veterans studying at William James College.
In 2010, William James College issued a report to the Massachusetts Department of Veterans Services (DVS) on the effectiveness of creating a program of behavioral health career development for returning veterans, and, in July of 2011, DVS awarded William James College a one-year contract for our new Train Vets to Treat Vets® initiative, which has been renewed annually and continues to generate success within our Military and Veterans Psychology program. The goals of this program are four-fold:
To formalize and expand upon William James College's existing programming for and about veterans. William James College faculty and student-veterans meet monthly to review the professional literature and identify and assess the elements of a model curriculum to train veterans to treat veterans and their families at the graduate level, as well as to address the special concerns student-veterans might face;


To utilize current William James College student-veterans to reach out to and mentor returning military veterans who may have an interest in a career in behavioral health. In 2015-2016 academic year, William James College student veterans conducted outreach to 195 veterans, representing all branches of the military, about TVTV and other opportunities in the mental health field. As a result, 13 were accepted into our 2016-2017 fall class, bringing the total William James College veteran student population to 40.


To expand direct services to at-risk and homeless veterans as part of our Field Education program. Last year, 21 students provided 25,905 hours of direct mental health and support services to veterans, service members, and their families in thirteen different settings, including individual psychotherapy, group therapy, family therapy, and psychological testing.


To develop a state-wide educational conference in collaboration with DVS, DMH and Veterans Inc. on the best practices in behavioral healthcare for veterans and their families to licensed practitioners in the state. On May 13, 2016, we hosted our annual Military and Veterans in Psychology conference for the Massachusetts Department of Veteran Services, "Beyond Post-Traumatic Stress: Fostering Growth and Resilience in Military and Veteran Communities." The conference was a great success featuring a lineup of speakers that included award winning combat journalist Jackie Spinner, Richard Tedeschi, one of the founding researchers of Post-Traumatic Growth, and Jonathon Shay, a world-renowned scholar of Moral Injury.
---
Since its inception, the Military and Veterans Psychology and the Train Vets to Treat Vets® programs have striven to support student veterans as they navigate the process of achieving their educational goals and developing into competent clinicians. The following is an excerpt from an article published by WJC which highlights one of the first graduates from the TVTV program.
David Heilman, MA, LMHC, a Marine Corps Veteran with two Iraq tours as an Infantry Squad Leader, graduated in 2014 from WJC from the Counseling program. Reflecting after a year as a professional counselor serving Combat Veterans at a local Vet Center, David gives insight into the often challenging road for Veterans securing meaningful employment, and sums up his experience at WJC below.
Yellow Ribbon Scholarship Program
Qualifying Veterans will receive a matching Yellow Ribbon grant of up to $10,000 from William James College, which has been awarded unlimited student Yellow Ribbon spaces.
Learn more here
"The education I received at WJC provided me not only with the knowledge I needed in this professional field, but also the internship opportunities that allowed me to work directly with Veterans, placing me in the best position possible to gain the experience I would need to get a job with Veteran Affairs. I was hired by a Vet Center in Massachusetts and began working a month before I graduated. The VA Vet Centers have put a priority on hiring Veterans with the proper training to be mental health clinicians. I began this journey to help my brothers I served with, and I am now in a position where I can not only help them, but help our brothers and sisters from all branches who are struggling after leaving the military."
—David Heilman, MA, LMHC, Marine Corps Veteran, Infantry Squad Leader, Counseling Psychology Graduate
Please consider helping to support this leading edge initiative!
With your help, we can provide additional, much-needed scholarship support to veterans who might not otherwise be able to enroll at William James College. We can expand our outreach efforts to potential student-veterans, as well as our direct mental health services to at-risk area vets. Your contribution to our timely Yellow Ribbon Fund is fully tax-deductible, and provides match funding towards our award from the Massachusetts Department of Veterans Services.
For more information about Train Vets to Treat Vets, please contact admissions at 617-564-9376 or email us here.
For admissions information about our graduate programs, please call 617-564-9376 or email us here.