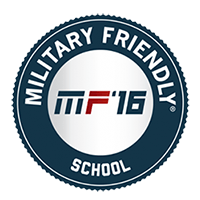 The Office of Veterans Affairs at William James College would like to thank all veterans for their service and welcome you to William James College.
Debra Boyce is the certifying official for veteran's benefits at William James College.
Below please find information on applying for benefits, admissions, forms required, important websites, detailed information on the chapters of the GI Bill®, Federal and State programs, Yellow Ribbon and other important information.
Apply For Benefits
Service members should complete VA Form 22-1990
Dependents should complete VA Form 22-5490
Dependents applying for Chapter 33 benefits should complete VA Form 22-1990e after transfer of benefits has been approved by the department of defense.
Applications can also be completed using VONAPP, which is available on the Department of Veterans Affairs website: www.gibill.va.gov
Decide On A Program
William James College has a wide variety of different graduate programs to choose from.
You may verify that both the school and the program are approved by the Massachusetts Department of Higher Education or the Massachusetts Department of Workforce Development, Division of Apprentice Training.
Apply for Admission
Contact us at info@williamjames.edu to find out how to get started.
Once admitted, contact Debra Boyce, William James College Certifying Official, who will certify your benefits.
Debra Boyce may be reached at debra_boyce@williamjames.edu or 617-564-9334. Located on first floor, 111L. Office hours are Monday-Friday 8:00 am-4:00 pm.
Forms Required
Certificate of Eligibility
DD-214, If available
Your Responsibilities
Students must continue to make satisfactory progress towards completion and notify Debra Boyce of any withdrawal, change in enrollment status, or change in place or program study.
If you require additional funding, please complete your FAFSA and refer to the financial aid section on this website or contact the financial aid office at 617-327-6777 Hillary x1524.
Below is a list of contacts and websites outside of William James College that may be helpful to you.
For information on approved education programs, licensing, and certification exams, and on the job training programs
Massachusetts Department of Higher Education
454 Broadway, Suite 200
Revere, MA 02151
Phone: (617) 391-6072
Fax: (617) 727-0667
Email: veted@bhe.mass.edu
www.mass.edu/veterans
For federal G.I. Bill benefit eligibility, application, payment information, and for a complete list of Yellow Ribbon participating colleges and universities:
U.S. Department of Veterans Affairs
Buffalo Regional Processing Office
1-888-GIBILL1 (1-888-442-4551)
www.gibill.va.gov
For information on apprenticeship programs:
Commonwealth of Massachusetts
Department of Labor and Workforce Development
Division of Apprentice Standards
P.O. Box 146759
19 Staniford Street, 1st Floor
Boston, MA 02114
Phone: (617) 626-5409
Fax: (617) 626-5427
www.mass.gov/dat/
Active-Duty Military Tuition Assistance (TA) is a distinct source of financial aid offered by the federal government that may be available to eligible service members. Each service branch administrates award amounts, eligibility, restrictions, and application process.
Applying for Tuition Assistance
The general process for requesting Tuition Assistance is the same for all branches of the military, however, each military branch uses a different educational portal, which you can find additional information on TA. It's also important to check with your military branch to understand the time frame in which you can request your TA.
To apply:
Speak with your Educational Services Officer (ESO) or counselor within your military branch to ensure your TA eligibility prior to enrolling in courses.
Follow your ESO or counselor's instructions for how to request TA for your course(s). Complete your TA request online through your military branch's educational portal.

You may be required to submit an educational degree plan, which you can get from your school's Registrar's Office.
If you are required to provide a cost verification as part of your application, you can print your charges from your student account.
Select William James College as your academic institution.

After your TA funding is approved by your military branch, send your tuition assistance approval to your School Certifying Official.
The Tuition Assistance funding will be applied to your balance due for the term as the first source of payment.
For questions regarding TA eligibility or the process for applying for TA, speak with your Educational Services Office or counselor within your specific military branch.
Additional information on utilizing Military Tuition Assistance can also be found online at Military Tuition Assistance | Military.com
This handbook is a comprehensive official guide to all benefits available to veterans as authorized by federal regulation, and includes information on the following:
Health Care
Service-Connected Disabilities
VA Pensions
Education Benefits
Home Loan Guaranty
Life Insurance
Transition Assistance
Military Medals and Records
Appealing VA Claim Decisions
Index of VA Facilities and web sites
To request a copy, please log onto the US Government Printing Office web site at: http://bookstore.gpo.gov/ or call toll free at: 866-512-1800.
VA operates the nation's largest integrated health care system in the world, with over 1000 sites of care, including hospitals, clinics and counseling centers.
Please note that students who are approved for VA health care access are not required to purchase our-sponsored health insurance plan but must complete the online insurance waiver.
Combat Veterans are automatically eligible for health care services up to 5-years post-separation. Veterans are encouraged to visit the West Roxbury VA to determine eligibility.
To apply for enrollment, students must complete VA form 10-10EZ (Application for Health Benefits). For additional information about VA health care, click on this link: www.va.gov/health.
The VA Medical Center closest to William James College is located at: 1400 VFW Parkway, Boston MA 02132.
Certain veterans may be further eligible for reimbursement of travel costs when traveling for approved VA Medical care.
The Post 9/11 GI Bill® is a new education benefit program for certain service members and veterans who served on active duty on or after September 11, 2001. Benefits are payable for training pursued on or after August 1, 2009. Generally, service members and veterans may receive up to 36 months of entitlement under the Post-9/11 GI Bill.
William James College has partnered with the VA to offer supplemental benefits under the Yellow Ribbon GI Education Enhancement Program. In addition to regular Post 9/11 GI Bill education benefits, qualifying students can receive a $10,000 VA Yellow Ribbon Scholarship and a matching $10,000 Scholarship from William James College under this program up to the cost of tuition. For addition information about GI Bill benefits, please log onto http://gibill.va.gov/ or you may contact our Office of Student Services at 617-564-9334.
Students must submit VA Form 22-1995 to the Regional Processing Office notifying them of their matriculation at William James College.
Students must forward a copy of their Certificate of Eligibility to debra_boyce@williamjames.edu
The school's certifying official certifies eligible students enrollment each semester with the VAONCE system online.
GI Bill® is a registered trademark of the U.S. Department of Veterans Affairs (VA). More information about education benefits offered by VA is available at the official U.S. government Web site at https://www.benefits.va.gov/gibill.
Students enrolled at least 3/4 time are eligible to apply for part time work-study employment at a VA facility. For more information about this benefit, please click on this link:
www.benefits.va.gov/gibill/workstudy.asp
.
The Women Veterans' Network is a program of the Massachusetts Department of Veterans' Services. The Network is the central resource for women veterans in Massachusetts and provides information on federal, state and local benefits. The Network's mission is to expand awareness of the needs of women veterans and to identify available health and human resources to meet those needs.
Interested students may contact the Network at 617-210-5781 or by e-mail: dvswomen@vet.state.ma.us.
The SBA maintains an Office of Veterans Business Development for veterans considering operating a small business. Services include business planning assistance, financing, counseling and training. For more information, please click on this link:
www.sba.gov/aboutsba/sbaprograms/ovbd/OVBD_VBOP.html
.
Veterans and other claimants for VA benefits have the right to appeal decisions made by a VA regional office or medical center. A claimant has one year from the date of notification of a decision to file an appeal. The process begins by contacting the regional office or medical center that rendered the initial decision and filing a written notice of disagreement. More information about VA appeals can found in the Federal Benefits for Veterans Handbook, VA Pamphlet 80-09-01.