Alumna's Marathon Effort Raises More Than $3,000 For Student Scholarships
By Josh Rizkalla, Communications & Media Relations Associate
Apr 20, 2022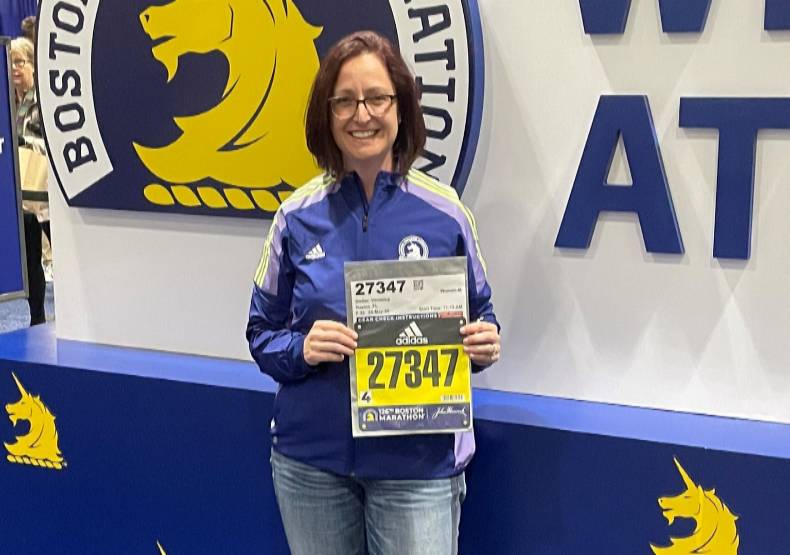 Dr. Veronica Steller completed the 2022 Boston Marathon knowing that crossing the finish line was an important milestone, but not an ending to the work that she'd put in. Steller knew that the $3,244 she raised to support William James College student scholarships would go on to support future clinicians dedicated to making a difference in the field of mental health.
"I thought a lot about the students who would benefit from these funds. Like each step, one at a time, I hoped that each dollar, one at a time, would help someone fulfill their dream, just like I had the opportunity," Steller, a graduate of the Clinical Psychology PsyD program, said.
Funds raised were added to The Lucero Fund, a newly established scholarship pool that honors the life and work of Dr. Cynthia Lucero. Steller dedicated her race to Lucero's memory, and to the memory of her classmate Chris O'Connor, who passed away in 2018. O'Connor, who earned his master's degree from William James College, was a Clinical Psychology PsyD candidate at the time of his passing.
Rather than listen to music, Stellar spoke to Lucero and O'Connor throughout the race. "I asked for their strength and guidance – both would have been fantastic clinicians, as they were already such wonderful people," she said.
Steller said that the physical pain she felt in the final miles left her worried she might not finish the race, but that the crowd's support and her own determination willed her to the finish line, a significant place in her life, not just in the race.
Steller was standing at the finish line and supporting friends when the 2013 marathon bombing occurred, an event and traumatic experience that helped shape her career path. Despite the history, though, she said she was not nervous before or during the race, and found herself reassured by the camaraderie around her, which proved the tragedy did not take away the spirit of the event.
"I was immensely overcome with emotion many times on the course, as people who did not know me at all personally cheered me, ran out to give me a high five, or made me smile with a joke," Steller said. "This race gave me a bit of my faith in humanity back, I got to see and feel [the goodness of] people all day long. People who want to be kind, helpful, and supportive. It was the best feeling ever."
Steller said the experience of training and dedicating her mental and physical efforts during the race will inform her work as a postdoctoral resident health psychologist at a behavioral healthcare practice in Florida.
"I think knowing that one's body and mind truly work together, gives me better insight into how I can help my clients tap into their own inner strength," Steller said. "And that relying on others' love and support goes a very long way."
Topics/Tags
Follow William James College
Media Contact
Katie O'Hare
Senior Director of Marketing