Alumna Who Witnessed 2013 Boston Marathon Bombing Will Run 2022 Marathon to Raise Funds for WJC Student Scholarships
By Josh Rizkalla, Communications & Media Relations Associate
Mar 18, 2022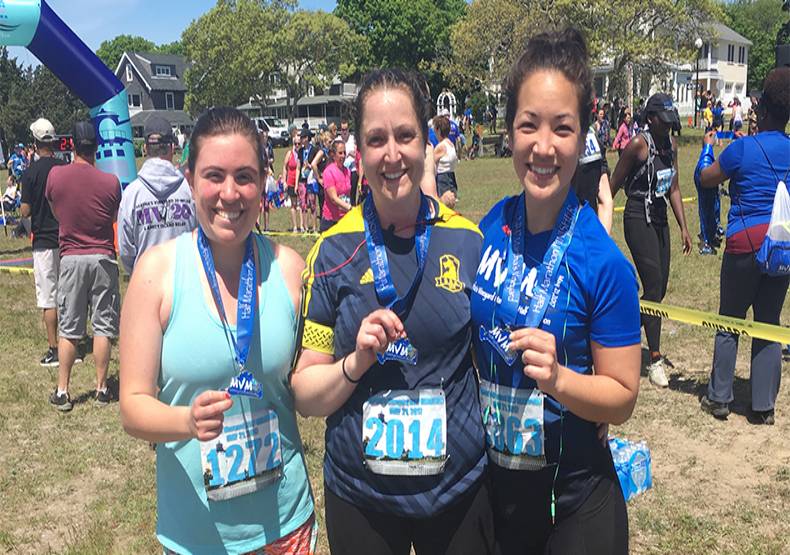 For Clinical Psychology PsyD program graduate Dr. Veronica Steller, William James College is more than the place she received her education. The College, she said, provided a community that stood with her through challenges and prepared her for a career helping others do the same. To ensure that others have similar opportunities, Steller is running the 2022 Boston Marathon and raising funds for student scholarships, as a member of Team Newton.
"This is such a privilege. I'm so excited to represent William James, the town of Newton, and to support mental health," Steller, a lifelong runner, said. The Boston Marathon holds particular significance for her. She was cheering on friends at the finish line of the 2013 marathon when the bombing occurred.
"I experienced severe PTSD symptoms after going through the Boston bombing, I really had a sense of hopelessness around getting better," Steller said. She credits therapy with helping her heal and, she said, the experience influenced her decision to pursue a doctorate in clinical psychology with a focus on helping others suffering from traumatic experiences.
Funds raised will go to the The Lucero Fund, a new established fund that continues a tradition of honoring the life and work of Dr. Cynthia Lucero, and supporting students dedicated to work that reflects her passion for helping others through equal mental health access.
In addition to fundraising, Steller is running in memory of two WJC community members: Dr. Lucero and close friend and classmate Chris O'Connor, who passed away in 2018. O'Connor, who earned his master's degree from William James College, was a PsyD candidate at the time of his passing.
"As a student, I had the privilege of forming a friendship with Chris. His dedication to helping those suffering from addiction and unequal access to care, and his passion, and love for humankind and the human experience, impressed me greatly. Cynthia, a graduate of WJC and herself a marathon runner, left a legacy that encourages equality in mental health resources," Steller wrote on her donation page.
Steller currently works as a postdoctoral resident health psychologist at a behavioral healthcare practice in Florida. The marathon will bring her back to the Boston area she called home for over 15 years. She reflected on her time here as something like a marathon in its own way, citing mental strength, endurance, and the help of others through a journey of highs and lows.
"To have had the profound privilege of guiding and walking alongside those struggling with the human experience, and to know I had others walking alongside me— professors, mentors, and friends—is such a gift," Steller said.
This is the second consecutive year a William James community member will run with Team Newton to support WJC students. To support Steller, and William James students, please visit her donation page.
Follow William James College's social media channels and hashtag #WJCRunsBoston for updates on WJC Marathon runners. Are you a WJC Community member who is running the 2022 Boston Marathon? Share a post from your own social media account and tag the College to share your story.
Topics/Tags
Follow William James College
Media Contact
Katie O'Hare
Senior Director of Marketing