For Marathon Monday, A Look at the Positive Impacts Running Has on Mental Health
By Josh Rizkalla
Oct 8, 2021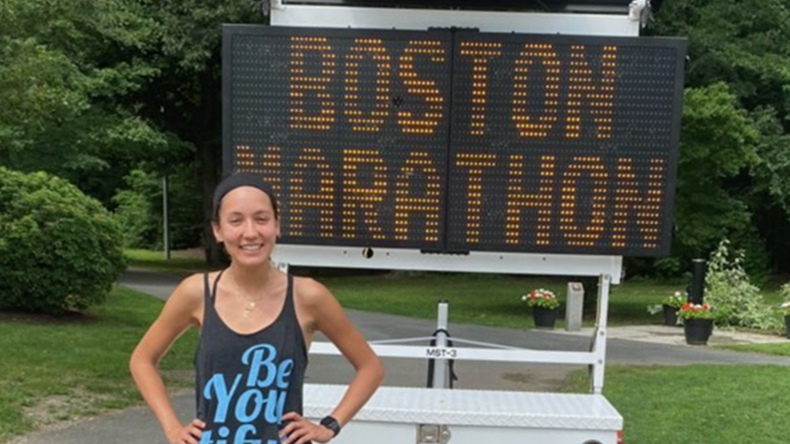 Running offers physical health benefits – and studies show it has a remarkably positive impact on mental health, too. We're celebrating those health benefits, and the three members of our community who are taking on Boston to raise funds for good causes. Student Amanda Salerno, pictured, is running to raise funds for the William James College Latino Mental Health Program.
The 2021 Boston Marathon may have a little more meaning this year, not just for those lining up at the starting line in Hopkinton on October 11 but for spectators as well. After the cancellation of the 2020 Marathon, the first in the event's 124-year history, the Marathon's return offers a moment of normalcy – something in which many Bostonians will find comfort.
The pandemic impact ushered in a dramatic rise in reported mental health issues. According to an American Psychological Association (APA) study, almost three-quarters of licensed psychologists who treat patients for anxiety disorders reported an increase in demand since the pandemic began. Depression, stress-related disorders, and sleeping problems also saw noticeable increases.
There are many ways to treat the challenges patients face, and treatment plans should be left to the individual and their provider, but an exercise routine is among the things that most individuals can do to take care of their own mental health on regular basis. According to a 2018 study by the peer-reviewed medical journal The Lancet Psychiatry, those who exercised regularly experienced an over 40 percent decline in bad mental health days.
"Running, for me, is the ideal self-care," said Josh Cooper, dean of students. "When I'm out there I can focus on enjoying the run and take a break from everything else."
Cooper will be among those lining up in Hopkinton Monday morning. One of three runners from the William James Community, Cooper is running to raise funds for the West Suburban YMCA and their youth programs.
Also on the course will be Dr. Katherine King, assistant professor of Clinical Psychology and director of the Geropsychology concentration, who is raising funds for Samaritans of Hope, a suicide prevention organization, and fourth year Clinical Psychology PsyD Student Amanda Salerno, who is running to benefit the Dr. Cynthia Lucero Latino Mental Health Program (LMHP) at William James College.
"I am really grateful to be running the Boston Marathon, to be raising money for such an important cause and to carry on the legacy of Dr. Cynthia Lucero," Salerno said. Her fundraising efforts will support the Cynthia Lucero Scholarship, which awards funding each year to a deserving student who exhibits a strong dedication and commitment to the delivery of human services to the Latino community.
King, on her fundraising page, wrote that she is she is running for hope, healing, and recovery. She also wrote that long-distance run training is a bit like life. "There are ups and downs, periods of hardship and setback, times when it seems impossible… only to be followed by unexpected moments of grace, surges of vitality, gratitude, and triumph."
Follow William James College's social media channels and hashtag #WJCRunsBoston for updates on WJC Marathon runners.
Related Links:
Topics/Tags
Follow William James College
Media Contact
Katie O'Hare
Senior Director of Marketing