Boston Corporate Leaders & Mental Health Professionals Gather to Address Key "Opioid Crisis" Issues at Day-Long Conference
By Staff Report
Apr 5, 2017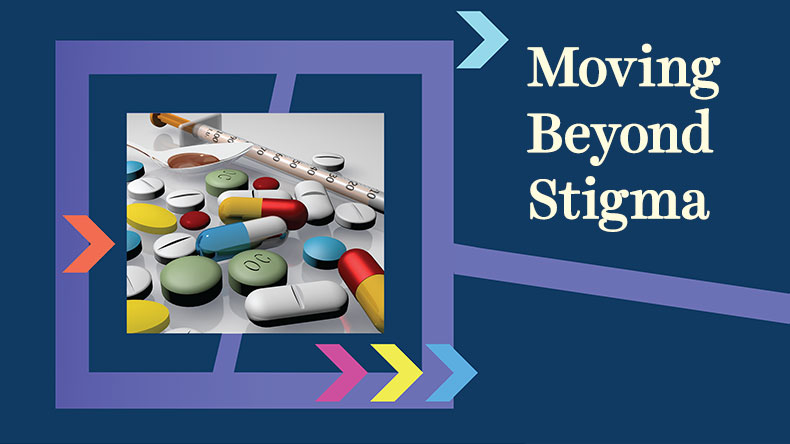 William James College to Host, "Moving Beyond Stigma," a Public Forum to be Held May 23rd at the Back Bay Events Center - Free & Open to the Public
BOSTON, April 5, 2017 -- William James College, a leader in educating mental health professionals, will be hosting "Moving Beyond Stigma", a Public Forum to address stigma in mental health and substance use, on Tuesday, May 23, from 8:00 am to 3:30 pm at the Back Bay Events Center. The event follows last year's highly successful "Thinking Outside the Box" Forum, and will feature some of Boston's top business leaders and mental health professionals including; GE Foundation's Ann R. Klee, Boston developer and activist John Rosenthal, Massport's Thomas Glynn, Suffolk Construction's John Fish, Boston Health Care for the Homeless Program's Dr. Jim O'Connell, Dimock Center's Dr. Myechia Minter-Jordan and Massachusetts Health and Human Services secretary Marylou Sudders. The Forum is free and open to the public, but pre-registration is required.
Keynote speakers will be Gary Mendell, Chairman of HEI Hotels & Resorts, who founded the non-profit Shatterproof after losing his son to addiction in 2011, and Patrick Corrigan, PsyD, one of the country's top mental health stigma researchers. Mayor Marty Walsh will provide the forum's opening remarks.
Special guest will be Michael Botticelli, President Obama's former White House drug czar and recently announced leader of Boston Medical Center's newly established Grayken Center for Addiction Medicine. In learning about the Forum, Botticelli responded, "The opioid crisis is the most pressing issue of our time and affects every part of our community. It requires an all hands on deck approach. We all have a role to play in putting an end to this epidemic."
More than 600 policymakers, community leaders, clinicians, first responders, families and members of the public are expected to attend the Forum that will be hosted by Dr. David B. Herzog, Emeritus Professor of Psychiatry at Harvard Medical School, and Director of the William James College Public Education series. The Forum's distinguished group of 23 speakers, panelists, and moderators will include media figures: WGBH's Callie Crossley, Boston Globe's Maria Cramer and WCVB's David Hurlburt.
EVENT: Public Forum "Moving Beyond Stigma" (Free & Open to the Public)
DATE: Tuesday, May 23, 2017, 8:00 AM – 3:30 pm (Lunch Provided)
VENUE: Back Bay Events Center, 180 Berkeley Street, Boston, MA 02116
As the opioid crisis continues to sweep across every city in the Commonwealth and the country, the conversation about mental health and substance use disorders is beginning to change. Prejudicial beliefs and attitudes associated with mental illness and substance use disorders are significant barriers to care. The Forum will cover institutional, public and personal stigma, elucidate the factors that influence negative perceptions, highlight the impact of stigma, and explore strategies for change. Panel discussions will include community leaders, first-responders and business leaders.
The goals of the Forum are to promote a shift in the conversations that perpetuate stigma and to create a community in support of those struggling with these illnesses. Ann R. Klee, President, GE Foundation, expresses GE's commitment to these goals:
"Part of the GE Foundation's mission is to inspire others to act. Combatting stigma to help fight the opioid epidemic is something that can start with each one of us. Speak out, speak up and speak the right words that allow patients and families to find and receive the treatment they need. The more we reduce the stigma of substance use disorders, the easier it will be to combat it."
We will close the Forum with a "Call to Action," inviting all attendees to unite collectively to combat stigma and improve quality of care for individuals with mental illness and substance use disorders.
For all Forum information and registration visit: info.williamjames.edu/mbs
---
About William James College and the Public Education Series
"Moving Beyond Stigma" is part of the William James College Public Education series, which convenes thought leaders to address societal issues that affect mental health.
Founded in 1974 as an independent graduate school of psychology, William James College is the largest graduate psychology program in New England, offering 15 unique training programs for mental health professionals at the doctoral, master's and certificate levels, each designed to immerse students in both academic study and experiential education. William James College is a leader in educating mental health professionals who are committed to meeting the needs of our most vulnerable populations and is constantly evolving to meet the needs of a rapidly changing and increasingly diverse society. The College's highly skilled professionals care for Latinos, veterans, children, adolescents and families in a variety of settings, including the schools, the courts, the community and the workplace.
Topics/Tags
Follow William James College
Media Contact
Katie O'Hare
Senior Director of Marketing