First Graduate of LGBTQIA+ Concentration Proudly Paving a Path Forward
By Hannah Van Sickle, Staff Writer
Jun 15, 2023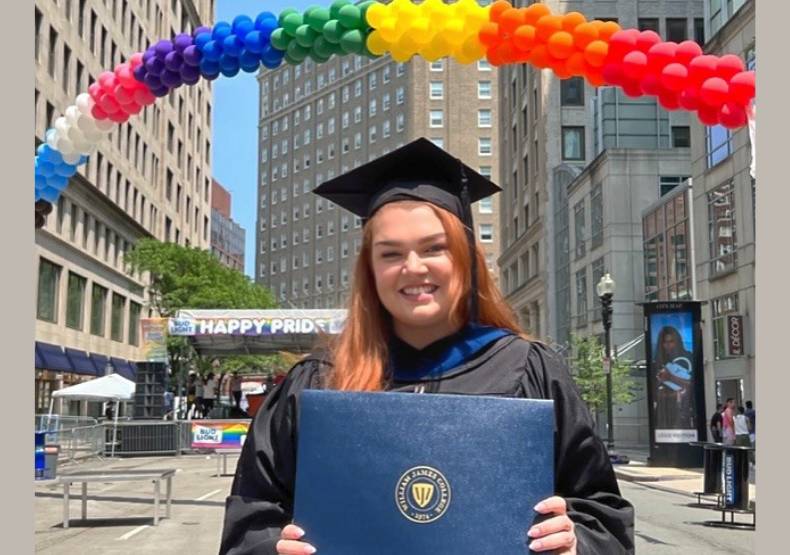 Colleen Deely was bursting with pride (pun intended) as she crossed the stage at the Boston Park Plaza Hotel to receive her diploma from William James College during the 43rd Commencement Exercises on Sunday, June 11. One of 59 graduates to earn a Master of Arts in Clinical Mental Health Counseling, the Foxborough native carried an impressive (albeit invisible) accolade under her cap: Deely is the first student to graduate with a concentration in LGBTQIA+ Studies since the College enrolled its inaugural class in January 2021.
"What can we do to make the world a better place, and a safer place, for people who identify within the LGBTQIA+ community?" was the single rhetorical question that both spurred Deely to elect her chosen concentration and motivated her along the path to becoming the best, most culturally competent and affirming counselor and human being she could be. "I knew there was a need for more empathy and understanding," said Deely whose lived experience, as someone who newly identifies as pansexual, helped cultivate a deep sense of curiosity within her while an undergrad at Eastern Connecticut State University where she earned her B.S. in psychology in 2019.
In particular, Deely recalls the research centering on why folks who identify as gay, lesbian, or queer are attracted to the same sex and excluding questions about why those who identify as straight are attracted to the opposite sex. As such, she conducted her own research on the role compassion and empathy play in special populations, in particular how individuals within the LGBTQIA+ community historically receive less of both when compared with their straight or straight-passing peers. When it came time to apply for grad school, Deely recognized a unique opportunity at WJC.
According to the National Alliance on Mental Illness, LGB adults are twice as likely and transgender individuals are four times as likely as their heterosexual and cisgender counterparts to experience a mental health condition. In keeping with WJC's mission — to assume an ongoing social responsibility to create programs to educate specialists of many disciplines to meet the evolving mental health needs of society — the nine-credit hour College-wide concentration in LGBTQIA+ Studies is rooted in the acute mental health needs of LGBTQIA+ people. The three course sequence is designed to provide mental health professionals with the language, cultural sensitivity, and clinical competence needed to deliver high-quality care to individuals within that community. In addition, students in the concentration learn to address the intersection of their clients' LGBTQIA+ identities with other identities (e.g., race, gender, social class, ability status) and to advocate for clients at systemic, organizational, and public policy levels.
"It is imperative that clinicians are culturally competent to adequately address the needs of LGBTQIA+ people," said Dr. Jessica Stahl, Director of the LGBTQIA+ Studies Concentration. Dr. Stahl emphasized the way in which providers who recognize how a person's experience of sexual orientation and gender identity relate to their mental health can significantly, and positively influence treatment. This is especially salient as the current legal climate for LGBTQIA+ people (particularly those individuals who are not cisgender) is getting worse, not better, in many parts of the country.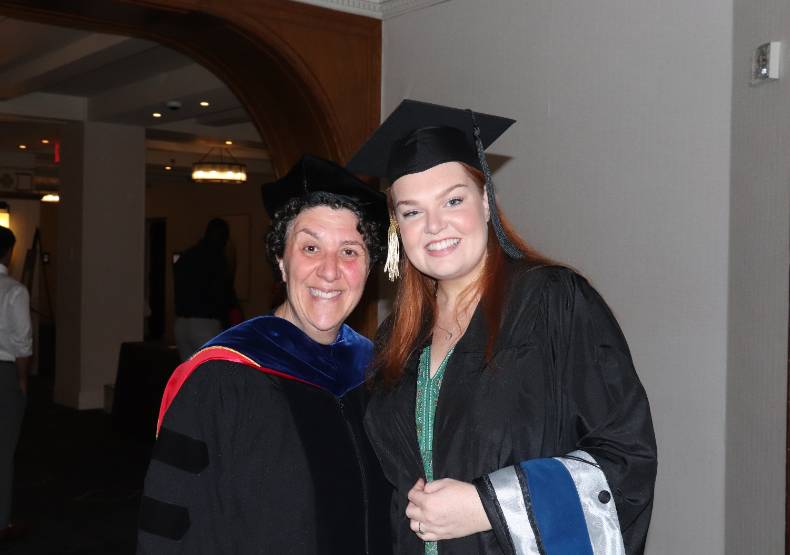 Deely with Dr. Jess Stahl at Commencement.
Deely has been destined for important work ever since a high school psychology class piqued her interest in observing human patterns of behavior. A scant 24 hours after receiving her William James College diploma, she reported to her new job as an addiction treatment specialist at an opioid treatment center in Cambridge. There, she plans to glean on-the-ground experience in working with underrepresented and minority communities with the hopes of moving into more specialized mental health work with LGBTQIA+ youth, adolescents and young adults — building upon the foundation she acquired last year during her internship at the Stonehill College Counseling Center.
"While the need for mental health counselors is great, and the work is difficult, I am up for that challenge," said Deely, who was drawn, early on, to the person-centered approach at the root of mental health counseling. "I love working with people on identity development and relationships — really seeing them as a whole," said Deely, keen on underscoring that sexual orientation and gender identity/expression are just a pair among myriad pieces of what makes someone who they are. Going forward, she is committed to using the tools gleaned from her concentration at WJC — which aims to aid in both understanding how sexual orientation and gender identity impact the lives of LGBTQIA+ individuals and eliminating those disparities that exist in relation to access and quality of mental health care — to help others. She envisions her future self pursuing a PsyD or PhD, in either clinical or counseling psychology, with hopes of ultimately working with individuals who identify as queer in a more focused arena such as Fenway Health, a local provider of accessible and affirmative healthcare for LGBTQIA+ individuals or The Boston Alliance of Gay, Lesbian, Bisexual and Transgender Youth, an organization that serves LGBTQIA+ youth via community-based support programs.
Following Commencement, Deeley paused for a photo beneath the rainbow balloon arch spanning St. James Avenue, remnants of the Boston Pride for the People parade which took place the previous day. In a month dedicated to celebrating the LGBTQIA+ community across the Commonwealth, Deely offered a sobering reminder to allies everywhere: "We're talking about a community that includes many people who aren't always 'out and proud' — which can be a huge part of the experience," she said, citing another important factor in painting the whole picture of who she is and what's driving her to do this work. "I am a part of the LGBTQIA+ community, and I really enjoy working with other people within it," said Deely who embraces June as a designated time for folks to feel really excited about, and safe being a part of, the LGBTQIA+ community. On the flip side, reserving pride for a single month can be damaging and dangerous — especially when rainbows are replaced by a widespread return to largely heteronormative practices for the rest of the year.
Deely remains rooted in the belief that each of us is interacting with individuals who identify as queer and non-binary, who are closeted or questioning, every day. As to the most simple solution for moving forward in a way that is inclusive of all? "Stimulating conversation and increasing understanding are part of creating a safe space — not only in the office, during a session, but also out in the world at large.Conversation and increased understanding are necessary to address exactly what is at stake here for the LGBTQIA+ community."
Topics/Tags
Follow William James College
Media Contact
Katie O'Hare
Senior Director of Marketing