Congratulations to the Graduates of the William James College Class of 2019Around Campus
By Staff Report
Jun 6, 2019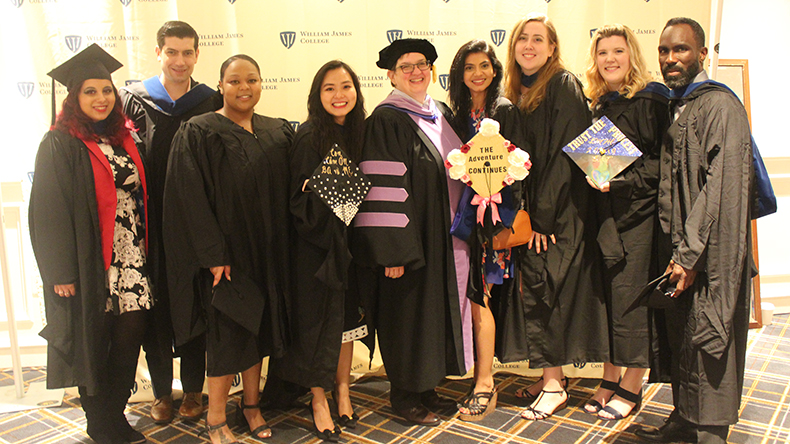 Over 1400 friends, family, faculty, staff and honored guests gathered on Saturday, June 1, at the Boston Park Plaza Hotel to celebrate the William James College graduating class of 2019. President Nicholas Covino opened the College's 39th annual commencement exercises with an address to the graduating class which began with a reading from a poem by Naomi Shihab Nye that seeks to illustrate an understanding of kindness.
William James College "educates people of kindness," Covino said, adding "and the world today needs kindness," which drew applause from those gathered. He said,
" Whether our graduates appear in a board room, a class room, an emergency room, a consulting room or a jail cell; they bring their learning, of course, but they carry kindness. "

" They will meet the sorrow of a parent who is at a loss about what to do with a child who won't eat; they will meet the couple who is in doubt about their marriage; they will meet the teacher who cannot reach her anxious student; they will meet the defiant youngster, the person in recovery, the returning Veteran, the family in their grief, the organization at a loss and the young person for whom the jail cell door just closed behind. They will meet each of these, in their sadness, in their worry, and in their shame, with kindness. "

" This is not a typical Commencement. William James is not a typical college… Today we graduate professionals who will serve. "
The speech highlighted the accomplishments of several graduates as examples of "the talent and commitment to service" present in the room. They included: Alex Hohl, a graduate of the master's in clinical mental health counseling program with a concentration in Military and Veterans Psychology and a Marine who twice deployed to Afghanistan, who "meets others in need with intelligence, empathy and compassion, because he has been there;" Gabrielle Palmer, a graduate of the Certificate of Advanced Graduate Studies (CAGS) School Psychology program and a member of our Black Mental Health Graduate Academy who, as a student, developed a professional training program for teachers on diversity and inclusion; and Marie Berthonia Antoine, a graduate of the Leadership PsyD program with a concentration in Global Mental Health, who explored why young adults are leaving their church and what changes religious institutions must make to reengage them.
"One of her professors told me that, following a community discussion of suicide, a man cried as he thanked Berthonia for the respectful and compassionate way that she listened to him speak about his suicidal urges," Covino said.
Commencement Speaker A. Kathryn Power told the graduates, "You are the next generation of adults who will carry forward a new & sophisticated practice of innovative care. Assisting others, walking beside them on their path, is not a service, but rather a privilege and a blessing."
Power, who President Covino called an "Agent of Change," received an honorary degree from the College in recognition of her extraordinary accomplishments and for making her career "one of leadership and service to [her] country and to those whose lives are disorganized and disadvantaged by substance use disorders and mental illness." Honorary degrees were also awarded to Dr. Thea James and Michael Botticelli.
"The honorary doctorate is the highest academic recognition that a school can bestow," Covino said. "It is conferred on those whose life and work have demonstrated the highest standards of excellence in academics, professional practice, personal integrity and service to the community."
James, who is vice president of mission at Boston Medical Center and director of the Violence Intervention Advocacy Program (VIAP), was recognized for her work to provide "care for the wounded, comfort the inconsolable and bring structure and vision to circumstances that seem to be insoluble." Conferring the honorary degree, Covino said, "You help us to see that violence is a communicable, infectious disease that impacts all of us and that it requires a complex social, psychological and physical intervention."
Botticelli, who is currently executive director of the Grayken Center for Addiction at Boston Medical Center and previously served as director of national drug control policy at the White House under President Obama, is one of the nation's leading experts on addiction and substance use disorders. Conferring Botticelli's honorary degree, Covino said, "You raise your voice for change on behalf of those who are ignored, judged, jailed, stigmatized and suffer. You have excelled as a leader of policy and programs at both the local and the national levels for those who live with substance use disorders and for those of who love them."
Always a day for celebration, the 39th commencement ceremony included a few extra special moments.
Following the presentation of the honorary degrees, the graduates of the class of 2019 processed across the stage. Degrees are typically presented in alphabetical order, by program – but a special exception was made this year. In what President Covino called "a first for William James College," graduate Eden Davies was invited to the stage early to receive her degree, she then headed to the hospital to deliver her third daughter. Aurora Claire Davies, was born at 9:02 AM on June 4. Mother and baby are reportedly "happy and healthy," and sisters Seraphina and Dahlia, who joined their mother on stage when she received her degree, loved meeting their new sister.
Additionally, President Covino recognized the retirements of long-time faculty and staff members. Dr. Randi Dorn is retiring as the Director of Training in Field Education after 24 years of service to the College and Dr. Stanley Berman, a William James College faculty member and administrator for 32 years, is retiring from his role as vice president for academic affairs. "Stan has been a major architect of the growth and development of William James College," Covino said. "Stan will leave his administrative position after today's ceremony and he will be getting a promotion to the faculty to continue the work that he loves."
Before closing the ceremony, Covino said, "People know that a Commencement Ceremony is not an end, but it is a beginning. We have been graced by the many qualities of character that you, as students, have brought to William James College. In return, we have offered you excellent professional skills. As you leave, we invite you to invest generously in others so that one day you will sit where our honoree degree recipients sit today."
Congratulations, graduates!
Topics/Tags
Follow William James College
Media Contact
Katie O'Hare
Senior Director of Marketing