First Cohort for Leaders in Diversity and Resilience (LDR) Fellowship Program Announced
By Staff Report
Nov 17, 2020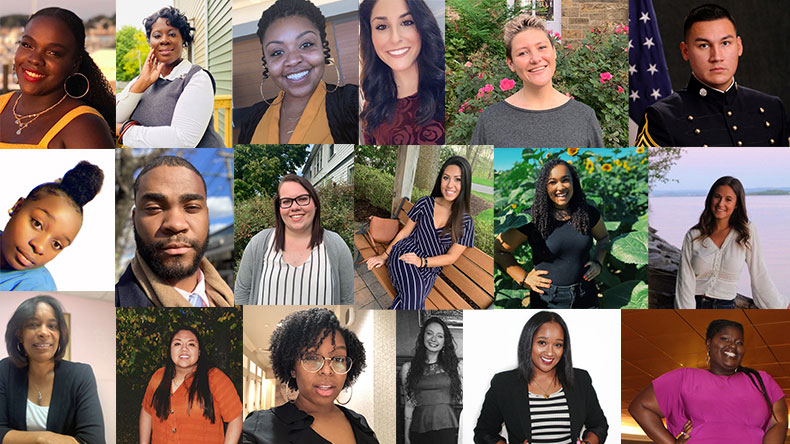 The number of mental health counselors nationwide is expected to increase by 13 percent by the year 2030—but with the need for care growing faster than counselors are joining the field the Health Resources and Services Administration (HRSA) predicts there could still be a shortage of over 40,000 counselors. A serious need exists everywhere, and it's even greater in rural, low socioeconomic, and other underserved communities.
The Leaders in Diversity and Resilience (LDR) fellowship program, which directly aligns with the College's core values of social responsibility, personal growth and experiential education, aims to address this need by providing opportunities that expand and diversify the clinical mental health counseling workforce. Through funding provided by HRSA's Scholarships for Disadvantaged Students program, LDR will train students with the knowledge and skills to provide culturally responsive care to medically unserved or underserved communities.
"These scholarships will benefit students who come from backgrounds that are underrepresented in clinical mental health counseling, and who are dedicated to work with underserved populations and medically underserved communities," said Nilda Laboy, PsyD, chair of the counseling and behavioral health department and director of the LDR Fellowship. "The scholarships will allow students to complete the program in two years on a full-time basis by relieving a large amount of the financial burden, thus being able to join the behavioral workforce faster. They are dedicated people who will get the skills to help heal those who they encounter in their professional path."
Melissa Koen, MS, LMHC, associate director of the LDR fellowship and associate director of field education, echoed the sentiment, calling the fellowship "life changing" for recipients. "It also opens up more opportunities for them to provide services to individuals in areas with the highest need," she added.
Nineteen students, all of whom have a proven dedication to providing increased mental health access to disadvantaged communities as well as a commitment to careers in medically underserved communities (MUCs) or primary care settings, have been announced as the 2020-2021 LDR Fellows.
Recipient Sandra Bazalar, a first-year counseling student, said the fellowship will enable her to better serve her community and "continue to dismantle the stigma of mental health that so many people face, that pushes them away from seeking help."
She added, "My drive for advocating for social justice and mental health reform has been validated and strengthened. I am proud to be a Latina training to work in the field of mental health, and I am grateful for the opportunities the LDR Fellowship and the WJC community have given me."
LDR Fellows receive academic and field training opportunities, along with mentorship and career counseling support and social-cultural and professional development activities. The 2020-2021 LDR Fellows are:
Katelyn Ajemian
Ariana Akram
Hannah Alsup
Cydne Apperwhite
Amdria Aristil
Sandra Bazalar
Gdebanen-Noodenimin Clarke
Tiffany Concepcion
Rosa DeGout
Sierra Dorr
Sadey Gutierrez
Lynsey Lambert
Nataliya Mekhamatdinova
Jessica Nazaire
Charlette Parker-Edwards
Nahomi Reyes-Mendez
Douglas Skyers
Stefani Stamper
Adora Thompson
The HRSA Scholarships for Disadvantaged Students (SDS) program promotes diversity among the health professions by providing awards to eligible health professions and nursing schools, for schools to provide scholarships to students from disadvantaged backgrounds who have a demonstrated financial need and are enrolled full-time in a health profession program or nursing program. SDS is also providing funding to William James College Clinical Psychology PsyD students through the STAR Fellowship program.
Topics/Tags
Follow William James College
Media Contact
Katie O'Hare
Senior Director of Marketing