National Commission on Social, Emotional, and Academic Development Recognizes William James College Social Emotional Learning Program
By Staff Report
Jan 16, 2019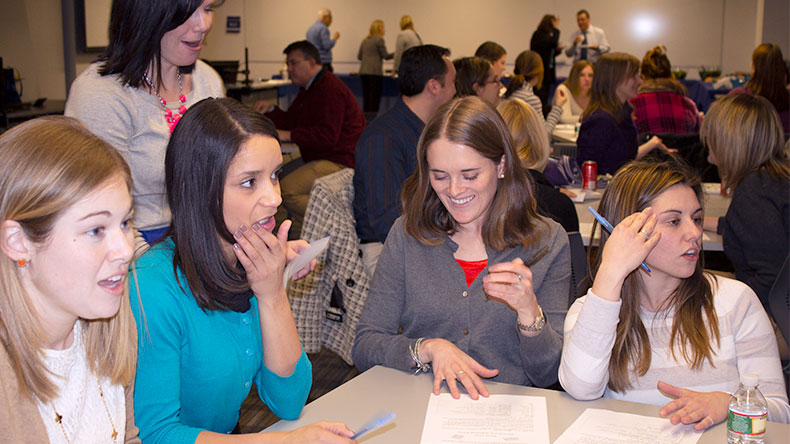 In more and more classrooms across the country, alongside reading, writing, and arithmetic, children are being taught tolerance, compassion and understanding. This focus on social and emotional learning (SEL) – the process through which people understand and manage emotions, set and achieve positive goals, feel and show empathy for others, establish and maintain positive relationships, and make responsible decisions – supports the student holistically and has positive impacts on their academic development, attendance, test scores, success in college and careers, and overall well-being. It also improves students' feelings about school and makes schools safer.
"The importance of developing positive school climates and teaching social emotional skills in school settings has been well documented," said Dr. Arlene Silva, chair of the School Psychology Department.
A William James College certificate program designed with a focus on training teams of school staff (teachers, school mental health providers, and administrators) in the core concepts of social emotional learning, systems change, and coaching has just been highlighted among exemplar programs in one of three "agendas" used to inform a new report this week by the Aspen Institute National Commission on Social, Emotional, and Academic Development.
The nine-month graduate certificate in school climate and social and emotional learning, which is offered jointly by the Department of School Psychology and the Richard I. and Joan L. Freedman Center for Child and Family Development, is featured in "A Practice Agenda in Support of How Learning Happens."
"Our program brings teams of school staff together to engage in a thoughtful, year-long process of experiential learning, needs assessment, and intervention, through which participants develop the awareness and skills needed to become agents of lasting change within their districts," said Silva.
The program, which launched in the fall of 2017 with a cohort of five school districts and is currently in its second year with another full cohort, brings together school teams to work toward ways to embed social and emotional learning into their home districts. "The team ends up with an action plan that's not only a school action plan, but a connected district action plan, so they really see the result of their investment," said Margaret Hannah, executive director of the Freedman Center, who co-directs the certificate program with Dr. Nadja Lopez.
Leaders from a team from the Oak Street School in Franklin, Massachusetts, said that the program "has elevated their thinking from an intuitive level to an evidence-informed model, shored up with data and clinical research…" and has given them "the tool kit they need to model practical skills for fellow teachers in order to further embed positive culture into the school."
The new report, entitled "From a Nation at Risk to a Nation at Hope," asserts that our nation is at a turning point, understanding that social, emotional, and cognitive development underpins children's academic learning. The report says this breakthrough understanding about how people learn is fueling a growing movement to educate children as whole people, with social and emotional as well as academic needs.
"Twenty percent of students today have a mental health need that limits their learning and that of others, yet fewer than half of teachers surveyed report social and emotional skills being taught in schools on a programmatic basis," said Dr. Nicholas Covino, president of William James College. "Districts that encourage a focus on social emotional learning see significant benefits within and outside of the classroom. By educating and empowering teachers and educational professionals to drive systemic change, we're promoting change at an upstream level. It's an honor to have this program and its impact recognized in this report."
To learn more, read our press release or visit NationatHope.org.
Topics/Tags
Follow William James College
Media Contact
Katie O'Hare
Senior Director of Marketing