In Kenya, Clean Water Means a Better Life
By Staff Report
Aug 10, 2018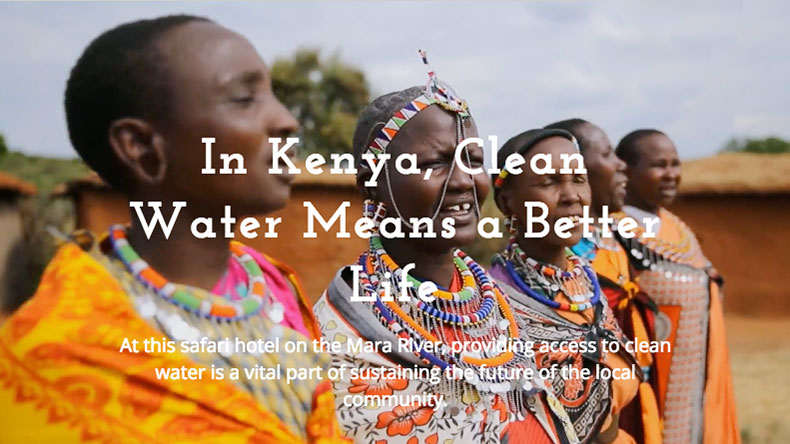 William James College is the recipient of a grant from the non-profit P&G Children's Safe Drinking Water Program which provides clean drinking water to children and families in need around the world. Because of the overlap between clean water and health and well-being, William James' immersion students have had the ability to travel to Central Kenya with us to help deliver a strength based curriculum and participate in community building and leadership development activities.
In the Mara (the region featured in the story) Drs. David Haddad and Claire Filakov have developed a relationship with Fairmont/Accor hotels and hope that William James' students will be able to travel there next year, if class schedules permit. The model used is called a "whole community education" model and it is very much in line with the William James College philosophy of experiential and community based learning.
Please read the article to learn more about this important work in Kenya.
Here's more information about the Mara Project Rationale:
While the percentage of people in Kenya with access to clean drinking water has steadily increased from 33% in 1990, infrastructure advances in rural Kenya have significant gaps, and in 2015 only 56.8% of the rural population had access to clean water. Narok County fares far worse, with only 6.9% having access to improved sources of drinking water. The Kenya National Bureau of Statistics and the Society for International Development (2013) indicate the rate of piped water in Narok County is ¼ the national average of Kenya. Streams, springs, wells and boreholes draw from the Mara River water, which has been linked to cholera outbreaks and typhoid. Experts say the Mara faces "unprecedented threats from pollution, gold mining, encroachment, deforestation and climate change. Its tributaries are drying up." Recent industrialization projects upriver compound the likelihood of future elevated contamination risk. This area is geographically remote with limited access due to poor roads, especially in the rainy season (March-May). The population of 850,000 stretches over 6800 square miles and is inhabited by the Maasai who for a multitude of reasons have remained socially and politically isolated. The Mara Region Conservancies say that the Maasai were once a proud and self-sufficient society, but now face many social-economic and political challenges. The Maasai have been restricted from accessing critical water sources, pasture, and salt lick. Primary school attendance rates are currently at 51% with only 9% of children in Narok County reaching secondary school. For a host of reasons, increases in infrastructure, health, and educational services are not anticipated. Water purification packets and health education are critically needed. Our goal is to continue to implement of our whole community education model and serve the community.
Topics/Tags
Follow William James College
Media Contact
Katie O'Hare
Senior Director of Marketing