Inspiring Exchange on Witnessing & Secondary Trauma with Earthquake First Responders in Ecuador
By Paola Michelle Contreras
Aug 7, 2016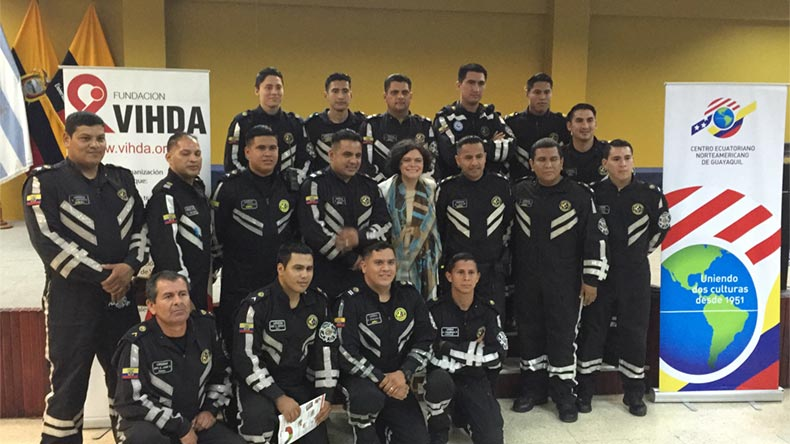 On 7/27/2016 I gave a conference on behalf of William James College at Universidad de Guayaquil in Ecuador on Witnessing and Secondary Trauma in Crises Response Work.
A conference participant shared and asked the following during the Q&A: "We were trained to rescue car accident survivors. When we heard that the victims of the earthquake [in Ecuador's Manabí region] needed our help we immediately responded and traveled to the region. Nothing could have prepared us for what we saw and we were the very first team to respond; the only hope for many trapped under the buildings that had fallen over them. As we moved through the city we saw terrible things and I noticed that many on my team were weeping and so I stopped our vehicle. I told them, lets take a moment to cry and pray and then we'll go on with our work, and so that's what we did. In the days that followed, when I noticed that my men were too tired to continue, I made them stop. I told them we had to rest to have strength for the next day. When someone cried, we comforted the person and cried together. And just like you said in your talk, we focused on one rescue at a time and learned that we wouldn't be able to save everyone." This first responder wanted to know if I thought he had done the right thing, to instruct his team to stop to cry and pray, and if I could tell him why I thought they had cried.
I told him that I could not think of something more wise and more human to do at such a moment. That his courage to permit himself and his team to experience their vulnerability and pain together is also likely what gave them the strength and resolve to carry on with their work. That he led his team to do their work in a manner that kept them strong, healthy, and emotionally connected to continue to be available the following day. That their tears made them strong, not weak as some might think.
I left this exchange feeling nurtured and humbled by the deep experiential knowledge that this team has about responding to crises. All hats off to them and to all first responders around the world that come to our rescue in the most trying of times!
Topics/Tags
Follow William James College
Media Contact
Katie O'Hare
Senior Director of Marketing