Kenya Service Learning and Immersion Program Advances "The Partnership for Safe Water in the Mara," Other Community Health Initiatives
By Staff Report
Aug 5, 2019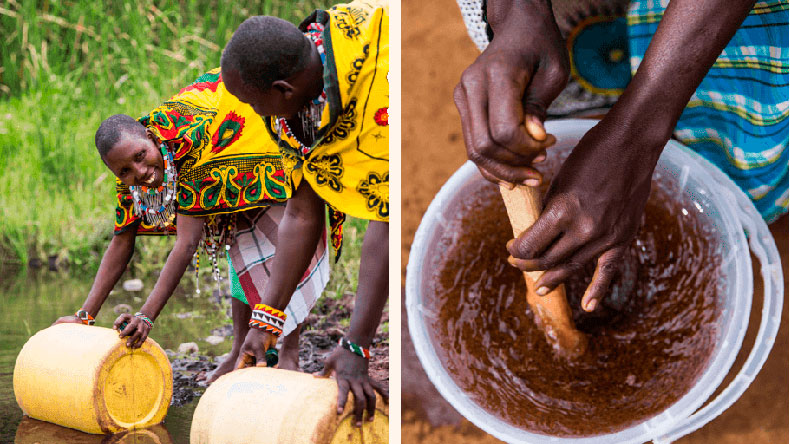 In Kenya, 41 percent of the country's 46 million people rely on unfiltered water sources, including the Mara River which is the single most important source of drinking water in the region. Water quality in the Mara, which traverses some 245 miles, is impacted by several factors, including animal activities, tourism, pollution, agriculture, and mining and industrial uses, and locals struggle to gain access to fresh drinking water because of the unsanitary conditions.
"Clean water and safe hygiene practices have the power to not only save lives, but to transform them," said Dr. Claire Fialkov, professor of Clinical Psychology, in an article submitted to the New York Times last year by project sponsor and community champion, Fairmont/Accor Hotels.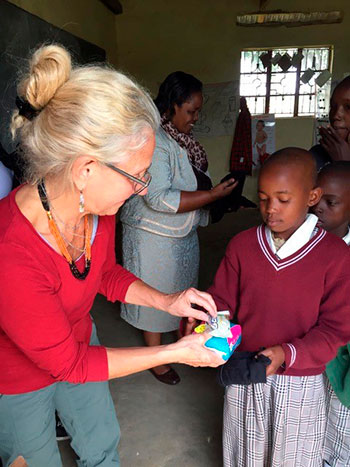 Fialkov, along with Dr. David Haddad, has led an annual trip to Kenya since 2017 where participants work with local communities in an area of southwestern Kenya that spans 600 square miles. Their project, which is called The Partnership for Safe Water in the Mara, is a collaboration between William James College, the Children's Safe Drinking Water program (csdw.org) and Fairmont/Accor Hotels. The non-profit P&G Children's Safe Drinking Water Program provides clean drinking water to children and families in need around the world.
This past June, William James College faculty along with community leaders distributed over 325,000 water purification packets in the Mara region. These packets clean water and destroy typhoid and cholera as well as other water born illnesses. Fialkov said over 1,700,000 packets will be distributed there over the next 2 years. In December 2019 Fialkov and Haddad will be returning with 4 graduate students specializing in Global Mental Health through the Center for Multicultural & Global Mental Health (CMGMH) to distribute an additional 325,000 packets.
Haddad said the distribution in communities, the many on-the-ground collaborations, and the student involvement in the project have been incredibly meaningful, and stand out as some of the most rewarding work he has had the opportunity to participate in.
Kenya is one of several countries where faculty and students travel for cultural immersion and service learning programs. These programs are open to William James College students enrolled in the African and Caribbean Mental Health, Global Mental Health, or Latino Mental Health concentrations through the Center for Multicultural & Global Mental Health (CMGMH). Cultural immersion programs gave CMGMH students experience at the local level where they were able to integrate into a community and perform services, while weaving the opportunity into their course curricula.
"The [Kenya] immersion program, which is larger than the water project, gives our students the opportunity to be a part of the non-profit development world in a real and meaningful way," said Fialkov. "Participants also focus on community organizing, women's empowerment, and strength based and gender inclusive education, including dispelling myths about menstrual hygiene management and female genital cutting."
Adetutu Ajibose, a clinical psychology doctoral student, is a former immersion participant and a research assistant to the project. She has visited Kenya twice as a project participant, experiences she called both "a privilege" and "life altering."
During her first trip, Ajibose and other students helped to develop a strength-based curriculum aimed at helping primary school students identify individual character strengths. Working with over 95 students in primary school, she had the opportunity to cofacilitate the curriculum in a classroom setting in an under-resourced school.
"We also initiated mini interventions that included running water, paved floors in the classroom, staff appreciation and a demonstration of cleanliness through provision of soap and hand sanitizers in the school," Ajibose explained. "This singular experience changed my life … I realized that my life's work would be … geared towards making more of a global impact."
Ajibose's doctoral research project, Chaired by Dr. Claire Fialkov, examines the impact of the Always Keeping Girls in School (AKGIS) Program on self-efficacy, authenticity and school achievement in adolescent girls in Kenya. During her second trip she observed the distribution of menstrual pads, sat in a menstrual health education class, and with students spoke with young women about AKGIS and how it has impacted their lives.
Ajibose, who is Nigerian American, said she will forever remember the stories the girls shared. "I was particularly drawn to the girls and was reminded of my life prior to migrating to America. I attended a school in Nigeria, a country located in West Africa. I shared my experience with the girls and to my surprise, they were intrigued with the Nigerian culture and asked many questions."
The research which is part of a larger project aims to evaluate the impact of sanitary pad distribution and education on the development of self-efficacy in girls. "My intent is to develop empirical evidence about factors that keeps young girls in school," she said, adding that she expects this international research to be a vital part of her professional journey.
"Immersing myself into the Kenyan culture made me reflect on my experience and things that I could do to continue initiating small change that generate big impact," she said. "I got first-hand information about the impact that our initiatives have in schools and communities at large."
Juliana Rezende, a fifth-year doctoral student in Clinical Psychology, also credits her experience in Kenya with influencing her professional path. She said one of the reasons she chose to attend William James College was because of the experiential approach towards learning. The immersion program, she said, reinforced the importance of this experience. "You can read and become an expert on what you read but you can never truly experience and learn about new cultures… and how to work with people from that culture until you go and actually do it," she said.
Rezende added, "It's mind-blowing to me how just one trip or one instance can really change the course of your life professionally and personally… it was through this immersion that I realized that international work is what I wanted to do with my degree." She plans to work with international populations in the future.
Ajibose said choosing the College's Clinical Psychology program with a concentration in African and Caribbean Mental Health was the best career decision she's made. In addition to her studies and campus involvement, she serves as the student representative for the American Psychological Association's Division 52, International Psychology, a position that she said provides opportunities to work with international and immigrant populations, and she has also worked as a fellow at the United Nations (UN) Meaningful World.
To those considering studying for a career in global mental health she said, "you have nothing to lose, everything to gain. The program creates opportunities for a deeper understanding of course work, helps inform worldview and simultaneously provide reciprocal interactions where you give so much of yourself to a community but receive so much more. The most beautiful thing about it all is that what is received cannot be bought or taught, it is intangible, and I urge all aspiring clinicians to go for it!"
Popular Topics/Tags
Follow William James College
Media Contact
Katie O'Hare
Senior Director of Marketing and Communications