Clinical PsyD Students Lead Symposium Offering Best Practices for Working with Undocumented Populations
By Josh Rizkalla, Communications and Media Relations Associate
Dec 21, 2022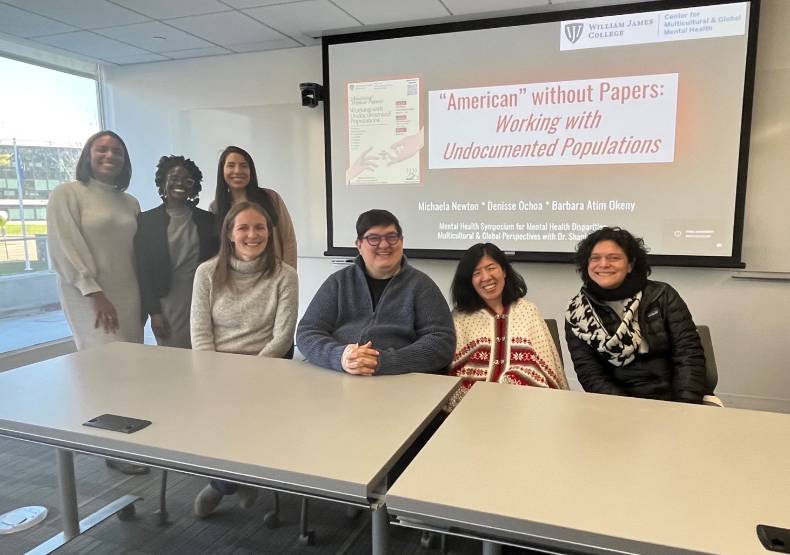 Last month, Clinical Psychology doctoral students Michaela Newton, Denisse Ochoa, and Barbara Atim Okeny organized a symposium for aspiring clinicians to provide resources on working with vulnerable populations including undocumented immigrants, refugees, and asylum seekers.
The event, titled "American" Without Papers: Working with Undocumented Populations, brought together 47 members of the community (both in person and virtually) to learn more about the negative circumstances these populations face which contribute to a higher likelihood of mental illness. The CDC reports that refugees are more likely to struggle with higher rates of major depressive disorder, posttraumatic stress disorder, anxiety, and adjustment disorders.
"The event was a success that exceeded our expectations. It highlights the clear need for further dialogue and training opportunities on working with these populations," said Ochoa.
Sponsored by the Center for Multicultural and Global Mental Health, the symposium included a student presentation and a panel of experts who brought their own experiences from working with these populations.
The student presentation discussed mixed-status families, the asylum process, how immigrants differ from refugees, the global impact of climate change on forced migration, the history of United States immigration policies, and mental health disparities.
The expert panelists answered questions on working with vulnerable populations; considerations for the local impact of systems and policies; how psychologists and immigration lawyers collaborate; and how to promote strength, resilience, and utilizing a liberation framework to undo mental health disparities.
These panelists included Asian Mental Health Concentration Director, Dr. Catherine Vuky, Counseling and Behavioral Health Department Chair, Dr. Nilda Laboy; Counseling and Behavioral Health Department faculty members, Dr. Paola Contreras and Dr. Daisy Rivera; senior technical advisor for Refuge Point, Dr. Sonasha Braxton; and Clinical PsyD students Sarah Miller and Gabriela Gonzalez.
Topics/Tags
Follow William James College
Media Contact
Katie O'Hare
Senior Director of Marketing