Recent William James College Graduate Suzee Lee Finds Her Calling
By Staff Report
Aug 31, 2020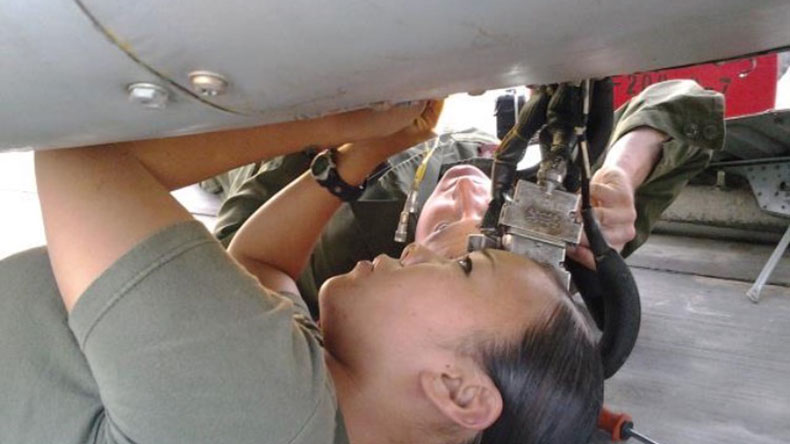 Marine Corps Veteran Found Career in Psychology and "Dream Job," Helping Other Veterans
Mental health professionals are often described as people who are compelled to help others. As those in the field will attest, the professional journey begins with personal reflection and sometimes an opportunity to challenge your own thinking and limitations. Suzee Lee, a recent graduate of William James College's MA in Clinical Mental Health Counseling program, is candid about the choices and personal discovery that led to her career and "dream job."
Lee began college at Salem State University immediately after high school—mainly, she said, because that was the expected next move—but realized quickly that she was not ready for it at that time. She decided to take a hiatus from college and joined the U.S. Marine Corps, serving as an aviation technician (in layman's terms, an electrician who worked on helicopters). Her six years in the military comprised three deployments, including one to Afghanistan, where she earned combat veteran status.
Lee completed her active duty service and returned home to Boston from where she was stationed in California. She enrolled at Suffolk University with the intention, initially, of becoming a biochemist but explored different majors and eventually chose psychology. Still, she remained unsure what career path she wanted to pursue. During her junior year, Lee attended a presentation on the Suffolk campus by Dr. Stacey Lambert, William James College's vice-president of Academic Affairs on "Careers in Psychology." Learning about careers in behavioral health opened her eyes to the range of possibilities available to her with a graduate degree. Although she considered other graduate programs, she was attracted to William James College for its experiential approach, and appreciated that she would be considered for admission based on her academic performance rather than GRE test scores, which are not required for admission to the MA in Clinical Mental Health Counseling program.
Having returned to school as an adult learner, Lee was more focused on her acclimation from military to civilian life and her studies than on the "college experience" as an undergraduate. William James College's cohort model and close-knit community provided an opportunity for her to be more involved and to develop more lasting connections. She began the program in the Spring semester (January) taking classes full-time that allowed her to explore her interests and start to engage on campus.
At William James, Lee pursued an area of emphasis in Forensic and Correctional Counseling inspired, initially, by what she believes is a glamorized depiction of that specialty in the media, but found the reality to be just as compelling. As she met more people, however, she was repeatedly asked if she was also pursuing the college-wide concentration in Military and Veterans Psychology (MVP), which led her to ask herself why she had not considered working with veterans.
"I took time to reflect and see where that was coming from," she said. "I think that I learned that I was a little afraid that I might not be competent enough…I didn't want to fail my peers. As someone who 'should' understand, 'should' know where you're coming from, and not be able to help, I felt like that would be a failure on my part."
But, she said ,she figured out that was coming from a place of fear. "That was tough for me but the more I talked about it with faculty and student peers, the more it helped me to realize that fear shouldn't stop me," she said. "It's normal to have a fear like that, of course, but I thought, 'I'm here. I have the ability to go to school for this, to help other people. If I'm in this position, why not? Why not do something that most people don't have the access to do?"
Lee decided to enroll in the MVP concentration, which exposed her to the College's Train Vets to Treat Vets (TVTV) program. An informal conversation with classmate Jessica Price, a U.S. Navy veteran involved in the Train Vets to Treat Vets program, led to her committing to TVTV.
Lee called it one of the greatest experiences she had at the College. "I was able to meet program peers, students from the Clinical Psychology PsyD program, develop closer mentoring relationships with staff and faculty, and [build a] research background." Although research was not something she was specifically interested in, she learned how important an aspect it is in program evaluation and how it opens doors to important grants that support the work of programs such as Train Vets to Treat Vets, which is supported by a grant from the Massachusetts Department of Veteran Services.
She notes that as a veteran, she was never introduced to the nonprofits and mental health organizations available to vets—many run by veterans. TVTV exposed her to the world of military/veteran populations and its resources in Massachusetts. She says that in addition to being helpful to her, personally, familiarity with those resources "was also a good way to connect to other student veterans, and to veterans in general that I meet networking or at conferences. It's great for me to say, 'Oh, I can help you with that!'"
That exposure also helped her establish a professional network that she uses in her job today. Her second-year internship was with the HUMV unit (Housing Unit for Military Veterans) at the Middlesex County Jail and House of Correction. This special counseling unit for incarcerated veterans provides holistic, evidence-based treatment, one-on-one therapy, skills training, and wellness groups on topics such as parenting and anger management.
When the HUMV Program Manager left the position last November, Lee began fulfilling many of the responsibilities that had been her former supervisor's, in addition to her internship duties. She received support and supervision throughout her internship from William James College and that helped in taking on the added responsibilities. Lee applied for the program manager's job when it was posted in December. She was hired and in the role by late February, so she was already employed when she graduated.
"I really wanted the position," she said, "not only because I was already doing it, but because this is a population that I wanted to work with… We're the only facility in the state of Massachusetts that has a unit just for incarcerated veterans." Employing both of her areas of expertise, Suzee manages all HUMV program administration and provides case management and direct counseling. She describes it as her "dream job".
Lee reflected on her time at William James College. "I made a lot of good connections here. I made lifelong friends, who were my support system. I had faculty that I could confide in and that was a lot of help. I think having that personal aspect really helped me to become comfortable to grow as a person and not be afraid to immerse myself in the experience, not only for professional development, but my own mental health and personal journey."
Topics/Tags
Follow William James College
Media Contact
Katie O'Hare
Senior Director of Marketing