New William James College and Riverside Community Care Partnership Will Help Meet Community's Growing Need for Behavioral Health Professionals
By Staff Report
Nov 7, 2018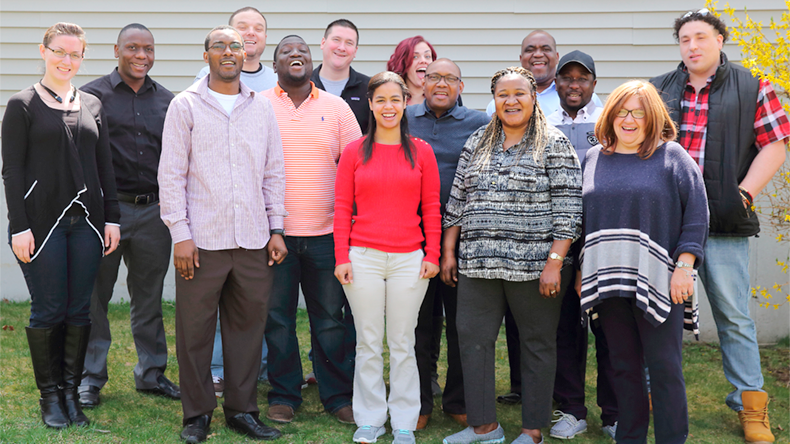 NEWTON, MA, (November 7, 2018) – William James College and Riverside Community Care have announced a partnership which will increase collaboration between the organizations – an effort that will serve to improve access to behavioral health services throughout the Commonwealth.
"At the core of our mission is an ongoing social responsibility to create programs that educate specialists to meet the evolving mental health needs of our society," said Dr. Nicholas Covino, president of William James College. "We are thinking very deliberately about how to build the behavioral health workforce that this community needs. Partnerships like this are one way we can have a significant impact."
Through the partnership, Riverside will connect William James College students with information about employment opportunities, while William James will share academic opportunities with Riverside employees. The College will run an annual workshop for Riverside staff free of charge and provide continuing education trainings at a discount. Additionally, William James will connect Riverside employees with information about the College's degree programs, including the Bachelor of Science in Psychology and Human Services degree completion program, for which it will provide needs-based scholarships.
"Our bachelor's completion program opens doors," said Marc Abelard, director of the bachelor's program. "With more education, graduates can pursue more challenging and higher paying jobs in the mental health and human services field or apply for graduate study. I've seen first-hand the difference an education makes."
The William James College's bachelor's completion program is open to individuals with an associate's degree or who have earned 60 undergraduate credits from an accredited college or university. The program can be completed in two years full-time or three years part-time is a blended model, offering online courses with 1-2 Saturdays per month for an on-campus course. Students learn in a cohort model, staying with a team throughout the course of their studies.
Riverside employees will also be invited to learn about the College's master's and doctoral degree programs, and will have access to discounted tuition rates for certain programs through the College's Behavioral Health Initiative Scholarship.
"At Riverside Community Care, we encourage our employees to grow and develop professionally so that they can become leaders in their fields," said Scott M. Bock, Founder and President/Chief Executive Officer of Riverside Community Care. "Our staff will now have greater access to William James College's numerous offerings in behavioral healthcare education thanks to this beneficial new partnership."
Emphasizing experiential education, William James College attracts developing professionals eager to become leaders and to advance mental health care and prepares students for careers in behavioral health and leadership. The College, which is an independent, not-for-profit institution, was founded on a commitment to educational excellence in applied psychology. Curriculum integrates rigorous academic instruction with extensive field education, paying close attention to professional development.
"We have had a long and very positive relationship with Riverside Community Care over many years. Many of our graduate students have benefitted from practicum and advanced practicum training at Riverside," said Dr. Stanley Berman, vice president for academic affairs and associate professor in the department of clinical psychology at William James. "We are very pleased to announce these further enhancements in our ongoing relationship and we hope that this expanded partnership will help us continue to grow and foster a well-trained and diverse mental health workforce."
---
About Riverside Community Care
Each year Riverside Community Care provides more than 40,000 children, adolescents, and adults with a broad range of behavioral healthcare and human services. With locations throughout central and eastern Massachusetts, Riverside offers emergency care, urgent and outpatient services, in-home and residential care, psychiatric day programming, early intervention, employment support, domestic violence services, and much more. An award-winning nonprofit, Riverside partners with local hospitals, physicians, and schools to provide compassionate, locally-based, integrated care. Find more information about Riverside at www.riversidecc.org.
About William James College
Founded in 1974, William James College is an independent, non-profit institution and a leader in educating the next generation of mental health professionals to support the growing and diverse needs of the mental health workforce. Integrating field work with academics, the College prepares students for careers as organizational leaders and behavioral health professionals who are committed to helping the underserved, multicultural populations, children and families, and veterans. William James College alumni can be found making an impact in a variety of settings, including schools, the courts, clinical care facilities, hospitals, the community and the workplace.
Contacts
Anne Wilson Yu, Director of Communications, William James College, 617-564-9429, anne_yu@williamjames.edu
Alison Rivers, Marketing Manager, Riverside Community Care, 781-320-5398, arivers@riversidecc.org
Topics/Tags
Follow William James College
Media Contact
Katie O'Hare
Senior Director of Marketing