Robert K. Kraft Generous Matching Gift to Fund Scholarships for Veterans
By Staff Report
May 15, 2017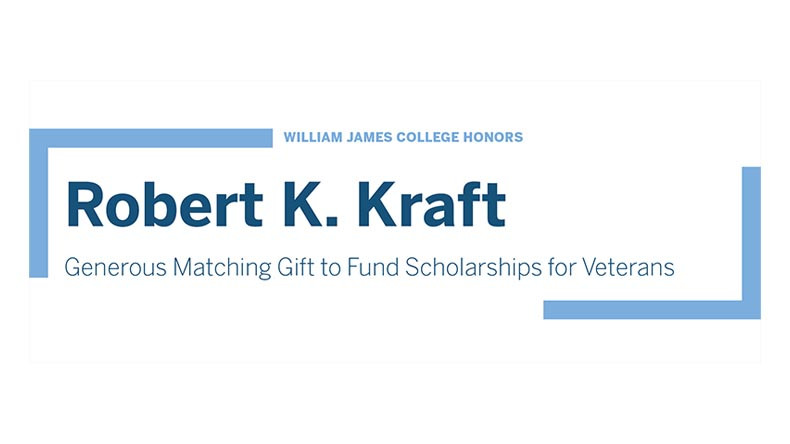 William James College recently received a matching gift in the amount of $100,000 from Robert K. Kraft, Chairman and CEO of the Kraft Group and Owner of the New England Patriots to fund students with military experience. Within just a few months Kraft's generous donation was fully matched, predominantly by the William James College Board of Trustees and staff. These gifts will be largely awarded to students through the Yellow Ribbon Program, a federal initiative established by the Post-9/11 Veterans Educational Assistance Act of 2008 that matches college-based scholarships. Kraft's, the trustees' and staff's generosity will allow Yellow Ribbon contributions from William James College to increase to $10,000 for eligible veterans. Yellow Ribbon dollars that match this amount will provide a total of $20,000 each year to defray veterans' school expenses.
"These gifts will allow us to attract to our programs veterans who might not otherwise be able to consider a career in behavioral health. It's an affirmation of the efforts we've made to build our Military and Veterans programs, and will lend visibility to that work, resulting in an exciting period of development of all aspects of our program," says Robert Dingman, EdD, Director of the Military and Veterans Psychology Concentration and the Train Vets to Treat Vets Program.
Travis Bickford, MA, Associate Director of Military and Veteran Relations at the College, explains that these scholarships make a significant difference in the education of veterans who complete military service, continue on to pursue an undergraduate degree, but then find that their benefits have been exhausted. The scholarships funded by Kraft's donation and its matching funds will enable veterans to work toward and receive a degree from William James College, in the degree program of their choice.
Veterans may choose to complete their clinical doctoral study through the Train Vets to Treat Vets program. This program prepares them for careers in behavioral health, which will directly benefit veterans in need of therapeutic treatment after completing service. The program's impact on the mental health of veterans stems from the trust-based relationships built between a therapist and patient when the therapist has a firsthand understanding of the lived experiences of veterans in treatment.
A nominal amount of the funding from Kraft's gift allowed the College to hold a forum in February, which hosted three other colleges with programs focused on military and veterans psychology. The forum attendees discussed the possibility of proposing core competencies that similar programs would need to incorporate into their work. A goal is for this forum to develop into an annual or biannual consortium that will enable programs from various universities to discuss standards that help elevate their work in the service of military personnel and veterans.
In building an environment that enables veterans to thrive among civilians, a reciprocal benefit is seen, according to Dingman. "Every year recently, William James College has seen at least one civilian student upon graduation join the armed forces to become a military psychologist. We're very proud of that."
Popular Topics/Tags
Follow William James College
Media Contact
Katie O'Hare
Senior Director of Marketing and Communications