William James Students and Faculty Again Travel to In-Person Conferences
By Sarah Johansson, Social Media and Digital Content Associate
May 5, 2022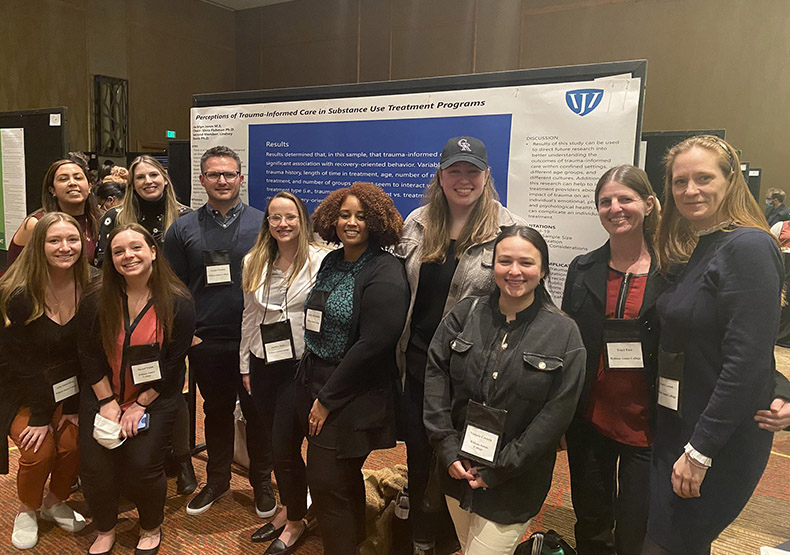 One of the last events that William James College students and faculty attended before the pandemic was the 2020 American Psychology-Law Society (AP-LS) conference in New Orleans. Now, two years later, members of our community were able to travel to Denver for this year's in-person conference.
Attending events like the AP-LS conference provides opportunities for William James College students to learn about a wide variety of topics, network with other students and professionals in the field, and even present their own research.
"The value of these conferences being in person is difficult to overstate," said Joseph Toomey, PhD, associate chair of the Clinical Psychology Department and co-director of the Forensic Psychology concentration. "Most of the connections I have made have been during moments of transition between sessions, during social events, or going out to eat with colleagues during lunch breaks and evenings."
In total, 12 William James College students attended the 2022 AP-LS conference. One Clinical Psychology PsyD student, Victoria Correia, said of the experience, "I appreciate hearing about the number of diverse positions psychologists have taken on in the field, as well as the ways in which the role of a psychologist can vary substantially depending on one's personal career goals."
Correia also presented for the first time at the conference, focusing on her doctoral project research: The Effects of Sender and Recipient Ages on the Public Opinion of Legislation Regarding Youth Sexting Offenses. She said, "With the support of professors…I felt prepared and as though I could share the knowledge I have gained with peers in the field of psychology."
The Clinical PsyD Forensic Psychology concentration is just one opportunity for students to study the intersection of psychology and law. The on-campus Clinical Mental Health Counseling program offers a Forensic and Correctional Counseling concentration, and many students receive hands-on training through the College's various forensic and clinical services.
"We've been working hard to build more of a presence at the conference given our many forensic offerings at the College," said Toomey. "While the pandemic slowed that effort down a bit, we still plan to continue to have a large presence every year."
Even closer to home, the National Association of School Psychologists' (NASP) annual convention was held in Boston at the beginning of this year. Participants were able to attend in-person, or connect virtually. The William James School Psychology Department even held a local meet-up for students, faculty, and alumni from the program.
Current students who attended the conference had opportunities to volunteer as convention assistants, attend sessions relating to the 2022 theme 'Engaging Hearts and Minds,' and share their research and experiences from William James.
"Presenting at NASP was a unique experience that combined coursework, fieldwork, and research," said Emily Seiple, a student in the School Psychology MA/CAGS program. "I was able to take what I was learning in the classroom, apply it at my site, and then contribute to the wider school psychology field by sharing my findings."
Beyond engaging with presentations and research, students also have access to unique professional development opportunities throughout the conference. They can attend career-related sessions, connect with other early career professionals via social events, and even participate in a mentoring program.
"[Students] can meet with a practicing school psychologist, or trainer of school psychologists, to gain a different perspective on the role," explained Robyn Bratica, PhD, LEP, NCSP, interim director of the School Psychology MA/CAGS program.
Student Juliann Murnane said the exposure to other school psychologists in the field was a highlight of the conference. "I learned a lot about ways of making my first year as a full-time school psychologist a little bit easier," said Murnane. "Just seeing the amount of school psychologists that were there was very encouraging. There is just so much passion within the field and that's great to see going into it."
Topics/Tags
Follow William James College
Media Contact
Katie O'Hare
Senior Director of Marketing