Veterans Bring Experiences to–and Find Support in–Military Programs on Campus
By Josh Rizkalla
Nov 10, 2021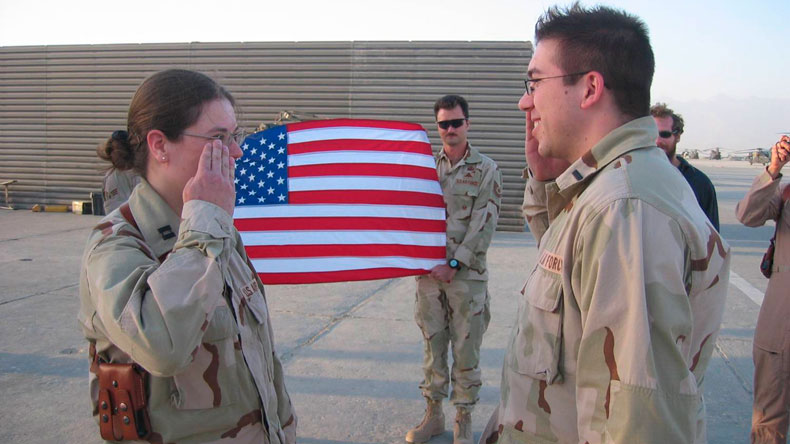 According to the National Counsel for Mental Wellbeing, thirty percent of active duty and reserve military personnel deployed to Iraq and Afghanistan experienced a subsequent mental health condition. Unfortunately, only half of those afflicted receive the necessary treatment.
In 2010, William James College issued a report to the Massachusetts Department of Veterans Services (DVS) showing the potential impact that a behavioral health career development program for returning veterans could have on improving access to services. In July of 2011, DVS awarded William James College a contract to support the creation of the Train Vets to Treat Vets® (TVTV) program. The contract has been renewed annually since.
TVTV is housed within the College's Military and Veterans Psychology (MVP) program. MVP is a college-wide concentration, meaning enrollment is open to students in various degree programs with an interest in learning how to work with military community members, including veterans and families. TVTV is exclusively designed for student veterans, who bring unique skills and cultural experience gained through their service. TVTV also provides a supportive path for student veterans as they navigate their educational goals and develop into clinicians.
Dr. Jenny D'Olympia, a veteran and alumna who earned her earned her master's degree in Clinical Mental Health Counseling while serving in the Air Force, directs the MVP and TVTV programs. She also directs the Online Master of Arts in Psychology program. After completing her master's degree, D'Olympia worked at the Boston Veteran's Center for seven years, where she conducted outreach and counseling for the first wave of returning veterans from Iraq and Afghanistan. She then came to William James College to earn her PsyD.
Student veterans enrolled in the TVTV program find a supportive community, mentorship, and they also help develop community by working alongside faculty to develop programming.
"We want to take care of our students. They bring their own significant life experiences into the therapeutic relationship and being able to be with someone else's difficult experiences can be hard, how to sort that out, how, and when to share. We're building self-care resilience," D'Olympia explained.
D'Olympia and TVTV students produce a monthly Continuing Education (CE) series via Zoom that discusses challenging topics related to the military experience.
Kevin Lambert, an Army veteran and student in the Bachelor of Science in Psychology and Human Services program, serves as TVTV program development assistant. He shared his military experience during October's discussion which explored the topic of moral injury.
"Leaving the military, I didn't have a mission anymore, I didn't know what I was going to do," Lambert said. "This role was a fit for me."
After three years in the Army, including a tour in Iraq, Lambert worked with veterans focusing on suicide prevention and efforts to provide them service dogs. During this time, he met D'Olympia who urged him to pursuit a degree in the psychology field.
Corey New, a 27-year veteran of the Army, came to William James after serving in various leadership roles in the military followed by time in the corporate environment where, he said, he was dissatisfied with his experience. New is a recent graduate of the Graduate Certificate in Executive Coaching (GCEC) program, which is offered through the Organizational and Leadership Psychology Department.
"Executive coaching satisfied my first goal to find a way to support leaders in a way I could believe in," he shared. "My second goal as a student was to reestablish myself within the veteran community. It was really important to my own mental health and really wanting to make that difference."
New began interacting with the TVTV program by providing insight to panels as a guest speaker. He also attended several experiential groups, a requirement for those in the MVP program, where counseling students work with those who served and discuss topics that might be considered taboo in other spaces, such as suicide prevention and gun laws for veterans. He explained that the group doesn't follow an agenda and it encourages honest communication.
"Imagine being a late-twenties graduate, just got your doctorate, and now you're sitting down with a Vietnam veteran, and you're supposed to provide them some sort of therapy. That can be uncomfortable." New explained. "So, we discuss some misconceptions in the experiential groups to help that process. An hour goes by, and it feels like ten minutes."
Inspired, New now leads his own group, joined by Lambert. One of the topics discussed, they explained, is why a clinician should not treat patients exclusively "like a veteran" in getting to know them – for example, by approaching delicate topics like combat experience right away. They urge students to treat each client as a person with their own struggles. Building trust, they said, will allow for the approach of more delicate topics over time.
"[William James] feels like a safe space," said Lambert. "I don't always share my military experience in life, but it just feels okay to talk about our experiences here, it's a welcoming environment."
Not all student veterans who enroll in TVTV end up pursuing careers working with military or veteran populations, nor are they expected to – after graduation, students take all kinds of paths in mental health, behavioral health, and leadership. At the core of the program is a commitment to the student that they will find the support they need to reach their goals, whatever that may be. The purpose is to help them translate their skills from the military into the field of psychology while also providing additional scaffolding when needed.
"Do you need a writing tutor? Do you need coaching? Do you need a counselor?" D'Olympia asked, rhetorically. "What kind of support is going to help you get from the entry door of William James to the exit [at graduation]? Even if, when you go out that door, you don't want to work with veterans, we're still a community of veterans that support our veterans, regardless of what they do in the end."
The MVP concentration is open to all students enrolled in the Clinical Psychology PsyD program or the on-campus master's in Clinical Mental Health Counseling regardless of their history of service. MVP will also be offered to students enrolled in the online master's program beginning this spring.
CE events are offered to the William James College community, as well as anyone in the community interested in learning more about the topics specific to military and veterans. Continuing education credits are offered free to social workers, psychologists, and licensed mental health workers.
November's CE event will focus on substance abuse. The December event, with New as guest speaker, will look at "leadership during difficult times."
Topics/Tags
Follow William James College
Media Contact
Katie O'Hare
Senior Director of Marketing