Asian Mental Health Program creates parent guide to help families address xenophobia, racism fueled by COVID-19
By David Limm
Jan 21, 2021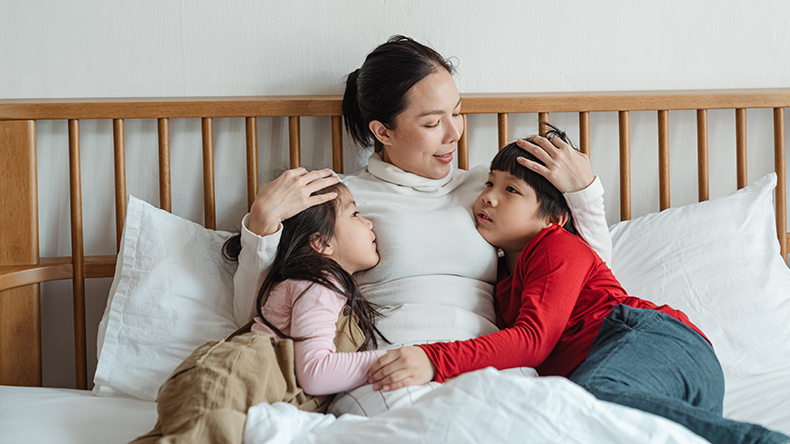 Last spring, at the Asian community health center where she works, Dr. Catherine Vuky saw the number of teenagers referred for depression or cutting related to COVID-19 start to rise.
Many were being teased and bullied about the virus, told they're "dirty" for eating bats, she said.
"The parents were at a loss for what to say to their children to make them feel better," said Vuky, who is also an assistant professor of clinical psychology at William James College.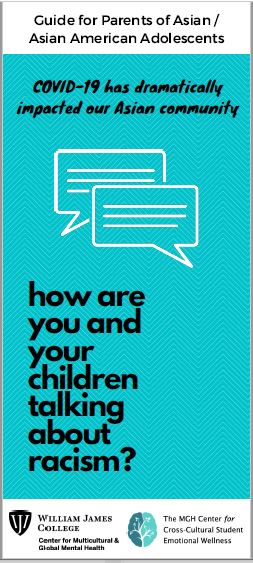 So Vuky and doctoral students in the Asian Mental Health Program, which she heads, created a guide for parents of adolescents of Asian descent to support the mental health of their children at a time when the outbreak of a coronavirus pandemic has fueled a rise in discrimination, xenophobia, and bullying against Asians.
Available in English, Korean, Chinese, and Vietnamese, with a Japanese version forthcoming, the guide is a joint effort with the Massachusetts General Hospital (MGH) Center for Cross-Cultural Student Emotional Wellness. The Asian Mental Health Program is the nation's first training program in clinical graduate psychology focused exclusively on Asian mental health.
Over 2,500 hate incidents against Asian Americans and Pacific Islanders were recorded between mid-March and early August 2020, according to Stop AAPI Hate, a national coalition aimed at addressing anti-Asian American discrimination amid the COVID-19 pandemic.
"Immigrant parents are often not aware of the history of racism and discrimination in this country, said Vuky. "Or they worry that bringing up difficult topics may cause additional emotional harm to their child."
"It's not to say that Asian parents don't talk about racism, but they don't know where to start."
The guide explains why parents need to have conversations about racism with their Asian adolescent children and offers tips on how to engage in these sensitive talks in order to reduce any psychological injury.
"Research has robustly demonstrated that children's exposure to racial microaggressions and discriminatory practices have long-lived, deeply painful psychological consequences," said Dr. Natalie Cort, co-director of the Center for Multicultural & Global Mental Health at William James College. "The recommendations in this guide are known to be effective in combating the internalization of toxic racial hatred and bolstering cultural pride," said Cort, who contributed to the guide.
What's more, Vuky said teens want to have these talks with their parents. Most of the conversation starters in this guide are direct quotes from teens, she said.
"I think children feel better, safer and more connected to their parents when parents share their own fears, confusion and uncertainty," said Vuky. "That helps connect the family and establishes a strong support system, which can lead to nurturing resilience and better mental health."
A list of resources for families seeking additional information and support has been included in the guide. There is also a pair of timelines highlighting key moments of discrimination and activism in Asian American history.
"This proud and inspiring history has long been under-acknowledged in American history textbooks," said Cort.
"And this guide is a powerful tool for those parents who feel uncertain about how to effectively empower their Asian and Asian American children and buffer against dents to their self-esteem and feelings of rejection."
Topics/Tags
Follow William James College
Media Contact
Katie O'Hare
Senior Director of Marketing