David Axelrod Receives 2019 William James College Mental Health Humanitarian Award
By Staff Report
Oct 18, 2019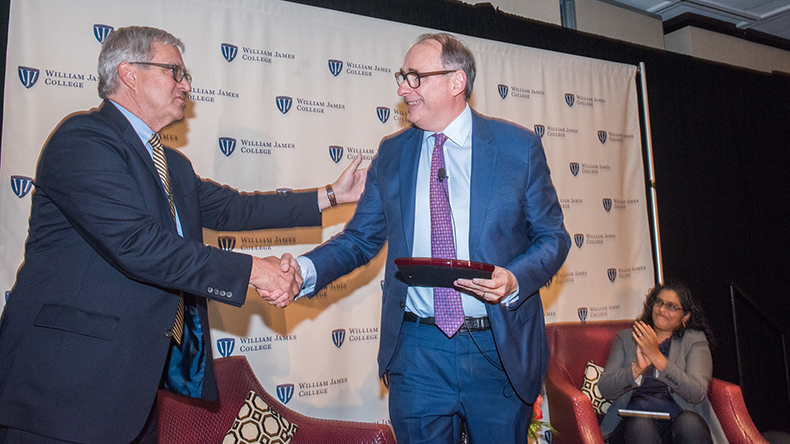 The Mental Health Humanitarian Award, which is given to one recipient each year, celebrates the contributions of a person who is, in the words of the William James College motto, "Meeting the Need" and "Making a Difference." The 2019 Mental Health Humanitarian Award has been awarded to David Axelrod, American political strategist and commentator and the former chief strategist and senior advisor to President Barack Obama. Axelrod is also an advocate for mental health causes, especially around reducing stigma.
William James College President Nick Covino presented the award during an event held on October 17, entitled "An Evening with David Axelrod." The inscription on the plaque read, "In recognition of your advocacy, and for lending your voice to raise awareness about mental health and the critical need to increase access to care."
Axelrod is the brother of Joan Axelrod, a member of the William James College faculty and coordinator of the College's Academic Resource Center. Joan and David Axelrod lost their father to suicide. At the event, and elsewhere, David has discussed his father's death and the need to ensure that people who need mental health services can access those services and not feel ashamed to do so.
Last year's award, the 2018 William James College Mental Health Humanitarian Award, went to Dr. Robert Brooks. Brooks is a renowned speaker on topics such as motivation, resilience, family relationships, the qualities of effective leaders and executives, and balancing our personal and professional lives, and former director of the department of psychology and of psychology training at McLean Hospital and a member of the faculty at Harvard Medical School.
Topics/Tags
Follow William James College
Media Contact
Katie O'Hare
Senior Director of Marketing