Dr. Srini Pillay to Address Leadership Psychology PsyD Students
By Staff Report
Feb 23, 2020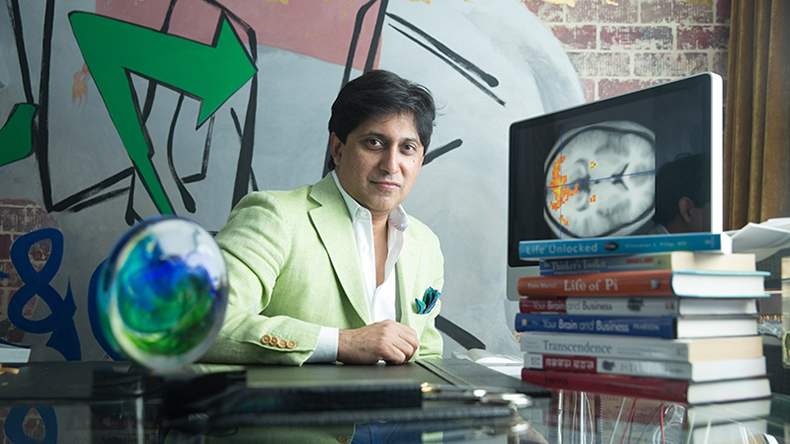 Srini Pillay, M.D., a Harvard-trained psychiatrist and brain researcher, McKinsey & Co. Think Tank member, and CEO of NeuroBusiness Group will visit William James College on April 1 to speak with students as part of the Organizational and Leadership Psychology Department's annual Spring Leadership Psychology PsyD Residency.
"Dr. Pillay's work is at the forefront of innovation for the neuroscience of leadership and aligns with the Neuroscience of Leadership area of emphasis and Lab within the Leadership Psychology Program," said Dr. Kathryn Stanley, OLP department chair, and Dr. Miranda Ralston, director of the Neuroscience of Leadership Area of Emphasis. "As part of our training model, our Leadership PsyD semester residency programs feature workshops and presentations from distinguished leaders in the field."
The Organizational Leadership department regularly brings thought leaders like Dr. Pillay to meet with students as part of their professional development. During the fall semester, the department hosted Dr. Richard Boyatzis, professor of Organizational Behavior and Distinguished University Professor at Case Western Reserve University. Dr. Boyatzis is an organizational theorist and expert in the field of emotional intelligence, behavior change, and competence.
The OLP department at William James College is pioneering some of the most important curricula developments in applied psychology to address the most pressing needs of organizations today. Where other institutions teach the theory of intervention, OLP programs provide students with the competencies, tools and understanding of psychological theory to be able effect positive and lasting change.
Dr. Pillay's visit is hosted by Kathryn Stanley, Ph.D., Chair of Organizational & Leadership Psychology (OLP) department, in conjunction with the OLP faculty, Leadership Learning Hub, and the OLP Alumni Alliance at William James College.
Drs. Stanley and Ralston said they are excited to welcome Dr. Pillay, calling him "an engaging speaker, author, and thought leader regarding the intersection of neuroscience, leadership, and executive coaching," and said they are eager for their students to have this opportunity to learn from internationally recognized expert in applied neuroscience and human behavior.
The April 1 event is exclusively open to William James College Leadership Psychology PsyD students. To learn more about Dr. Pillay, including his other upcoming events and speaking engagements, visit his website.
Topics/Tags
Follow William James College
Media Contact
Katie O'Hare
Senior Director of Marketing