Black Mental Health Graduate Academy Honors Founding Cohort, Welcomes New Members, at Graduation Ceremony
By Josh Rizkalla, Communications & Media Relations Associate
Dec 22, 2021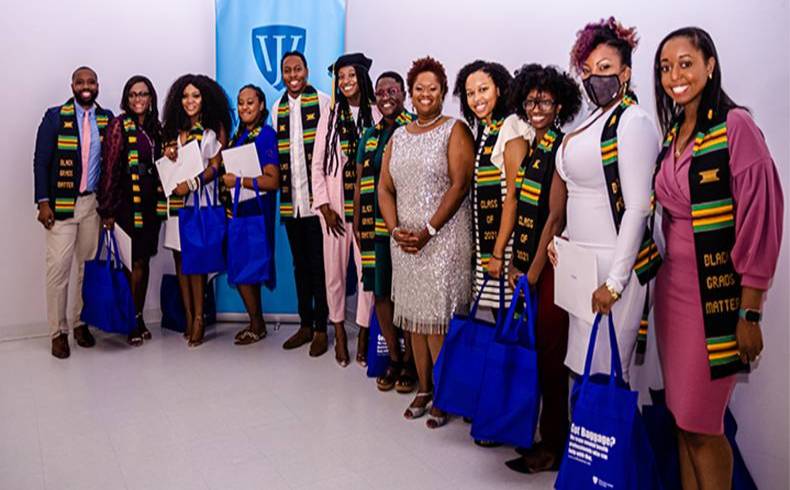 This fall, the Black Mental Health Graduate Academy celebrated the graduation of 14 scholars. Not only was this its largest graduating cohort to date, but these students were also members of the original group that joined the Academy when it was founded in 2016.
Black clinicians represent just four percent of the mental health field. The Academy, which offers mentorship and networking opportunities for Black graduate students at William James, was created to address this disparity by creating a supportive environment for students. For Academy Director Dr. Natalie Cort, the graduation celebration was a both a source of pride and validation.
"When you build programs that suggest to a multitude of people that you're interested in their lives, they will come," Cort said. "The question is 'How inclusive have you been in terms of the processes and practices that you are instituting?' It's not that people of color aren't interested in mental health issues. We've [now] demonstrated that when you create programs, they will show up."
In the five years since its inception, the Academy has created a sense of community and developed a wealth of resources and opportunities for students.
Its mentorship program meets monthly and connect students with influential community members and faculty members. Scholars regularly gather to discuss topics related to Black mental health through professional development workshops, sociocultural events, and media. Several have made media appearances, appearing on local radio programs. Scholars also write regularly for a blog on Psychology Today. The blog, a series of articles on topics of importance to the Scholars, has now surpassed 30,000 views.
"[Dr. Cort] is always reaching out with opportunities to put us in the community. 'Hey, I know you'd be great for this! Go on this radio program, attend this conference.' She has given me opportunities I didn't even know I wanted," said Gabrielle Palmer, MA/CAGS, an alumna, teaching faculty in the college's bachelor's completion program, and coordinator of Mentorship and Workforce Development programs.
Palmer graduated in 2019 as one of the Academy's founding members. As the only Person of Color in her School Psychology cohort, she decided to attend an academy event during her first year while looking for a sense of community. She later began working in an administrative role for the Academy and formed a strong mentor-mentee relationship with Cort.
"I found support and guidance through these meetings with Dr. Cort," she said. "Sometimes it was a phone call, other times I'd go to her office for a quick talk that would end up going an hour, sometimes more."
Scholars are invited to participate at whatever level they desire, regardless of how much they wish to engage. Palmer praised the way the program structure encourages scholars to 'take what they need' from the experience.
"The scholars are always mentoring each other, there is no hierarchy here. They're all partners, it's incredible really," she said.
The day after Palmer's graduation, Cort reached out and asked if she wanted to work on a certificate program she was developing. Though she had taken a position as a School Psychologist, these part-time projects continued and offered Palmer an abundance of networking opportunities.
When the pandemic shut down the school where she was working, she accepted a faculty position in the Bachelor's Completion Program and ultimately, her current role as Mentorship coordinator.
Inspired to do the same as those who gave her a "seat at the table," Palmer coordinates events and offers students training and placement into peer mentorship support programs. Through her efforts, she aims to show students what is possible not only during their time at the College, but in their careers moving forward.
Last year, as the original cohort began working off-campus at field sites and the pandemic made it more difficult to coordinate meetings, Cort felt unsure about the Academy's future. "Not every group lasts forever," she said. "I was wondering if we had served our purpose."
But those concerns dissipated when she began meeting with the next cohort of interested students. They specifically cited the Academy's work and the culturally specific concentrations offered through the Center for Multicultural and Global Mental Health as the reason they applied to the school. Cort herself was drawn to the work of the college eight years ago after learning about the Latino Mental Health Program and feeling encouraged by the school's interest in the mental health needs of underserved communities.
"It's been affirming that these new students–who are very passionate, who are very clear that they want to change systems, who want to give back to communities—came because of these programs," Cort said.
This year's incoming Academy class welcomed 12 new scholars, including Olivia Fenty, who chose William James for an educational path that would allow her to study diversity and accessibility, while also working to reduce stigma and further the national conversation on mental health.
Fenty is a first-year student in the Clinical Mental Health Counseling program with a concentration in African and Caribbean Mental Health.
"I'm really excited to be in a community with other Black scholars," Fenty said. "Everyone has fascinating research interests, so I'm looking forward to talking about research in a way that pushes me to explore my identity further."
Graduates like Palmer, who are establishing careers in the field, and those new to the Academy like Fenty, who are bringing their own accomplishments and aspirations, give Cort confirmation that the program is working.
"As a person who imagined this and saw a dream populated by people—to know it is still needed, and that we can foster that connection, is a great feeling," Cort said.
Topics/Tags
Follow William James College
Media Contact
Katie O'Hare
Senior Director of Marketing