William James College Awarded $750,000 Grant by Boston Children's Collaboration for Community Health
By Staff Writer
May 16, 2022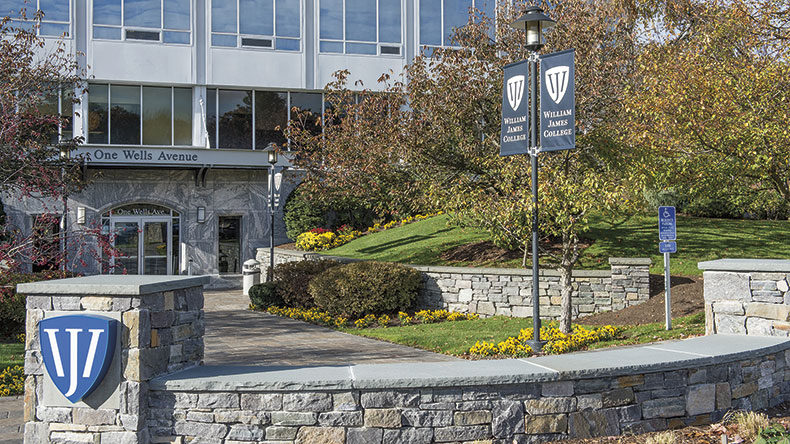 William James College, a leader in behavioral health workforce development, has received a $750,000 grant from Boston Children's Collaboration for Community Health (the Collaboration). Over the next three years, the grant will expand the focus of the College's Child & Adolescent Mental Health Initiative (CAMHI) to recruit, train, and mentor graduate students who are committed to providing culturally responsive services to children, adolescents, and transitional aged youth in underserved communities. Launched in 2019 through a separate Collaboration grant, CAMHI aims to diversify the child and adolescent behavioral health workforce through innovative pipeline programs focused on cultivating and educating culturally compassionate providers.
"When it comes to the mental health needs of children and families, there are significant systemic issues that cannot be addressed by one individual or one institution alone," said Dr. Nicholas Covino, President of William James College. "Collaborations and partnerships amplify our work and allow us to have an immediate impact in the communities where our services are most needed. We are fortunate to have partners like Boston Children's Hospital that not only believe in this philosophy, but also walk the walk."
Partner agencies for the new CAMHI grant include Community Healthlink, The Home for Little Wanderers, Justice Resource Institute, Lynn Public Schools, and Northeast Family Services. Through this funding, the College will offer stipends to 60 graduate students from culturally diverse backgrounds who will complete their field training experiences at youth-serving and community health centers. Additionally, the grant will provide mentorship and professional development trainings on trauma-informed and culturally responsive clinical interventions for historically marginalized groups.
"We are grateful to Boston Children's for recognizing the need to support graduate trainees who are dedicated to serving the most vulnerable and underserved members of our communities," said Dr. Gemima St. Louis, Associate Vice President for Workforce Initiatives at William James College. "Their continued support of the College's workforce development initiatives is an affirmation of the level of investment that agents of social justice must demonstrate in order to attract, build, and retain a well-trained and culturally diverse behavioral health workforce throughout the Commonwealth."
The Collaboration for Community Health grant to William James College is part of a total commitment by Boston Children's Hospital of $53.4 million to support community organizations and agencies in their efforts to improve the health and well-being of children and families in Boston and across Massachusetts. Boston Children's is distributing these funds as part of an agreement with the Massachusetts Department of Public Health's Determination of Need Program. This is in addition to the hospital's ongoing support for programs and partnerships.
"Boston Children's is dedicated to using its resources and expertise to improve child health outcomes," said Kevin B. Churchwell, MD, President and Chief Executive Officer of Boston Children's Hospital. "Through the Collaboration for Community Health, we are able to deepen our commitment and support community organizations in their efforts to address the social determinants of health and advance community health."
As a community-oriented workforce development program, CAMHI seeks to expand access to high-quality behavioral health services for children, adolescents, and families by increasing the supply of culturally sensitive professionals equipped with the knowledge and skills to provide trauma-informed and integrated team-based care to individuals and families in high need and high demand communities. Over the past three years, CAMHI has achieved significant steps towards addressing health inequity by offering career ladder and educational opportunities; and providing financial support, field education experiences, career counseling, and mentorship to students who are underrepresented in the fields of human services and behavioral health.
"We have long recognized that one of the best ways for Boston Children's to make a difference is to partner with others in the community," said Shari Nethersole, MD, Executive Director for Community Health at Boston Children's Hospital. "The Collaboration provides organizations with funding so they can establish the infrastructure needed to grow and lead or strengthen their connections with partners to create more efficient systems of care and support."
About William James College
Founded in 1974, William James College is an independent, non-profit institution and a leader in educating the next generation of behavioral health professionals to support the growing and diverse needs of the mental health workforce. Integrating field work with academics, the College prepares students for careers as organizational leaders and behavioral health professionals who are committed to helping the underserved, multicultural populations, children and families, and veterans. William James College alumni can be found making an impact in a variety of settings, including schools, the courts, clinical care facilities, hospitals, the community, and the workplace. To learn more about the College, please visit williamjames.edu.
Topics/Tags
Follow William James College
Media Contact
Katie O'Hare
Senior Director of Marketing