William James College Class of 2022 Honored at 42nd Commencement Event
By Josh Rizkalla, Communications and Media Relations Associate
Jun 14, 2022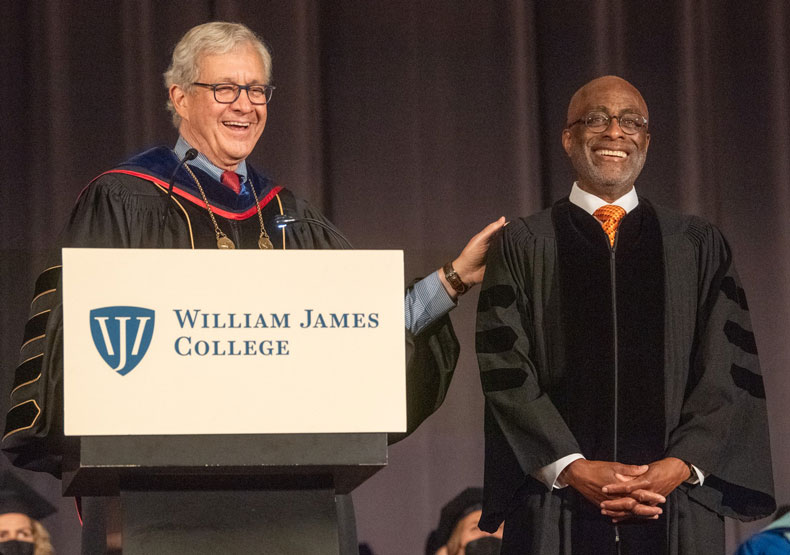 For the 193 students who navigated the unprecedented challenges of pursuing their degrees during a pandemic, coming together for the College's 42nd Commencement event was not merely a celebration of their accomplishments but proof of their collective resilience.
The Commencement kicked off with a surprise, choreographed, dance routine to the tune of Kool and the Gang's "Celebration." The flash mob twirled and clapped through the Boston Park Plaza ballroom, bringing everyone in attendance to their feet. Dr. Nicholas Covino, president of William James College shared, "It is important to take the time to celebrate."
He further remarked, "After more than two years of disruption, disturbance, and distress, we gather to recognize the accomplishment of our graduates and the life-changing work of this institution."
Graduates from bachelor's, master's, and doctoral programs from December 2021, June 2022, and August 2022 classes gathered at the Boston Park Plaza along with faculty, family, friends, and others who provided support and mentoring through their educational journey. In addition to the 2022 graduates, 30 students from the 2020 and 2021 classes took the opportunity to walk across the stage after the previous two Commencement events were held virtually.
In his commencement speech, lawyer and mental health advocate Joseph D. Feaster, Jr., urged the graduates to stand up and thank these influential people. The importance of community in the wake of difficult moments was not only the central theme of Feaster's speech but is also the core of his advocacy work, which he refers to as his ministry.
Feaster has dedicated his personal and professional life to this work since the tragic loss of his son, Joseph D. Feaster III, by suicide in 2010. For the past twelve years, he has worked with caretakers to help address mental health stigma and to increase access to mental health care, particularly in communities of color. Keith Motley, former chancellor of UMass Boston, introduced Feaster, calling him a social justice icon and a man of "immense vision, integrity, and courage."
Feaster thanked the graduates for their commitment to others in a time of great need for mental health resources.
"As I look out at each of you, I know you understand and appreciate my and my family's pain, and that you have committed yourselves to be present and ready to assist the next Joseph Dupont Feaster, III, and the next Feaster family," he said.
As graduates embark on careers in behavioral health and leadership, the resiliency they learned will be crucial as they provide care for a world still unraveling the psychological impact of the pandemic. As Covino shared in his speech, 40% of the population is suffering from a diagnosable mental health condition, a statistic that has doubled from pre-pandemic estimates.
In addition to Feaster, the College awarded Doctor of Humane Letters degrees to Michael Carroll, photojournalist, and non-profit founder, and Massachusetts Senate President Karen Spilka.
Covino commended their mental health advocacy work, as well as their selfless dedication to supporting those in need.
"I am always impressed that the people whom we honor here are 'regular people' who have decided that they will invest in healing the world rather than enriching themselves," Covino said.
Carroll, who was introduced by Dr. Eugene D'Angelo, vice-chair of the William James College Board of Trustees, is a freelance photographer and philanthropist, best known for his 1990 photographs of Romanian orphans following the collapse of the communist regime in the country. The experience had a profound impact on his life, leading to the creation of the charity, Romanian Children's Relief, for which he serves as president. Carroll's work and advocacy changed the lives of over a hundred sixty thousand orphans.
Dr. Gemima St. Louis, associate vice president for Workforce Initiatives and Specialty Training at William James College, introduced Senate President Spilka, who has proposed significant mental health legislation during her political career, including policy centered around loan forgiveness for behavioral health students and The Mental Health ABC Act 2.0. She has championed efforts to decrease the barriers to accessing quality mental health care.
Drs. Barbara Miller and Jacqueline Gagliardi, two longtime and beloved faculty who recently announced their retirement, led the graduating class as grand marshals for the proceedings.
Covino closed his remarks by saying, "My job today, graduates, is to say how proud we are of you and of your work and of the work that you will do as you leave our College. My job is to thank you for being the kind of person that you are and to wish you well. Your time with us has benefitted our learning community and we want to stay in touch. My job is, also, to ask those gathered to think about the difference that they can make in meeting the mental health needs of this extraordinary time."
Congratulations to the William James College graduates. We encourage those with pictures or videos of the event to continue the celebration by sharing them on social media with the hashtag #WilliamJames2022.
Popular Topics/Tags
Follow William James College
Media Contact
Katie O'Hare
Senior Director of Marketing