Congressman Joseph Kennedy III Convenes William James College Roundtable on World Mental Health Day
By Staff Report
Oct 15, 2018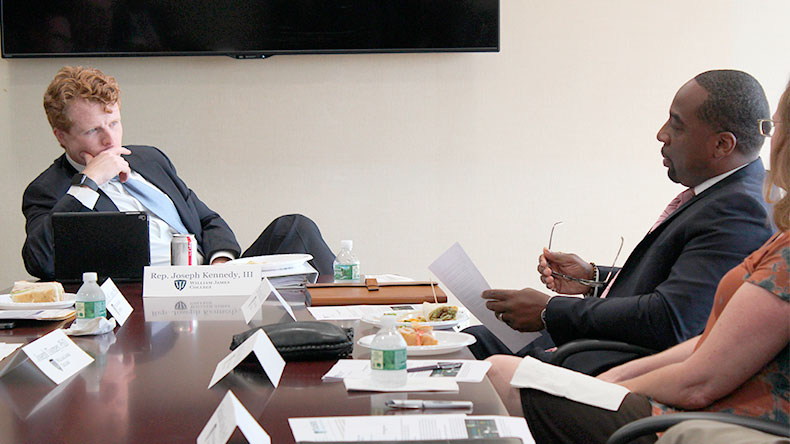 U.S. Representative Joseph P. Kennedy III paid a visit to William James College for a roundtable discussion with faculty members and senior leadership. The visit coincided with World Mental Health Day, which is observed annually on October 10 to raise awareness and mobilize efforts in support of mental health issues globally.
Congressman Kennedy requested the meeting to discuss key issues impacting the country. Participants at the table represented topics including substance use disorder, education, culturally sensitive care, Veterans and military families, criminal justice, and workforce development. Speaking with the MetroWest Daily News, the Congressman called William James College "an incredible resource… for folks that are trying to address the major unmet health concerns across our country."
Addressing those needs is no small feat. Across the country, more than 50 percent of counties have no mental health professional, a stat the Congressman referenced in a tweet following the meeting. Central to the roundtable discussion was the idea that improving behavioral health requires increasing the workforce, especially the number of racially and ethnically diverse and culturally-competent professionals, and that it requires improving retention efforts to keep professionals from leaving the field.
"Mental health problems are profound, and they adversely impact education, business, healthcare and quality of life across communities," said William James College President Nicholas Covino. "We have a tremendous, overlooked healthcare crisis that dramatically impacts every single area that we live in."
Covino told Kennedy that increasing the workforce and retaining workers requires improvements in public education to inform about the broad impact of behavioral health disorders and the significant shortage of resources. He also noted that it is imperative that measures are taken to improve reimbursement rates to appropriately compensate the behavioral health professionals and organizations that provide services.
Experts seated at the table also pointed to loan forgiveness and scholarships to reduce the debt and incentivize new professionals into the field; pipeline development to attract young people into the field, especially young people from communities of need; degree programs for social service and state agency employees to acquire new skills and credentials for advancement and retention; and licensing reform to include a place at the professional table for peer counselors, recovery coaches and people with 'lived experience.'
"The cost to provide mental health treatment is high, but the failure to do so is exponentially higher," said Covino, who closed the roundtable conversation pledging to be a resource and a partner to the Congressman and others in the process of educating, motivating and facilitating change.
Representative Kennedy and President Covino were joined by Dr. Joseph Toomey, director of our Forensic Psychology concentration in the Clinical Psychology PsyD program; Dr. Robert Dingman, director of our Military and Veterans Psychology concentration and Train Vets to Treat Vets program; Dr. Gemima St. Louis, faculty in clinical psychology and the Children and Families of Adversity & Resilience concentration, director of our PATHWAYS Program and co-director of our Center for Multicultural & Global Mental Health; Marc Abelard, director of our Bachelor of Science in Psychology and Human Services program; Andre Ravenelle, executive director of Teachers21; and Dr. Margaret Giles, an adjunct faculty member and a systems consultant who works with several Massachusetts state agencies on substance abuse disorder issues.
Popular Topics/Tags
Follow William James College
Media Contact
Katie O'Hare
Senior Director of Marketing and Communications