Healthy Schools, Healthy Kids
By Staff Report
Dec 5, 2022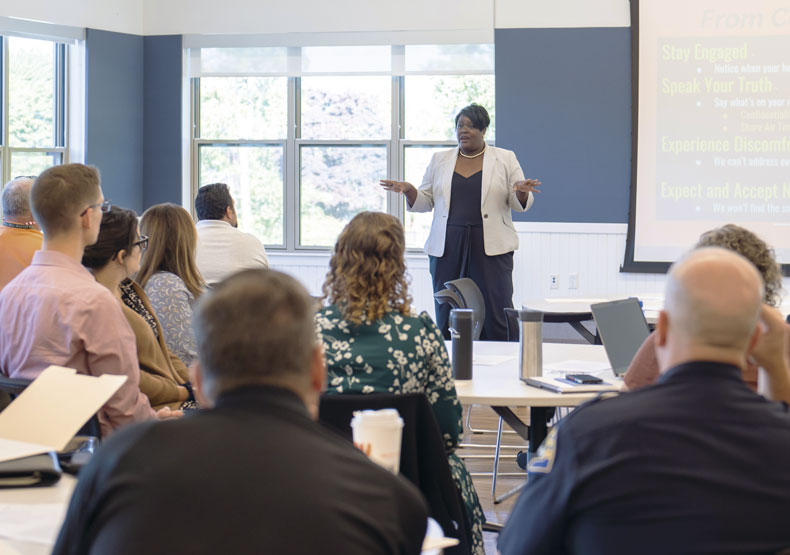 Welcoming the new Center for Behavioral Health, Equity, and Leadership in Schools (BHELS)
Working in schools has never been more challenging for teachers and school leaders. Headlines involving racism, racial violence, cyber-bullying, and many forms of oppression are the new normal. Not to mention an enduring pandemic. The National Center for Education Statistics estimates 3.5 million teachers headed back to their public and private K-12 classrooms across the country this fall.
As they restarted the in-person academic year, what was the culture—and school climate—that greeted them? More importantly, were they equipped to break through the countless barriers they would encounter?
The new Center for Behavioral Health, Equity, and Leadership in Schools (BHELS) is designed to answer questions like these with practitioner expertise. Formerly the consultant-based nonprofit Teachers21 and a long-time partner of William James, BHELS has its priorities in the name: providing consulting services focused on ensuring students' emotional wellbeing (critical to development) and a healthy school environment, intentional and purposeful equity and inclusion programming, and leadership training for educators and aspiring principals and superintendents.
Transformative, Systemic Change
BHELS has served schools across all demographics and geography—virtual included—in the Commonwealth. Districts gain an expert assessment and structured road map for change that includes personalized consulting services, workshops, seminars, and monthly roundtables to share best practices and issues with administrators or educators in similar roles.
"Sometimes we're called in because of an incident that has caused disruption in the district," says André Ravenelle, MEd, director of BHELS Freedman Consulting Services. "Others are simply trying to be proactive."
As a retired superintendent who worked in K-12 education for thirty years, Ravenelle saw firsthand the challenges faced by teachers and school leaders. "I realized that many of the issues that were being labeled academic were not academic at all. There were all kinds of other conditions that were hindering students' opportunity to succeed at the highest level."
BHELS currently partners with 15 districts. Their approach includes a thorough investigation and deep understanding of the work ahead. Based upon this in-depth exploratory process, BHELS staff serve as a support system and guidepost, working together with districts to make transformative, systemic change.
Ravenelle says the work ideally begins with the central office in each district. "You start with the leaders," he adds. "Once you get them philosophically in a new place, they're the ones who will lay the foundation for culture and climate and bring in others."
A particularly successful group has been that of diversity officers. "Unlike superintendents, there's often no real definition for who is appointed in the district," says Ravenelle." These administrators, who sometimes feel isolated in these roles, are brought together from across the state to develop a supportive community, with BHELS to help them inform the greater community: Diversity is never one person's job. It is the work of the entire system.
BHELS Executive Director Nadja Lopez Reilly, PhD, says, "We at BHELS greatly cherish the opportunity to work with diversity officers as we support their work, share best practices as a community of leaders, and continue to collectively think about innovative approaches to leverage their expertise and bring change to the educational system."
Ingrained Practice
According to the Center for Disease Control and Prevention, in 2019, one in three high school students reported persistent feelings of sadness or hopelessness, an increase of 40% since 2009. An estimated one in six children reported making a suicide plan that year. This was before the COVID-19 pandemic.
"The number of kids struggling with mental health has skyrocketed. The number of teachers, school leaders, and parents managing this crisis has most likely followed a parallel trajectory."

—Dr. Nadja Lopez Reilly, Executive Director, Center for Behavioral Health, Equity, and Leadership in Schools
Embedding social emotional learning (SEL) into the culture of the school system is an integral component in creating a healthy school environment where students can thrive. Students benefit from improved academic performance, classroom behavior, and ability to cope with stress.
Some people think social emotional learning is just a curriculum. Perhaps even an outdated term. Lopez Reilly, PhD, disagrees. "The development of social emotional competencies is a lifelong learning process. At BHELS, it's an ingrained practice."
Working with teachers and school leaders to integrate SEL is a transformative process and at the heart of the BHELS mission.
TEC Connections Academy, a BHELS partner, is an online Massachusetts public school where Patrick Lattuca, PhD, is superintendent. He shares, "TECCA's partnership with William James College has been invaluable. They have worked directly with district and building administrators and grade-level leads with the intent of building the district leadership capacity holistically. Some of their most impactful work centers around understanding and adhering to group norms that paves the way for psychological safety and community, which helps ensure TECCA has a safe, respectful, and professional learning environment. Additionally, William James College has provided TECCA district-wide Diversity, Equity, and Inclusion training and supports our Social Emotional Learning (SEL) initiatives. This year, William James College will be providing TECCA staff specific SEL training, so we are equipped to better support the unique needs of our diverse student population."
The DNA of DEI
How do you have courageous conversations? How do you keep everyone at the table? And how do you look at the data and use it to inform your practice?
In the wake of a long-overdue racial reckoning in the United States, questions like these have overtaken educators who have been scrambling to incorporate diversity, equity, and inclusion programs into their schools. How meaningful that incorporation might be runs the gamut. Not so for students at William James College.
The first cohort of the new School Leadership certificate program began its final semester this fall. Says program director Kris Taylor, EdD, "It's about sharpening the lens—learning how to use your personal 'why' or your philosophy around education to bring people together to create school climates and cultures that can be responsive."
The new Graduate Certificate in School Leadership for Educational Equity, Racial Understanding, and Organizational Transformation is a cornerstone program for the Center, helping educators build equitable mindsets, inclusive environments, and effective instructional practice in their school systems. "We are aiming to transform how everyone views the work of leadership. Equity leadership is good leadership," shares Taylor.
Student Darcel Hunt-Finegold is a Simmons alumna and educator at the Boston Public Schools' Re-Engagement Center, which helps former dropout students reenroll and graduate. Since her enrollment in the Graduate Certificate in School Leadership principal preparation program, she has been promoted to Assistant Head of School. Leadership always seems like the obvious next step for teachers to take, she says, but she was apprehensive about becoming a principal.
"It's a very heavy job, but the GCSL certificate empowers you to really find who you are as a leader. Less: How do you manage a school budget? More: How do you get buy-in from groups for large-scale change?"

—Darcel Hunt-Finegold, Assistant Head of School, Boston Public Schools; Student, Graduate Certificate in School Leadership
"The goal is to help develop responsive leaders," Taylor explains, "leaders who can meet the moment through reflection, awareness, connection, and collaboration with other adults and bring a level of critical consciousness to achieve outcomes consistent with educational equity. We're seeing people who are interested in that vision apply," she says, "because the goal of all schools—and all of the work we do at BHELS—is to improve outcomes for students, teachers, and the entire community."
Planning Ahead
There has never been a more critical time for BHELS to meet the need and make a difference in our school districts.
Says Suzanne Devlin, PhD, chair of the Organizational and Leadership Psychology Department, "The time is now to focus on the people of an organization and the way power dynamics, social norms, and mindsets successfully engage or unsuccessfully disengage the hearts and minds of both the people who serve students and the students themselves. The BHELS team and mission have this focus and can help schools change the world for the better by empowering all voices in the system and working together productively."
Ever the innovator, William James has new graduate certificate programs in development—specially designed to train K-12 teachers in behavioral health, DEI, and social-emotional learning—scheduled to launch in the Summer of 2023.
"BHELS follows a public health model we need for prevention and long-term change," adds Lopez Reilly. "Gaining a graduate certificate that focuses on the combined fields of behavioral health, equity, and leadership will not only impact educators' direct work but also help us create a workforce of educators who are equipped to be leaders in the school system and have the skills they need to implement sustainable solutions."
William James College envisions programs that are wide in scope and will support students across development. The critical concepts of behavioral health, DEI, and social emotional learning are also integrated into higher education programs through innovative institutes and initiatives with partner colleges.
A wide, supportive network. Ground-level expertise. Immediately applicable skills. Inherent traits of BHELS that are sure to make a difference.
Topics/Tags
Follow William James College
Media Contact
Katie O'Hare
Senior Director of Marketing