Republic of Ireland National Police Force Looks to Local Law Enforcement Models, WJC Expertise, for Guidance on Co-Responder Models
By Anne Wilson, Director of Communications
Dec 14, 2021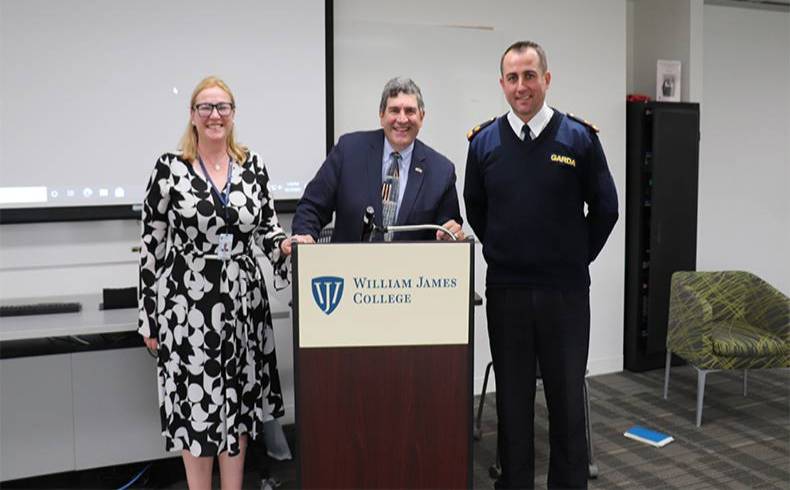 It is estimated that around 20 percent of police calls in the U.S. involve a mental health or substance use crisis, although local law enforcement estimate that it's double that in reality.
"911 is the most popular telephone number in the United States," said William James College President Nicholas Covino, speaking at a recent event.
"These calls are placed because there's a human being with a problem. Commonly, it is our most vulnerable people who are dialing, they are in the midst of something that feels way out of control, and they place the call because they want officers to come and help them."
That moment when a first responder encounters a person in crisis, Covino said, is a pivotal one. "When a situation is emotionally charged, the responder has to make a rapid assessment, read the room almost instantly, and make a decision."
The presence of a trained mental health professional alongside law enforcement significantly impacts the outcome, as proven by a program model launched in 2003 at the Framingham Police Department.
Then called the Framingham Jail Diversion Program, the award-winning Co-Responder program embeds clinicians to respond to 911 calls alongside patrol officers. It thrives in Framingham and today and frequently serves as a model for others.
"In Massachusetts, we are at the forefront, and have been for over 18 years, on how to effectively and safely respond to people in crisis in the community," said Dr. Sarah Abbott, the inaugural director of the new William James College Center for Crisis Response and Behavioral Health. In 2003, Abbott became Framingham's first embedded clinician and led Co-Response replication in over 30 police departments across the Commonwealth.
Pre-arrest, Co-Response Programs, funded by the Massachusetts Department of Mental Health (DMH), operate in over 50 police departments across the Commonwealth. As other departments here and abroad look to improve relations with the communities they serve, they've called on Abbott and her law enforcement colleagues for guidance.
A recent roundtable discussion invited senior law enforcement officials and behavioral health leaders to campus to meet with Superintendent Andrew Lacey of An Garda Síochána, the national police and security service of the Republic of Ireland. Ireland plans to implement its crisis intervention teams nationally, with Lacey overseeing a pilot program set to launch next September.
"The Limerick division in the south of Ireland was identified as the pilot area, and I was selected as the implementation team leader for that," Lacey told the Metrowest Daily News. "Framingham was very useful in the early stage and certainly going forward, because ' 'it's similar in size, population, resources in terms of the police numbers, and all."
The roundtable, convened by Abbott and Dr. Steve Morreale, chair of the Criminal Justice Department and associate professor at Worcester State University, welcomed colleagues, past and present, from the Framingham Police Department, along with Co-Response clinicians, Department of Mental Health representatives, and leadership from other state and federal agencies. Several William James College faculty and alumni from the ' 'College's Forensic Psychology and Counseling programs were also counted among the attendees.
"The people in this room represent the best and the brightest of those working at the intersection of law enforcement and people in crisis," said Abbott in her opening remarks.
Lacey and others presented research during the half-day-long event and participated in open conversations, including questions and answers about best practices. Lacey followed the meeting with ride-along opportunities with Framingham, Worcester, and Boston Police Co-Responder teams.
"When (Abbott) started, there was no roadmap," Bonnie Cuccaro, the current program director for the Co-Response Jail Diversion program through Advocates, told MetroWest. "We have a roadmap now… but even though we have a guide, starting up a Co-Response program varies by community. We have individual and regional programs and can adapt based on the size of the department, the number of calls, and what each community needs."
The William James College Center for Crisis Response and Behavioral Health will offer the first hands-on training program housed within an academic institution to train first responders and mental health professionals together to crises in the community. The Center's mission is to prepare our frontline workers to respond safely and effectively to individuals experiencing a situational, substance use, or mental health-related crisis.
"One of the first social workers in the nation to embed in a law enforcement agency and respond to 911 calls alongside officers, Dr. Abbott is uniquely positioned to provide training to our students and first responders and to address a critical workforce need," said Covino when announcing Abbott's appointment.
While Co-Response programs may have begun as a way of keeping people in crisis out of jail, ' 'they've evolved to serve many other functions. Clinicians assist with death notifications, connect with people impacted by crime or who have witnessed traumatic events, offer follow-up care, and work within the department to promote officer wellness. Co-Response Interventions also keep people in crisis out of already over-burdened emergency rooms.
Clinicians provide other support, as well – calling out roundtable participants by name; Abbott noted Co-Response clinicians who continued to report to work throughout the pandemic and regularly performed wellness checks on members of their community impacted by COVID-19.
Abbott said she's happy to see the model catching on. "To see the Framingham Co-Response program being successfully replicated, not just across the country but internationally, is incredibly rewarding," she said.
The William James College Center for Crisis Response and Behavioral Health will be holding events periodically through the upcoming year and will launch a graduate concentration/certificate program in the Fall of 2022.
Topics/Tags
Follow William James College
Media Contact
Katie O'Hare
Senior Director of Marketing