Strength of New Partnership Between Middlesex Community College, William James College, Already Known to WJC Graduate
By Anne Wilson, Director of Communications; Adapted, MCC Press Release
Jun 1, 2022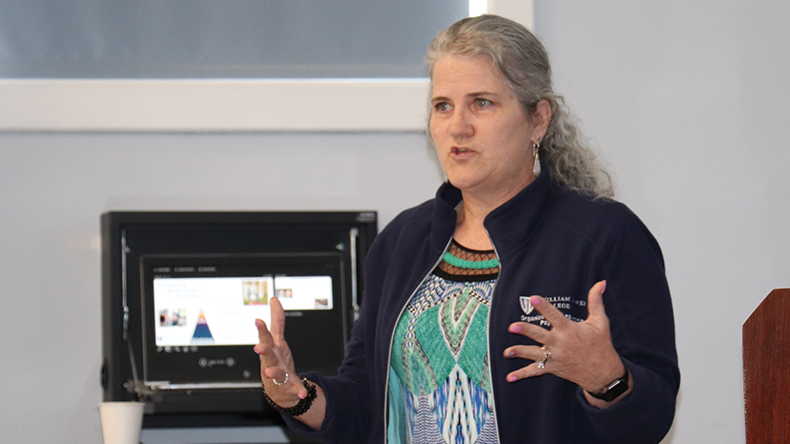 Dr. Jennifer Burns started her journey studying and working in the field of psychology as a student at Middlesex Community College (MCC). After getting her start at MCC, Burns attended UMass Lowell where she earned a bachelor's in Psychology and Legal Studies, then a master's in Community Social Psychology, before attending William James College and earning her doctorate in Leadership Psychology.
Burns spoke at a recent event convened to mark the signing of a new transfer partnership agreement allowing students to begin coursework at MCC, then transfer credits to WJC to complete their Bachelor of Science degree in Psychology and Human Services.
"Speaking from the heart and being vulnerable in front of my colleagues was uncomfortable at first," Burns said in a press release shared by MCC. "However, being authentic is part of my core and I would not be the woman I am today if I did not embrace my shadow side and persevere through life lessons."
In the MCC press release, and speaking at the event, she shared information about her early life experiences, including experience with childhood abuse and homelessness.
Now an external consultant with the Lawrence Police Department, Burns runs trainings for the Recovery Coach Academy, and she is an adjunct faculty member at both MCC and WJC. Her goal is to "teach and empower others to become their best versions of self" – something she has learned from her experiences at both colleges.

"MCC embodies a sense of community and encouraged me to value the importance of higher education," she said. "WJC embodies the values that I believe in: social responsibility, experiential learning, personal growth and development, and fosters sense of belonging for all students."

The new transfer agreement between Middlesex and WJC is meant to provide a stronger bridge for students. "This partnership between Middlesex and WJC will help to provide easier access points and a trajectory for students in a variety of disciplines. Our missions are completely aligned to make a difference for today's students, leading to a highly prepared and more diverse mental health workforce," said MCC President Phil Sisson.

"The work that we do as educators is not to 'provide to' or to 'impose upon,' but it is to bring out the greatness that exists in a person," said William James College President Nicholas Covino speaking at the event. "You form community, you find the brilliance that exists in that student, even in the students who may doubt themselves, and you help it to emerge."
He added, "We're eager to welcome more dedicated, talented students from MCC into the WJC community, and to provide the training and support they need to advance their education and to launch an important career at a time when behavioral health professionals are needed more than ever."
Topics/Tags
Follow William James College
Media Contact
Katie O'Hare
Senior Director of Marketing